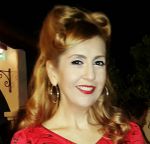 Hot rods, hot girls, and hot summer heat made for a fun afternoon at the Pistons & Pinups event in Chatsworth. The parking lot of the Valley Relics Museum filled up with revved-up, customized classic car beauties, while the back lot featured vendors and the stage rocked with music all evening long. And it was good times for good with all proceeds going to the Rock Against MS Foundation.
I got there in time to catch sassy Maureen and the Mercury 5 bust out some sexy, swingin' jive. They were followed by retro singing and dancing troupe The Satin Dollz, whose charm, beauty and choreographed moves always captivate an audience.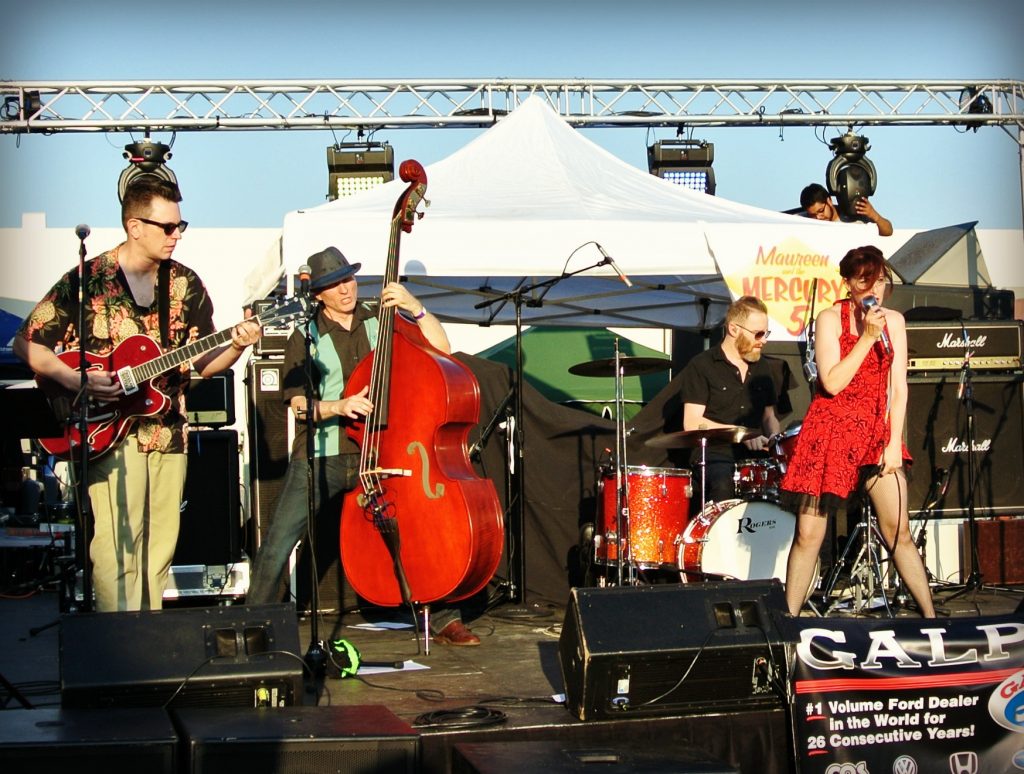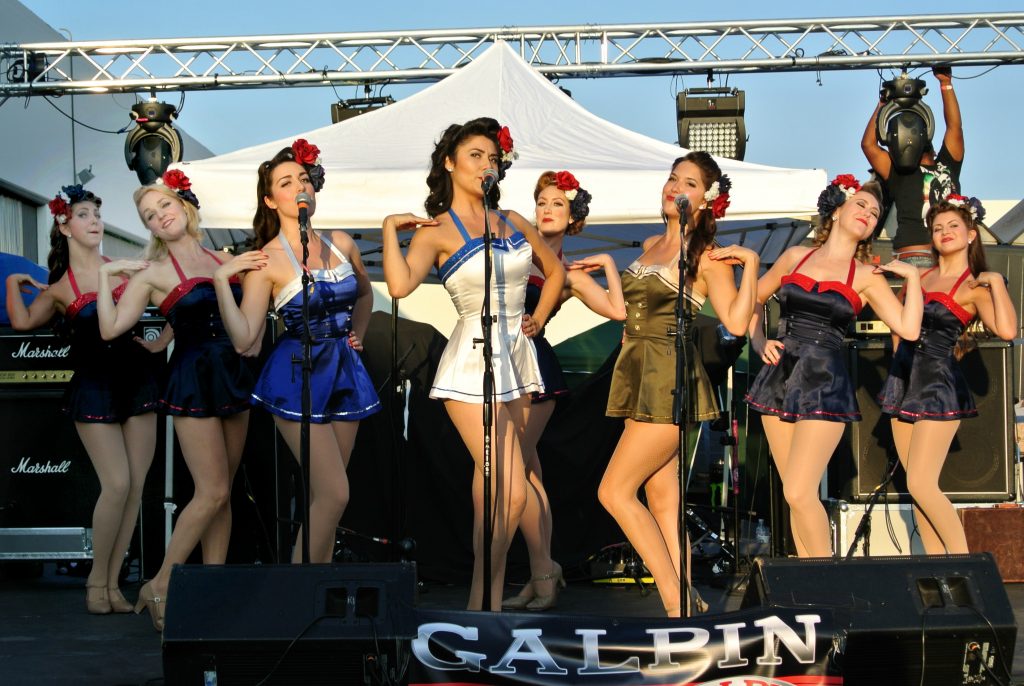 The Phantom Pomps took the stage next with some good ol' rockabilly and a fierce pinup girl singer/drummer. As the sun went down, the stage lit up with rockabella performance artist Lillian Starr and her glowing hoop show. That girl isn't going to lose any hula hoop contests anytime soon!
The Pinup Girl Pageant contest brought out a lineup of retro-loving babes where red lipstick, victory rolls, wiggle dresses, and heels were the dress code of the day.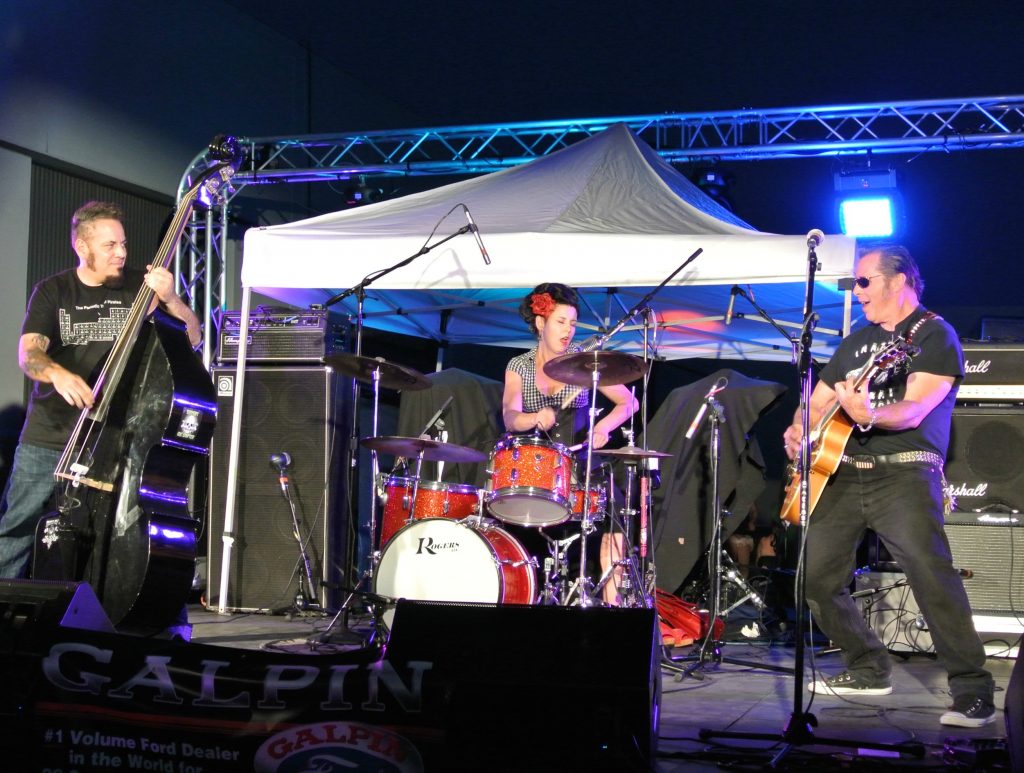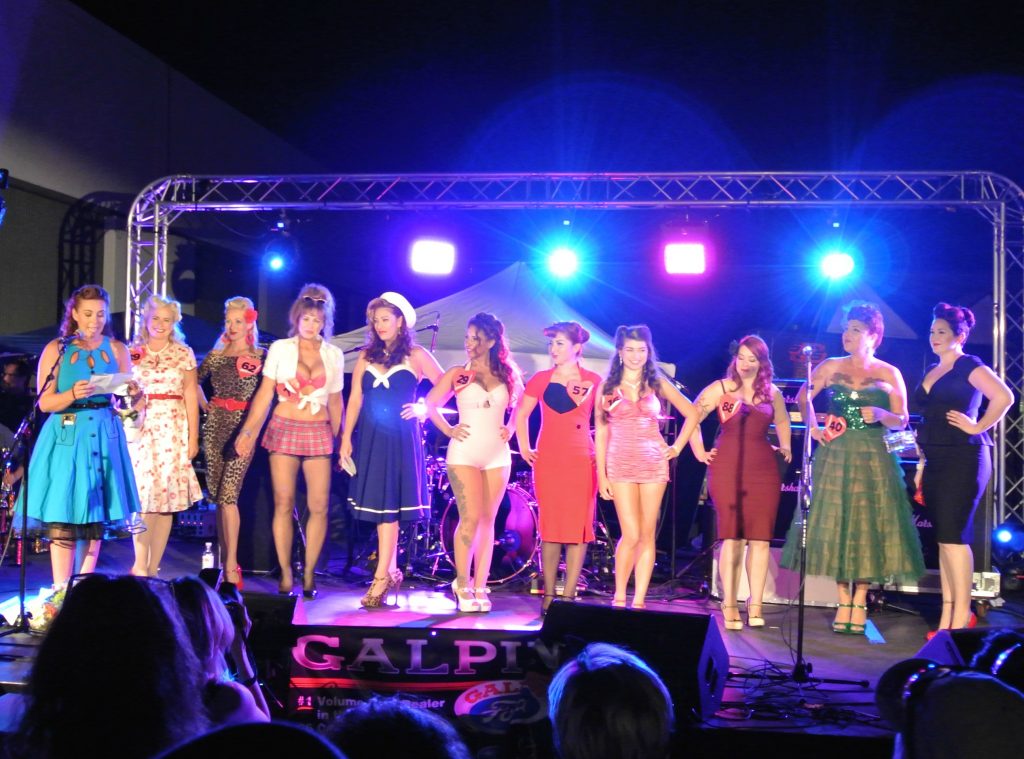 The finale of the night was a performance by Gilby Clarke, best known as a guitarist for Guns N' Roses and singer/guitarist for the pop group Candy. Though I knew him when he had the band Kill For Thrills. He's been a solid solo performer throughout the years and brought the rock to this event into the late night hours.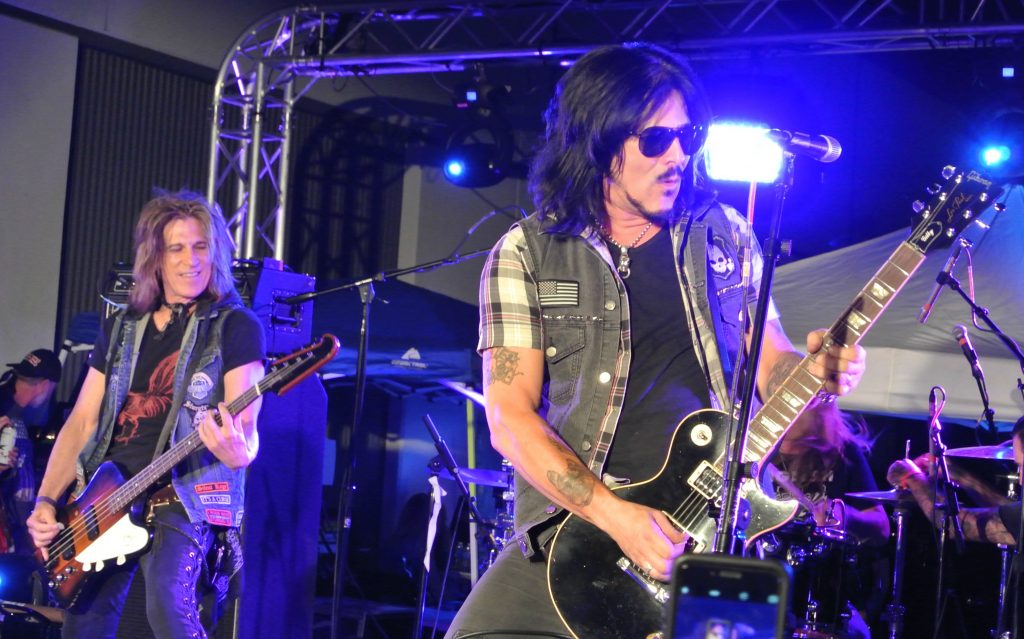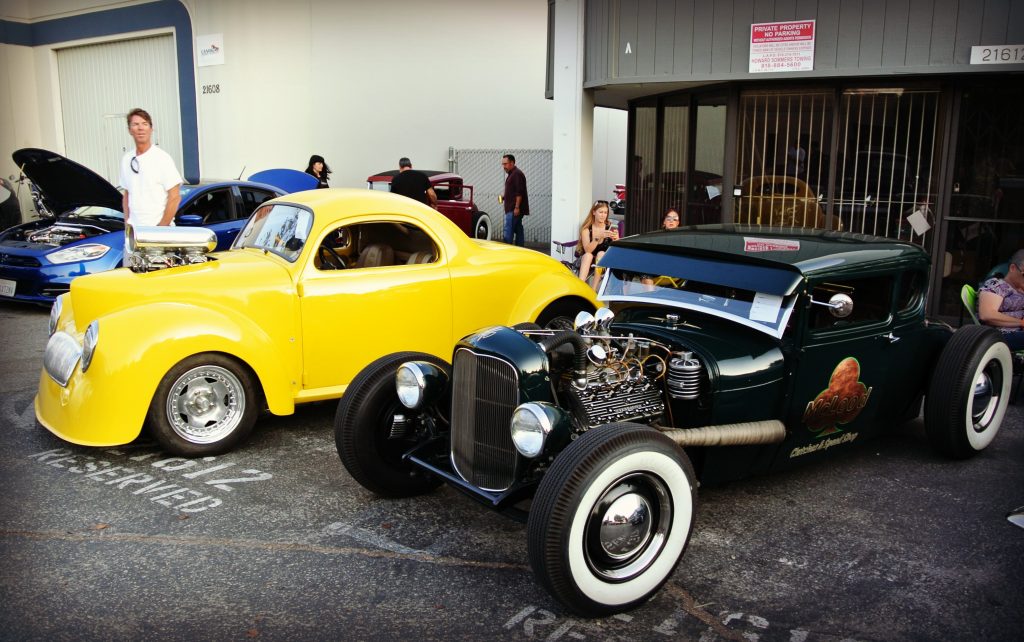 One of the biggest treats of the day was the location, The Valley Relics Museum. Though the Valley has been the subject of many jokes as the uncool suburbs "over the hill" from Hollywood, there have been some historical gems located there and this museum has managed to rescue key pieces of it. For example, cars, clothing and photos from famous rodeo tailor Nudie Cohn (he made Elvis' famous gold lame suit!) and the sign from The Palamino Club in North Hollywood, where every famous country and rockabilly performer played from 1945-1995 . The museum also has an awesome collection of retro neon and Googie-style signage, movie memorabilia, classic cars, and BMX bikes (little known fact – the extreme sport was born in the Valley!) Be sure to check it out!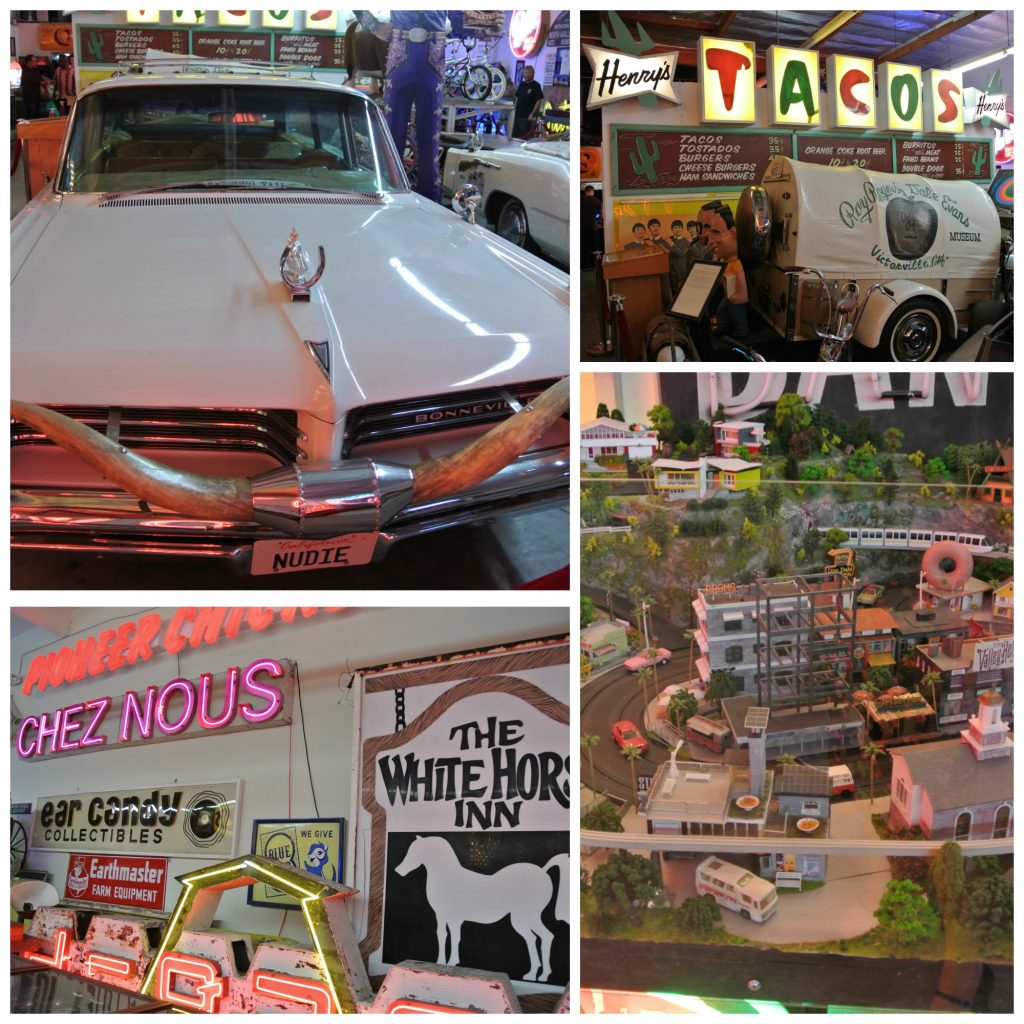 What I Wore
A pinup event simply calls for some classic pinup style, so I was happy to accommodate in my cherry-print pencil skirt and accent it with a flaming red scarf and hair flowers from NiccocoCreations. I added a bracelet of fiery pulp fiction pinups from Joolz Hayworth, and a custom made handbag featuring pinup girls I picked up at a hot rod show a few years ago. I don't know who made it but I sure would like to find her to buy some more!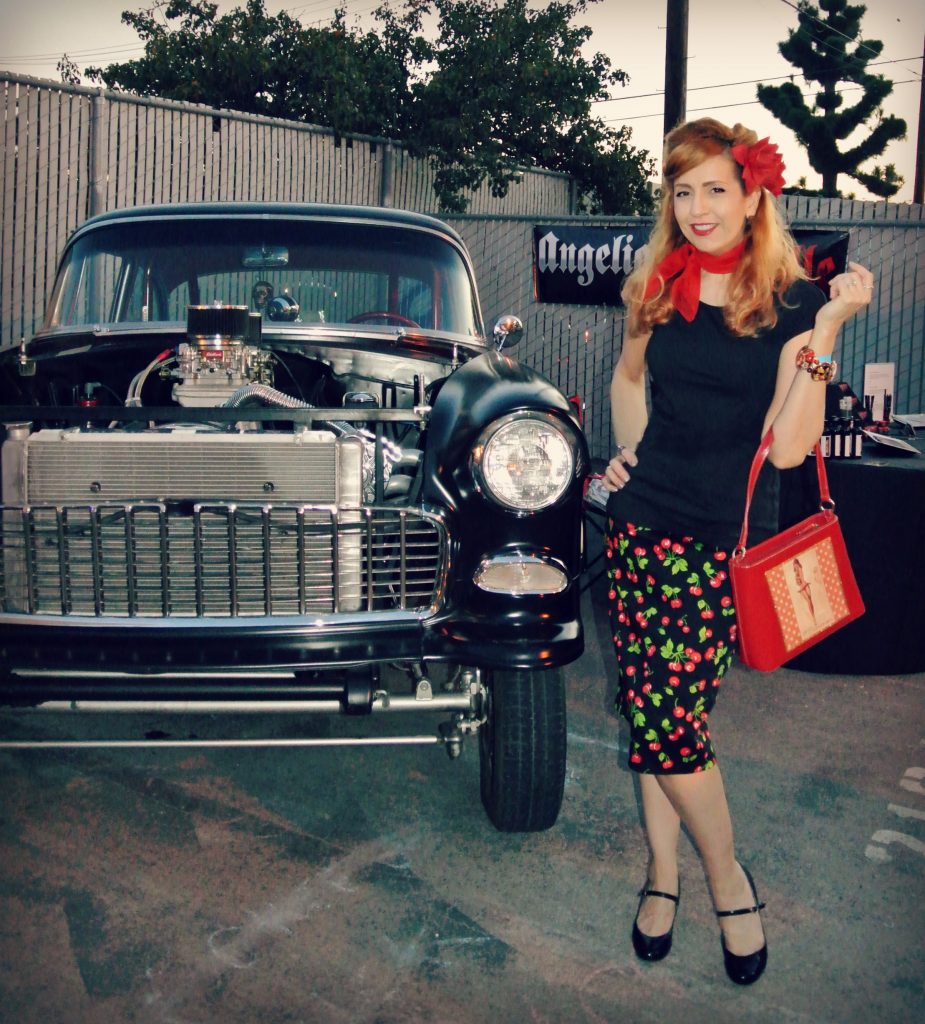 What To Wear: Pinup Style
Pinup style is all about looking sexy but not overtly. It's a flirty style in an American sweetheart kind of way that dates back to the first Calendar Girls that were published around 1889. The pinup art Alberto Vargas started painting for Esquire Magazine in the 1930s became iconic. But the best known pinups may be from the 1940's era when they were used to boost the morale of troops fighting in WWII. Then later of course, Bettie Page came along in the 1950's and became the Queen of Pinups, around the same time Playboy Magazine was born.
To achieve the pinup look, play-up your best feminine assets — an hourglass figure, pouty lips, wavy hair, great legs — and accentuate it. This polka dot pencil skirt is a great piece to build a look around. Pair it with a sultry peasant top and add a fierce pop of red in retro-inspired shoes and handbag. Don't forget some red lipstick! Click the links to shop* this look.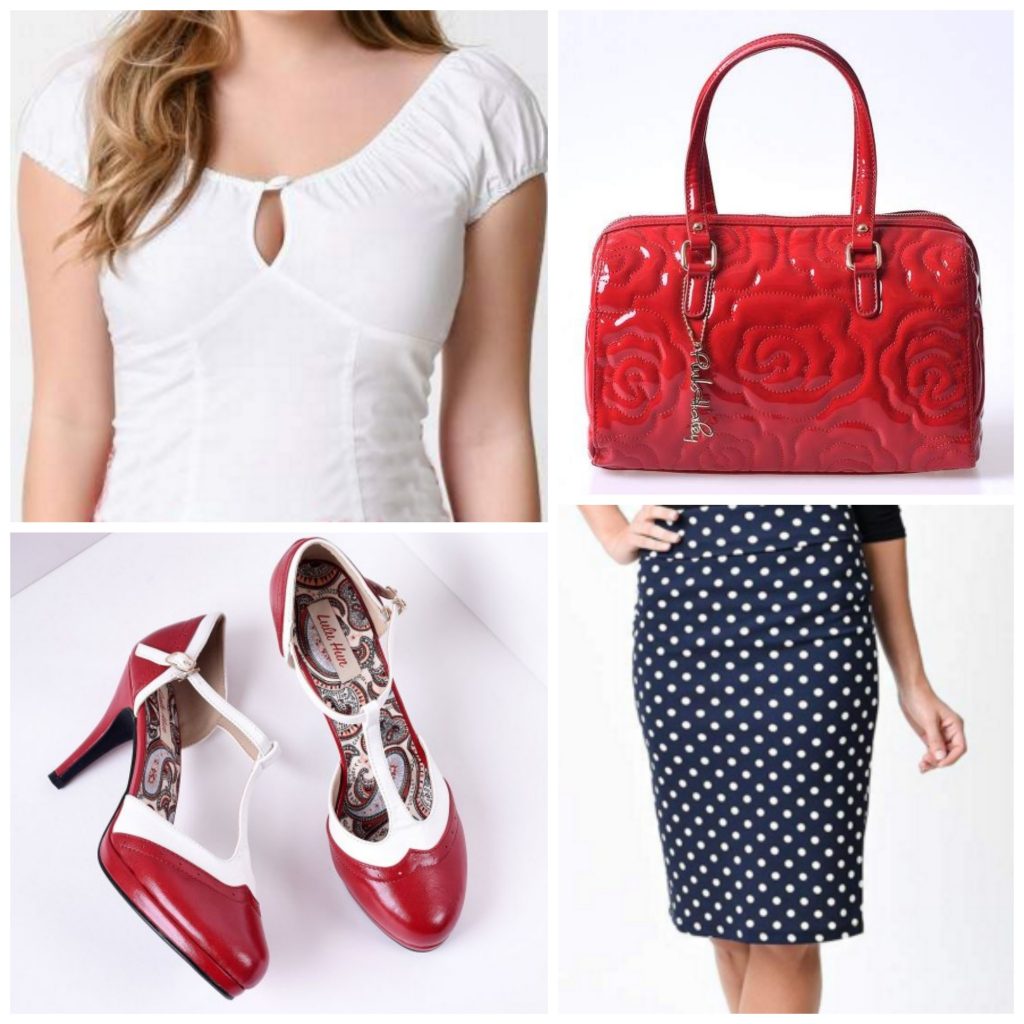 Valley Relics Museum is located at 21630 Marilla St, Chatsworth, CA 91311
Va Va Varoom!
Kastle

Tags:
hot rod show
,
pinup style