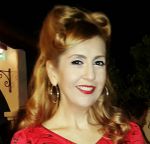 It all started with an inspiring grandmother. After losing her, photographer Ari Seth Cohen moved to New York, a city she always told he'd do well in, and began shooting older stylish women in an attempt to feel he's grandmother's spirit in his life again. Starting a blog Advanced Style, the photos became an internet sensation. These women, in their 60's, 70s, 80s, even 90s weren't invisible, grey-haired, frumpy-clothed, withering flowers. They were vibrant, full of color and a fantastical sense of ageless fashion. Their stylish looks as alive as they were, telling the world they were living life to the fullest and looking their best, no matter what anyone thinks.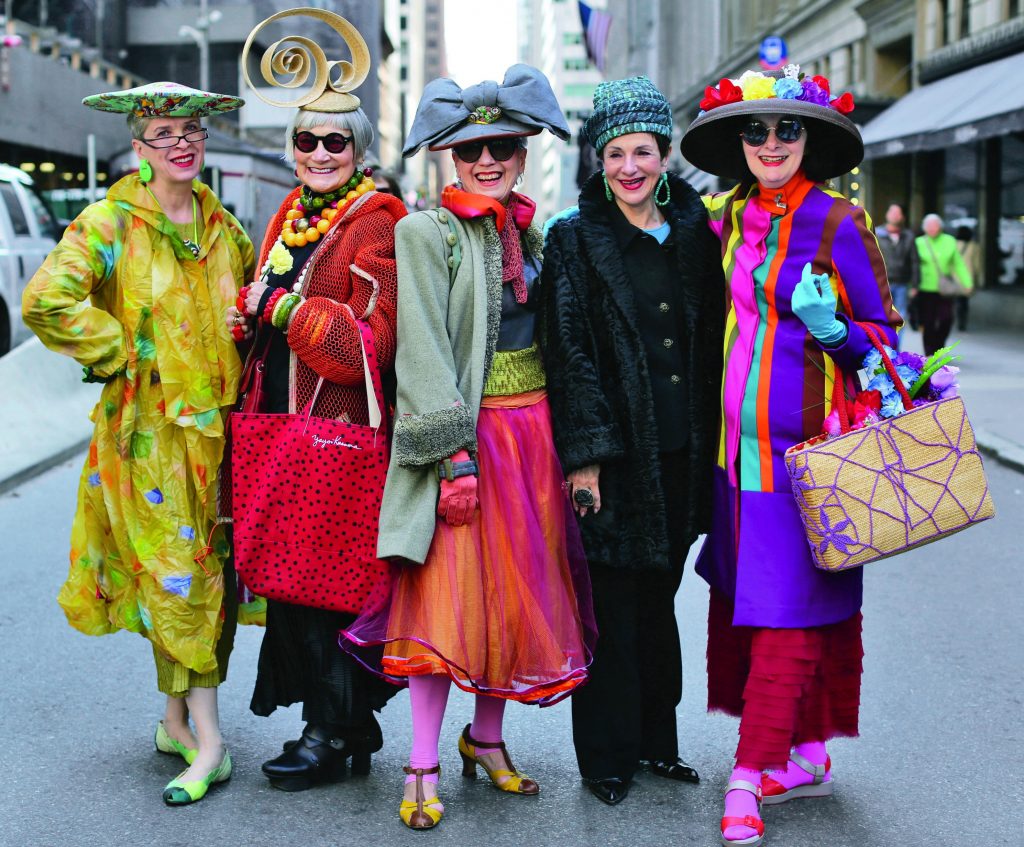 Then came a book,  and a film showcasing these wonderful, stylish women. Ari started a movement – to see older women for their delightful, fashion-loving selves, all that they've accomplished and all they represent as bold, beautiful personalities full of world experiences that serve and an uncontainable force and inspiration to others.
Now he has a second book, "Advanced Style: Older and Wiser," and I had the pleasure of seeing many of Ari's women in person at the recent panel discussion at Book Soup – an iconic indie bookstore on the Sunset Strip that serves as a cultural epicenter for authors and those who celebrate a culture of enlightenment through books.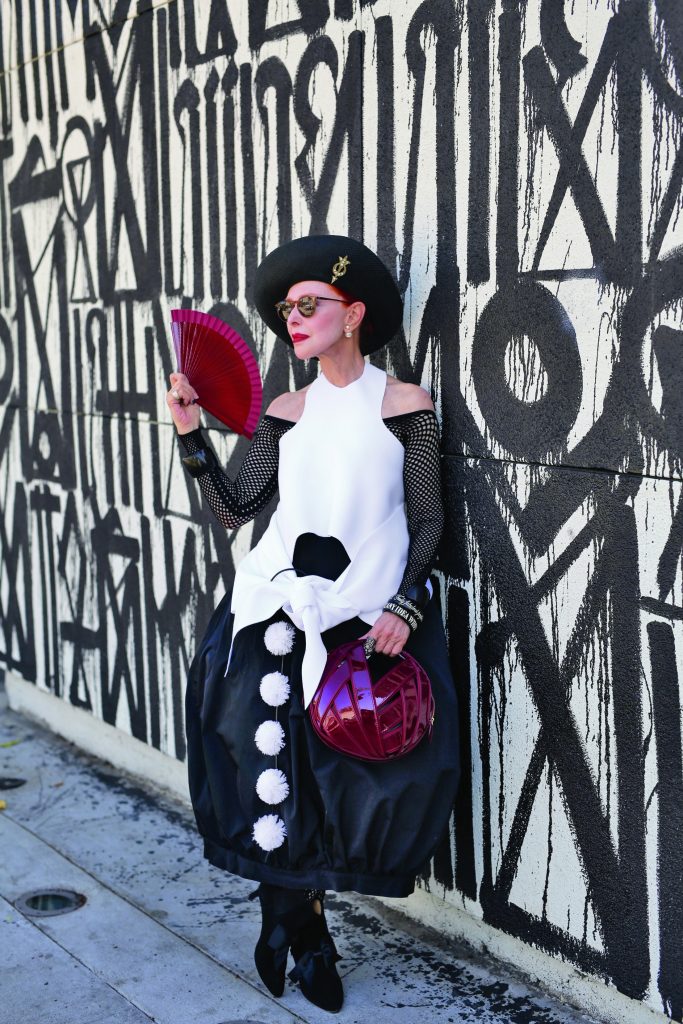 I stood in the audience as the ladies in the book entered the store and took a seat in the front. The tiny space allotted for readings forced them to step carefully through chairs squeezed between bookshelves, but also gave us a chance to check out their awe-inspiring beauty and amazing outfits. (Book Soup, you really need to a bigger space for these events!)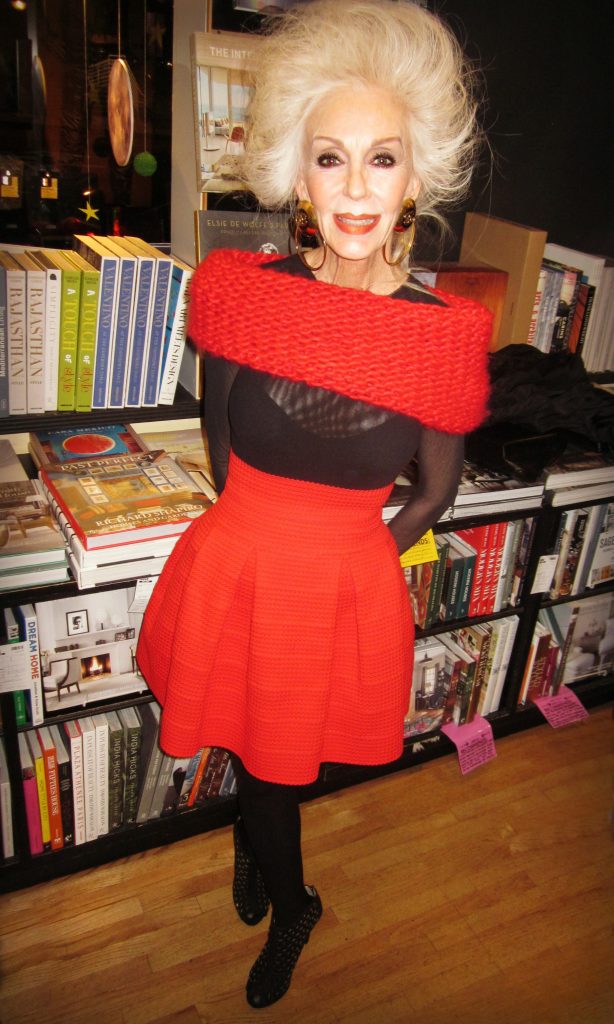 We learned a little about each lady and their lives. There's Colleen, age 75, a stunning beauty who stays active by jogging 5 miles a day. Joy, age 77, a cancer survivor who has dedicated her life to the helping the developmentally disabled through her fashion-focused charity Helpers. Pearl, age 61, who was once married to the bass player in the Clash, performs in her own alternative band, has a handbag line, and uses music to feed her spirit.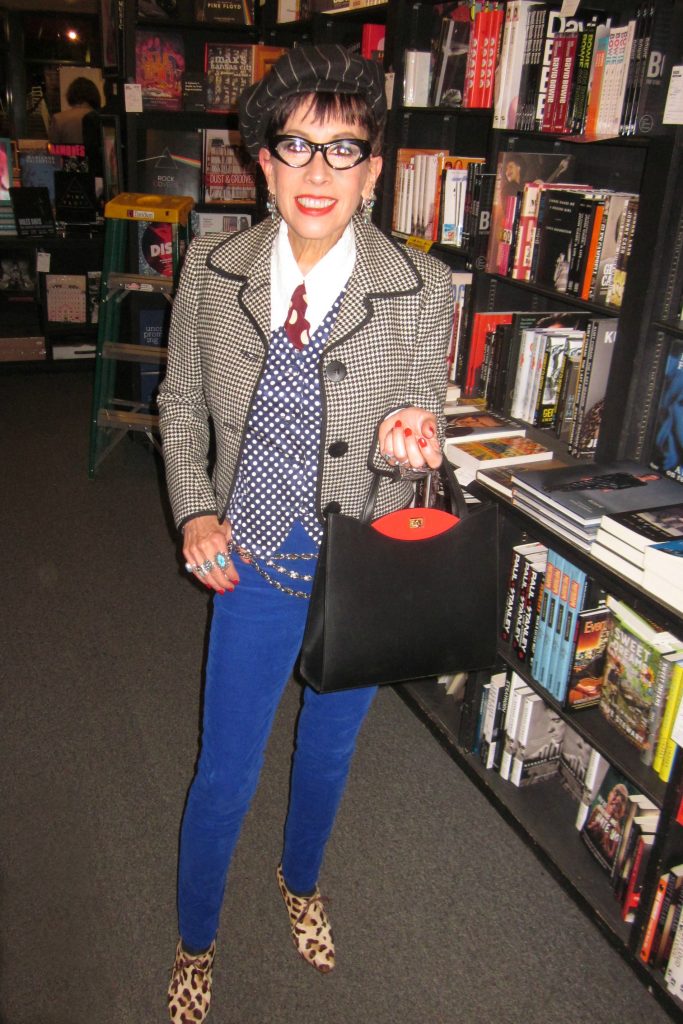 Every lady shared a bit of their extraordinary life, not as a star, but as a message that everyone has their own story that is worth sharing. It was funny to hear how many had worn uniforms in school and relished the freedom they now have to express themselves and most were inspired by their mother's fashion sense.
They all displayed their unique sense of style and urged their audience, hungry for their wisdom, to be yourself, go forth and never let age be hindrance.
I couldn't help but approach some of these ladies to sign a copy of the book I bought for my mother, who has been my own fashion inspiration. And I have to give a heartfelt thank you especially to Joy, who upon learning my mother was in the hospital, wrote a loving note to her that brought tears to my eyes. Her kindness will never be forgotten.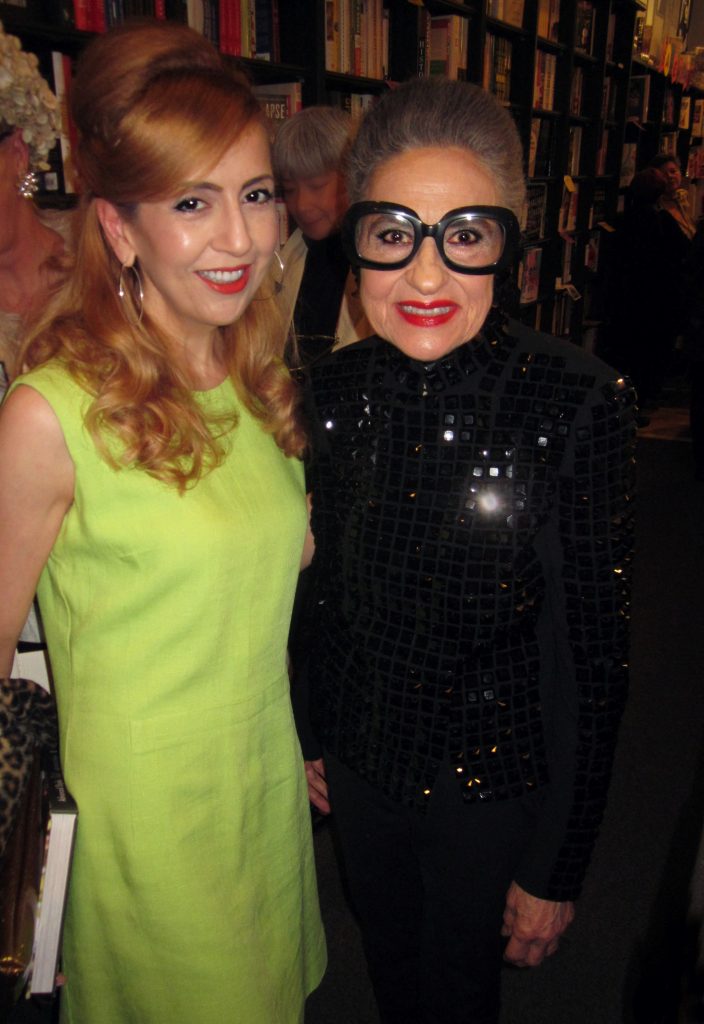 What a wonderful bunch of ladies! There are few times in life that we want to feel older instead of younger, but these ladies make it look so good I wish I too was "Advanced" so I could join their pack and hang with them all day!
What I Wore
I couldn't go see a bunch of stylish ladies without a bringing some color to the party myself. So I put on my bright, vintage, '60s shift dress and go-go-style leather boots, paired with a swirly multi-colored bakelite bracelet and '60s-style clutch by V's Bellos Tesoros, that I won by vying for it in an Instagram contest.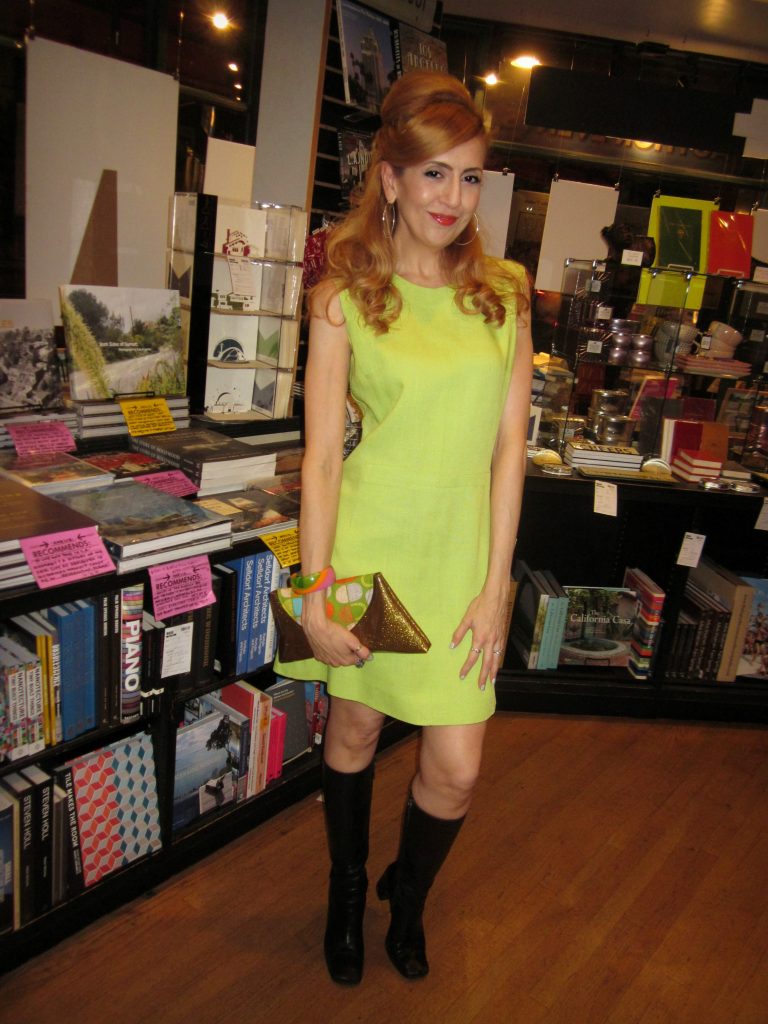 What to Wear
If books are an inspiration to you like they are to me, show how much you love them by letting some bookworm style and ageless fashion sense shine through with this adorable bookshelf skirt topped with a ruffle-collar, vintage-inspired top. A snappy pair of wedge-heeled shoes will keep you comfy while browsing through bookstores and you can pay for your new reading finds by reaching into a book-shaped handbag. Click the links to shop* this look!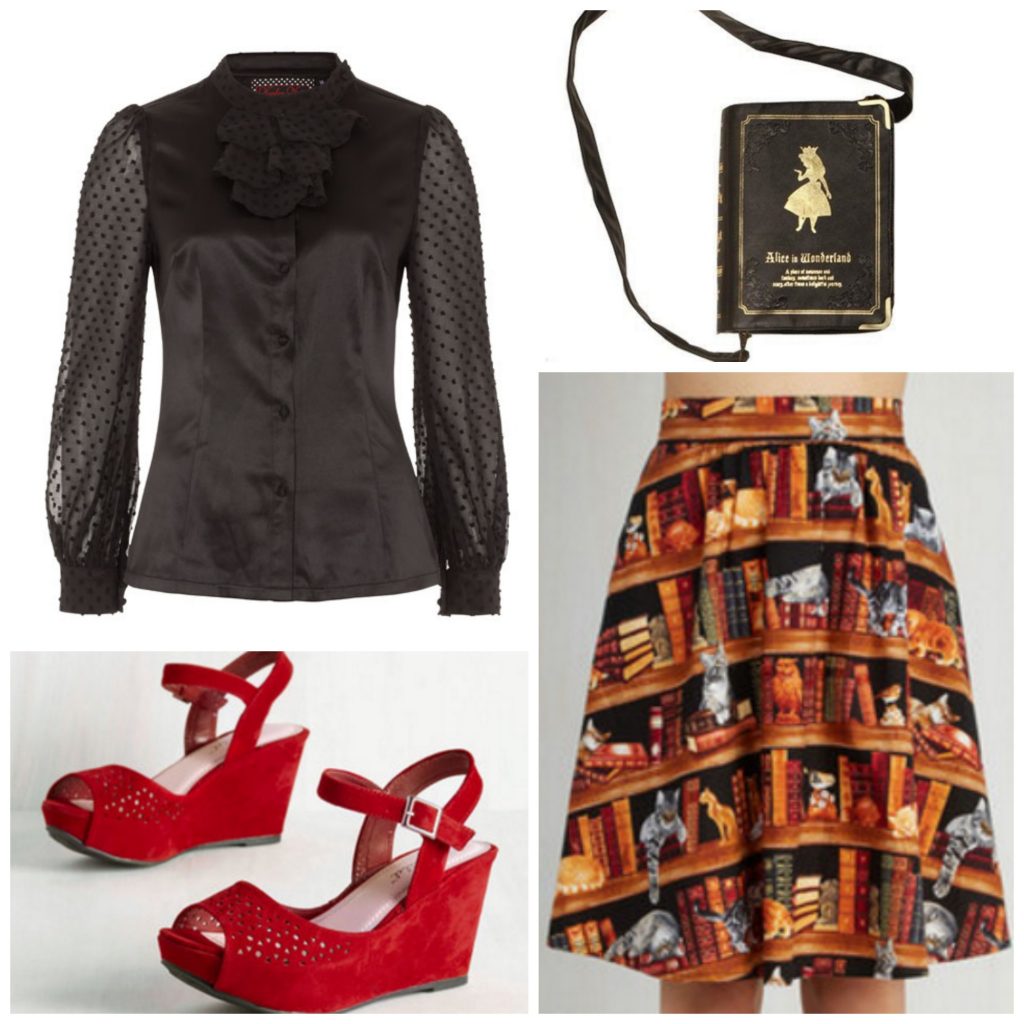 Book Soup is located at 8818 Sunset Blvd, West Hollywood, CA 90069
Be sure to check out:
Advanced Style: Older and Wiser
Photos from the book courtesy of Advanced Style
Go forth and conquer – in style,
Kastle
Photos edited with PicMonkey*. Get it!

Tags:
Advanced Style
,
Book Soup
,
books
,
Kastle Waserman
,
where to go in Los Angeles