With the pandemic still raging this year, I've been going to mostly outdoor events to try to stay safe in crowds. That means I've discovered a wealth of markets for shopping and farmer's markets for produce and baked goods. Now I don't know if these outdoor markets have always existed, and I wasn't paying attention or if this is now a popular way to shop because of Covid, but I'm happy to have them.
The holidays have seen an explosion of outdoor shopping markets for gifts, with many of the booths from indie small businesses, artists and makers who need our business way more than the big box stores or the almighty Amazon. Many of the finds here are also sustainably made and environmentally more friendly than what you find in bigger retail stores.
Plus, the holiday markets are a great way to get out and safely socialize and, most importantly, wear cute festive outfits! Here are some of the markets I've attended and outfits I've worn this holiday season.
Firefly Handmade Holiday Market
This makers market was a fun way to discover some of the crafty people in town, making everything from home décor to food to jewelry. It was the weekend after Thanksgiving, so I was still in fall wardrobe mode with this 1970s crochet mini dress, floppy hat and tooled-leather purse.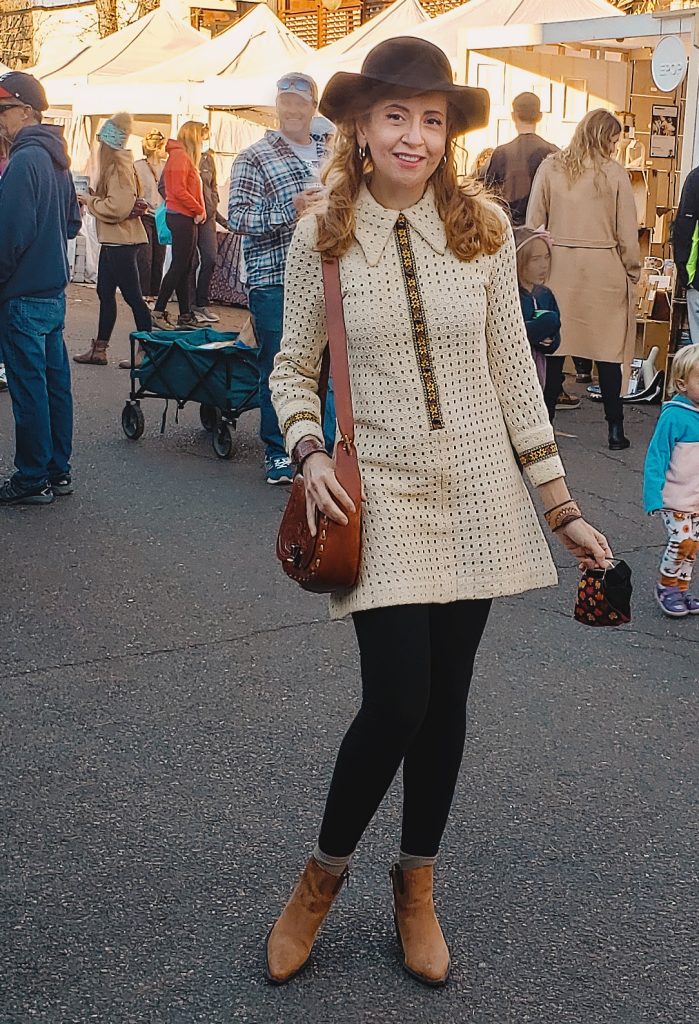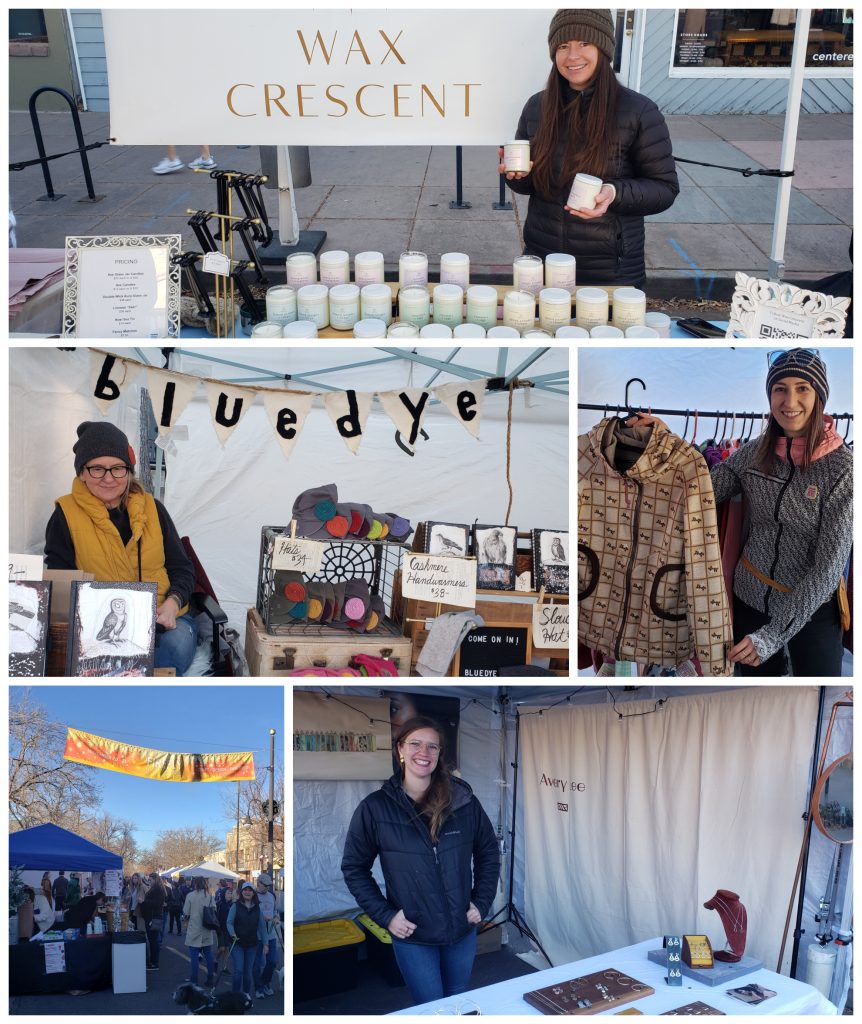 Fun finds: Vander Jackets, Wax Crescent Candles, Avery Lee Designs Jewelry
Learn more about the Firefly Handmade Markets on their website.
Horseshoe Market
This enormous market which features makers and vintage goods, is one of my favorites, taking place several times throughout the year. I wore a 1950s vintage dress I found deadstock (unworn), a matching cardigan and a wool boucle pillbox hat.
Fun finds Bohemian Scrapcity, Round Trip Goods, (read my article in Westword about them!)
Learn more about Horseshoe Market on their website.
Cherry Creek Holiday Market
Conducting a marathon of being open 37 days straight before Christmas, the Cherry Creek Market featured a mix of local makers and some higher-end vendors, plus live music. The best part was walking through the Cherry Creek shopping district decked out in millions of lights for their Winter Wanderland. The temperatures were starting to drop by the time I got there, so I was happy to have my thick vintage faux fur and corduroy coat over a retro T-shirt over a base layer top and some punk rock, I mean Christmas-plaid pants!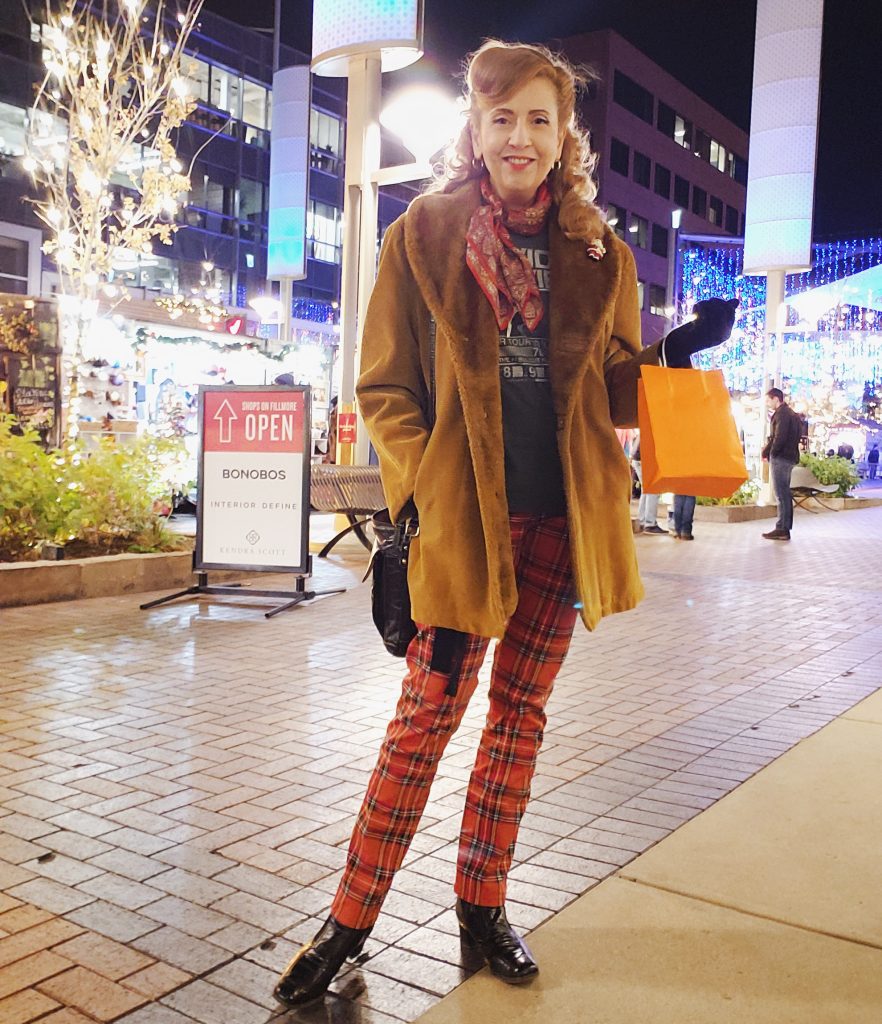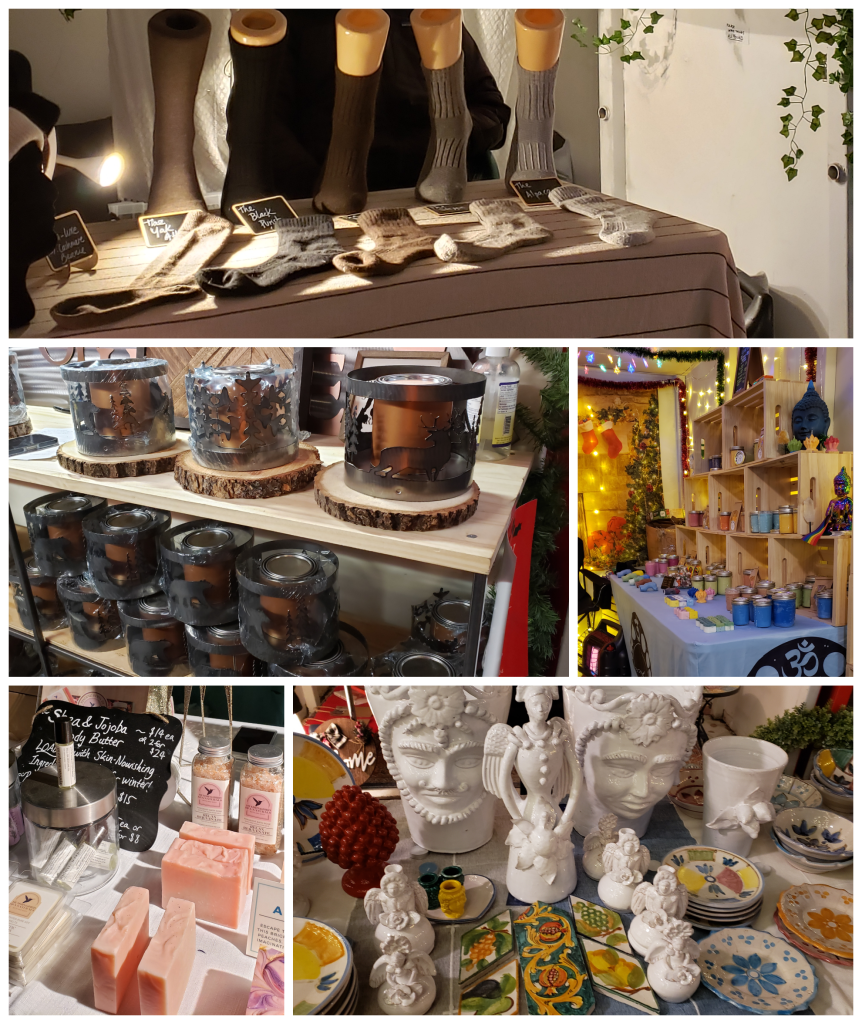 Fun finds: Dirty Hippie Candles, Hummingbird Spa Naturals, Happy Yak, Baby Firepits
Learn more about the Cherry Creek Holiday Market on their website.
Georgetown Christmas Market
I've wanted to go to this market up in the mountains for years, but since it always takes place on the first two weekends of December, it's always freezing and snowing. This year's mild-weather season finally allowed me to go. I wore a thrifted Fair Isle sweater with a vintage plaid skirt.
Fun finds: MP Pinecone Designs, Design By J9
Learn more about Georgetown Christmas Market on their website
Holi-Gay Market at Milk Market
I loved the concept of this market! Featuring LGBTQ-owned small businesses, designers and allies, this market took place inside the Milk Market in downtown Denver's historic Dairy Block. There was a fun mix of high- and low-end selections. I wore a vintage '70s velour jacket and plaid scarf over a retro t-shirt and skinny print pants.
Fun finds: Coco Coquette, Christopher La Fleur Arts, Mona Lucero (read my article in Westword about her!)
Learn more about the Diary Block on their website.
Whew, that was a lot of outings this year! I got to do some Christmas shopping and get some treats for myself. I'll be sad to see the outdoor markets go while we deal with winter weather, but it's sure been a holiday delight – and a great opportunity to style up some of my vintage and thrifted clothing for the season!
Happy holidays!
Kastle