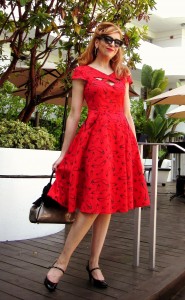 Sponsorships and Affiliate Partnerships
Are you a brand interested in working with Stiletto City? Do you want to reach an audience who loves to shop for retro and rocker style fashions and wear them out on the town in the City of Angels, Los Angeles?
Then you've come to the right place! I'm always on the lookout for brands and products to feature for my readers. A typical Stiletto City post includes a place to go in LA, a look worn by me, where to buy the items I'm wearing, and a how-to on putting together a similar look to wear out to an entertainment show or venue, with links to where to buy the items.
Stiletto City accepts affiliate partnerships and sponsorships for fashions and beauty products that are a fit with the blog. Sponsorships can be in the form of a payment for a blog post featuring your brand's items and/or gifted items for PR purposes for me to model in blog posts and social media "outfit of the day" posts. Most outfits are modeled with the exciting cityscape of Los Angeles in the background or on location at a popular venue.
I have 10+ years of fashion and nightlife reporting, as well as marketing copywriting experience to put into words and images why your product is fabulous!
Please see the Stiletto City Media Kit PDF for information on the blog's mission and target audience demographics.
Advertising Partnerships
Coming soon to Stiletto City! Advertise your brand to a fashion and beauty loving audience!
Ads will run in the right sidebar for spans of 1 month. Ads are shuffled weekly so everyone gets equal exposure for the month.
Ad Rates:
300×100 – $15 per month.
300×300 – $20 per month.
Ad graphic should be provided by the advertiser in .jpg form. Need help creating a graphic design? Ask me, I know some good, affordable designers!
Also available: advertisement in the Stiletto City monthly newsletter. Contact me to discuss available options!
Payment for Sponsorships and Advertising are accepted on PayPal only via PayPal invoicing.
Let me know if you are interested or have questions:
info(at)stilettocity.com
Download the Media Kit one-sheet (PDF) and see the opportunities we can form a beautiful partnership! I look forward to hearing from you!