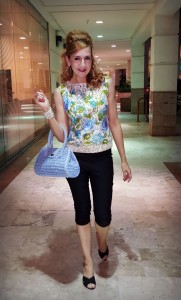 Welcome to Stiletto City! I made this a place to express my passion for retro and rocker fashion. I love styling outfits with vintage and thrift-store finds. I'm a veteran journalist who worked for over five years as a reporter and editor for the Los Angeles Times covering music, nightlife, fashion and lifestyles. I've also been published in the New York Post, Women's Wear Daily, Yahoo! and Fodor's Travel Books. I currently contribute to Tucson Weekly and Denver's Westword alternative weekly newspapers.
I transitioned from full-time journalist to marketing a few years ago as a copywriter. I currently specialize in blog writing, newsletters and content marketing materials for brands. Do you have a project you need some copywriting for? You can hire me! Read more about my experience and see work samples on my other site: www.kastleproductions.com
I'm originally from Houston, Texas and lived in Los Angeles, California for many years, exploring its endless buffet of subcultures and attractions. I relocated to Denver, Colorado in 2017 and love experiencing life between the city and those gorgeous Rocky Mountains! You can find some of my writing in the Denver scene in the local alternative weekly, Westword.
I can often be found listening to rockabilly, '60s soul, alt pop, glam or punk rock. I've never met a fruity cocktail I didn't like, and I love getting dressed up and going out to see what adventures await.
Take a look around and check out my styling tips and tricks on how to put together your own retro and rocker looks. I hope you enjoy your time visiting Stiletto City!
– Kastle Waserman
Questions? Contact: stilettocity(at)gmail.com