When summer comes around, I get excited for the summer markets to reopen. You can find fresh produce and baked goods at farmer's markets. The maker's markets have fun clothes, candles and other crafts. And of course, I can't stay away from all vintage and thrift at flea markets. I love it all! I always find something interesting or delicious to bring home. And it's the perfect excuse to put together a creative daytime outfit.
Here are some of my looks for summer markets.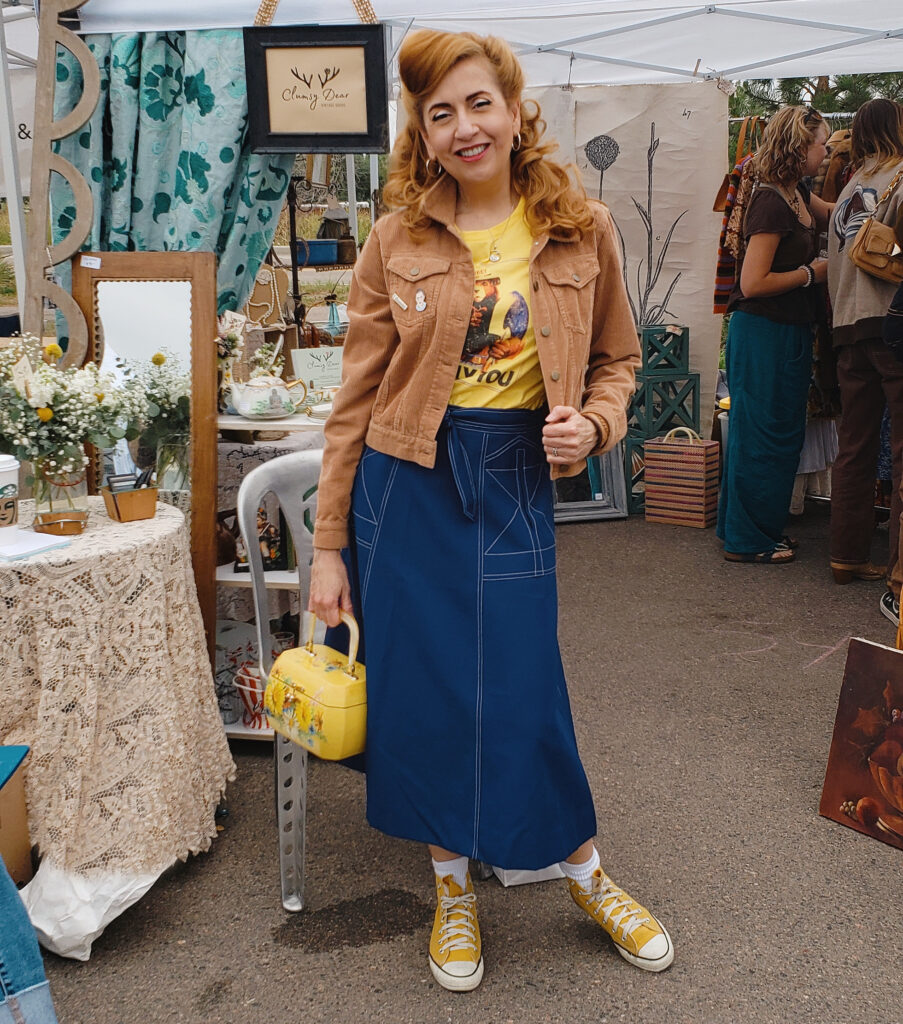 Retro T-shirts Are a Summer Staple
My favorite thing to wear in the summer is a comfortable cotton t-shirt. I have them in a million solid colors, some prints such as stripes and polka-dots, but my biggest faves are graphic t-shirts that express things I love or care about, such as bands, causes or pop culture memories. I recently picked up this retro Smokey the Bear tee that not only reminds me of the Smokey commercials I used to see as a kid but is also appropriate since I live near the forests of Colorado. I paired it with a 1970s vintage wrap skirt, a vintage floral decoupage box purse and some bright yellow, high-top Chucks kicks. I topped it all with a corduroy jean jacket for a laid-back day at Horseshoe Market, where I can find everything from vintage to maker's candles, ceramics or jewelry.
Cool Vintage Topper
The farmer's markets in Denver are a scene in themselves with loads of people crowding for farm-fresh produce, snacks, spices, baked goodies and even some lunch options. On this day, I pulled out one of my favorite vintage 1960's tops and paired it with some summer white capri pants. A vintage scarf gives it a little added flair, along with a vintage basket purse. Again, high-top sneakers are my go-to for the markets as they are comfy to walk in and protect my feet from being stepped on or sunburn. It was the perfect outfit for Pearl Street Farmer's Market, one of Denver's biggest and most popular farmer's markets.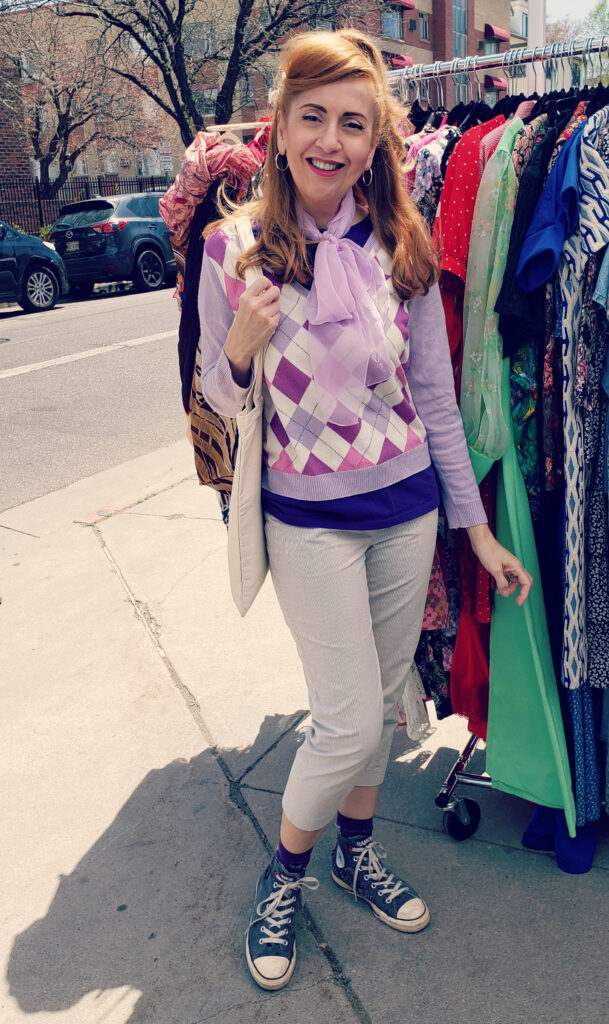 A Light Sweater
It's best to hit the markets early before all the good stuff is gone, but sometimes that means it's still chilly out. A light sweater can save the day. I recently brought back this purple argyle sweater from my parent's house. I wore it as a teenager, so it's vintage now! I love the print. I put it over a purple graphic tee, so when it gets warm enough to take it off, I have something groovy on underneath. I paired it with some pinstripe capri pants and again my high-top sneaks for casual comfort. I brought along with a canvas bag for toting all the treats I picked up at 13the Avenue Flea Market, where they have a great selection of vintage and thrift vendors, located next to Denver's gem of a record store, Wax Trax Records. They also have live bands on the sidewalk on Sunday flea market day!
So those are a few of my market looks. If you want to know where you can find me on the weekends in the summertime, check for your local markets. I'll be there!