I love wearing bright colors. Joyful, jewel tones pick up my spirits. But once the fall season begins, is it time to put away all bright spring and summer clothing? Not necessarily. You can learn how to wear bright colors in the fall.
The fall season provides so many fun opportunities to mix and match pieces because it's time to start adding layers as the temperature comes down. You can pair a light dress with a cardigan sweater, a vest and a jacket. Then add colored leggings, a scarf, a hat. There are so many ways to mix and match textures and colors. But there is a trick to wearing bright colors in the fall to make it all look coordinated and not like you just left a thrift store wearing everything you bought.
Pairing Bright Colors and Neutrals
I found it's best to pair bright colors with a neutral. By that, I mean beige, tans, brown, camel, and even mustard to temper a piece's brightness and usher it into an autumnal palette.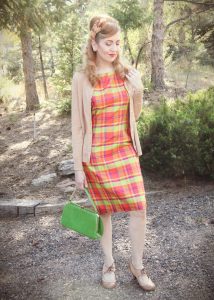 Take, for example, this great vintage shift dress. Nothing else says, "welcome fall" like plaid, but the colors here are bright and the dress is light and sleeveless, so it easily works as a summer piece. But put a neutral tan cardigan over it and it instantly tones down the brightness and gets it ready to take its place among other traditional fall plaids.
You could even take it further with tan ankle booties, a chunky tan leather belt and some leggings in a complementary dark green or rust to tamp down the brighter tones.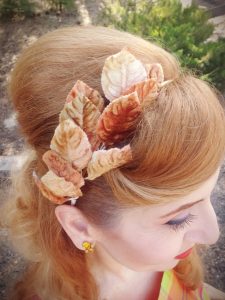 I added a headband from ChatterBlossom made of vintage fabric fall leaves in different earth tones to bring in more of the tan color and it instantly took this bright dress into autumn.
Unexpected Color Pairings
Don't be afraid to pair colors you wouldn't normally think would work. Fall is a time of transition. The bright colors found in nature don't always follow traditional fashion rules. It's the season for various shades of gold, oranges, reds, greens and, of course, those neutrals. I used to always think I had to "ground" my outfits with black. Now I look for ways to take out those dark grounding shades and just let the colors play off each other.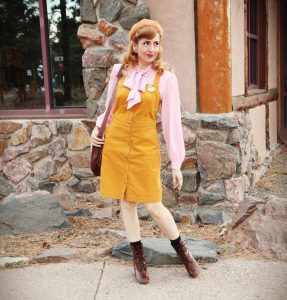 For example, who would have thought bright pink and a golden mustard tone would work together? But the mustard shade acts as the contrast color and a neutral to do that "grounding" effect against this thrifted, 1940s-style blouse. Plus, the jumper here is in a very fall texture of corduroy.
This reminds me to mention, pairing fall textures such as tweeds, wools and corduroy with lighter silks and cotton is another great way to mix your summer pieces into your fall look. And don't forget your handbag. Leather purses and satchels also scream fall and add a bit of texture, especially when they're vintage or have a slightly distressed look. Chunky boots, a vintage beret and an Erstwilder fox brooch all bring this outfit into the fall season.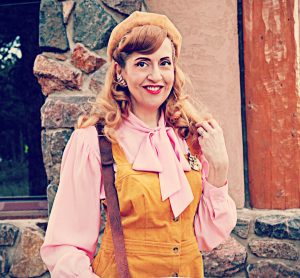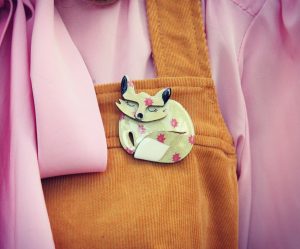 How to Try New Color Schemes in Your Wardrobe
When learning how to wear bright colors for fall, try experimenting with new pairings. Try holding pieces up against each other in your closet and see if they work together. If you have a hook in your wall, you can hang them together and take a step back to have a look. Another way is to do a flat lay or even invest in a mannequin to try outfits on for you.
You might be surprised how some unexpected color schemes play off each other, such as burgundy and orange or olive green and yellow.  If you just want to dip your toe into wearing bright colors for fall, try doing it with scarves, which are great for fall and an affordable way to add a bold color choice to an outfit.
Check out more of my fall outfits on my Instagram page.
Don't be afraid to try something new!
Until next time,
Kastle
Tags:
autumn style
,
fall fashion
,
wearing bright colors for fall