Leaf Peeping Road Trip Planner with Vintage Style
September 28, 2020
by stilettocity — Posted in Colorado, Fashion, Travel
With all the isolating during the pandemic, we've been longing for a vacation. Since fall is my favorite season, we decided to check out the leaf-peeping opportunities close by in Colorado. So we planned a series of leaf-peeping road trips that involved no human interaction. Here's how we did it:
I mapped out some prime leaf-peeping destinations within a two-hour drive from our home. Since we were going there and back in a day, we didn't want to spend hours in the car. I planned to hit some of the scenic byways for optimal fall color and good picnic spots.
Road Trip Planner – Safety during COVID
Avoiding human interaction and potential COVID exposure meant not staying overnight in a hotel, avoiding restaurants and public bathrooms, and sadly, no souvenir shopping.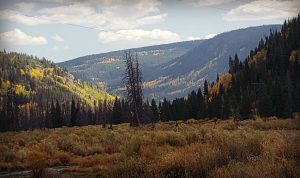 We avoided hotels by driving out for the day and coming back at night. We stayed out of restaurants by packing our own food in a picnic basket and cooler. And I made my own restroom with a popup tent. Read on for details.
We brought our face masks (mine had fall leaves on it!)  and hand sanitizer because we did spend a little time wandering through the historic main streets of some little mountain towns, but mostly we stayed among the trees and avoided people altogether.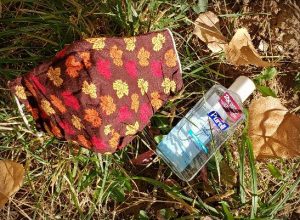 Road Trip Essentials
Leaf Peeping Fall Picnic Ideas
We packed a picnic basket and a cooler loaded with sandwiches and snacks. My favorite sandwich of the trip was avocado (mix with sour cream to avoid browning) with chopped baked chicken and mayo. And I packed loads of Trader Joe's fall-themed snacks to stay in the autumnal spirit. We also packed cloth napkins and filled reusable bottles with water and thermoses with coffee. (I try to be eco-friendly as much as possible.)
We had some options on how to picnic. I bought a cute red-checkered (of course) picnic blanket we could lay on the ground. We also brought a couple of chairs. One day, we just sat and ate out of the back of the SUV.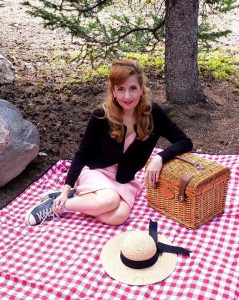 Avoiding Public Restrooms
Since we wanted to avoid all public places, the biggest challenge was how to use the restroom. It's a little easier for my husband to duck behind a tree than for me. I researched what campers do (Warning: TMI ahead) and discovered a handy tool called the PStyle that allows us ladies to pee standing up just like the fellas. I also got a urinal bottle to pee into because sometimes the ground isn't appropriate. The container was then emptied and rinsed with a bottle of water in the nearest available forest. Then I cleaned my hands with anti-bacterial wipes and put the wipes in a bag to take home and dispose of (we practice Leave no Trace).
But still, I like a little privacy. I discovered some campers create their own bathroom with a one-person popup tent you can stand up in. I found an affordable one on eBay, and voila, my own personal bathroom on the road! Some tips on the popup tent: It helps to have two people. It's very lightweight and will blow away in the wind if you don't have someone holding it. It also helps to have two people to fold it back up because it's a little big and cumbersome. But it packs easily in the car and gives you all the privacy you need. What a relief!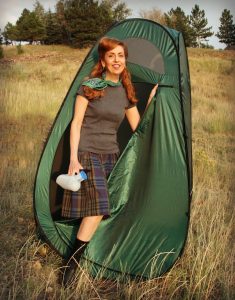 Road Trip Activities
One of the goals on our mini vacation was to relax. This year has been so stressful. We wanted to go totally offline, no news, no social media. So we planned time to just find pretty spots and unwind. I brought pillows and blankets for naps, books, even coloring pages and colored pencils (coloring is very soothing). We made some time just to chill in the beauty of the trees.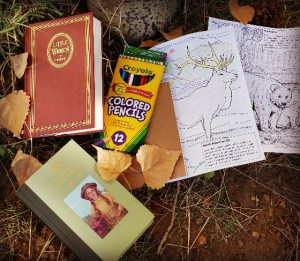 Leaf Peeping Fall Outfits
I love dressing for fall. The opportunities for lots of layers and mixing and matching separates in different patterns and textures is so much fun. It was still a little warm out during our trip, so I didn't layer as much as I would have liked, but I wanted to wear some cute styles for pictures among the trees. One key during leaf peeping, no heels, so I wore my trusty, comfy, flat, lace-up boots, Little Women-style with swing skirts. I also packed some hiking clothes if we wanted to take off on one of the trails (my portable restroom also doubles as a dressing room!)
Vintage Style Fall Fashion 1: Burgundy Twirls
Fall for me means switching from summertime pencil skirts to circle skirts I can layer underneath and wear with chunky boots. I love the swing skirts from Steady Clothing. They give great twirls! I paired it with a  sweet detachable color with fall leaf detail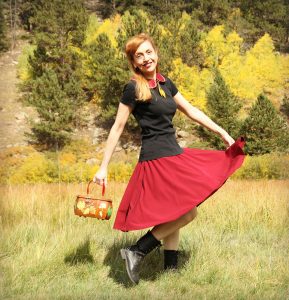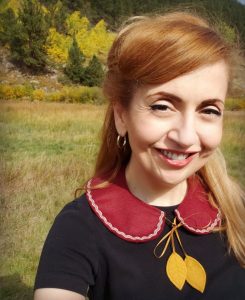 Vintage Style Fall Fashion 2: Mad for Plaid
Greens and blues make great fall hues. I paired a plaid vintage skirt with a paisley vintage scarf, a simple t-shirt and thrifted sweater to create this look. A bracelet with fall leaves added an autumnal touch. And I scored the perfect fall purse on Etsy, a vintage wood box purse with decoupage leaves. So festive for the season!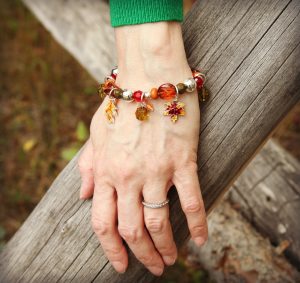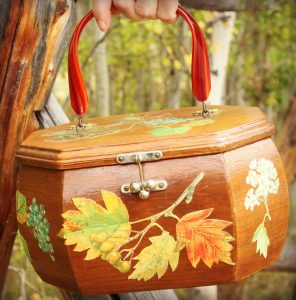 Vintage Style Fall Fashion 3: Adding Layers
A chill in the mountain air meant it was time to add a jacket over a cardigan sweater. Another swing skirt and t-shirt base with a delightful detachable collar featuring a sweet deer. 

Leaf Peeping Colorado
Ready for your own leaf-peeping adventure? The leaves turn in Colorado starting in mid-September to early October from the high country down to the cities in the lower elevations. Here are some of the best places to see the show:
Trail Ridge Road – runs through Rocky Mountain National Park. Be aware you need a park pass, and during COVID, a reservation for timed entry.
Vail's Scenic Byway – the leaves are beautiful almost everywhere around Vail. Look for the scenic byways to make the most of it.
Peak to Peak Scenic Byway – this will take you from Estes Park, which is worthy of its own leaf peeping, down to Central City, a historic town that makes a good pit stop.
Guanella Pass – a gorgeous drive through the Aspens. Be aware that it gets crowded during peak leaf peeping. Watch for people wandering the road taking pictures.
Kenosha Pass – a nice long drive filled with fall color. Plus, lots of hiking trails to get out and be in it.
Until next time,
Kastle
Tags:
Colorado Lifestyle Blogger
,
Denver Fashion Blogger
,
Denver Lifestyle Blogger
,
fall fashion
,
fall vintage style
,
leaf peeping
,
leaf peeping in Colorado
,
picnic
,
road trip