My style has been venturing into the 1970s lately, mainly due to recently inheriting my mom's wardrobe. She kept much of her very stylish 1970s clothing, which included a lot of midi-length skirts. Since I'm at the point where I've outgrown mini skirts, the midi feels just right, and I'm trying out some new looks.
The midi skirt gained popularity during the 1940s and 1950s, revolutionizing women's fashion. This elegant garment emerged as a response to wartime rationing and the need for more practical attire. With its hemline falling below the knee and sometimes reaching mid-calf, the midi skirt struck the perfect balance between modesty and style.
My vintage midi skirt collection comes from a decade filled with bold style, great music and quirky TV sitcoms (I'm looking at you, Brady Bunch and Partridge Family). It's a decade I associate with my childhood and many memories. I never thought I would want to relive some of those crazy fashions. But recently, I've fallen in love with playing with some of these retro statement-making pieces, and they look as fresh today as the decade comes back in style.
One of the reasons the midi skirt has endured throughout the years is its universally flattering silhouette. Whether you opt for an A-line, pleated, or pencil style, the midi skirt cinches at the waist and gracefully flares out, creating a feminine and sophisticated shape. It accentuates the natural curves while providing comfort and freedom of movement.
Here are some of my latest outfits influenced by 1970s style and the midi skirt.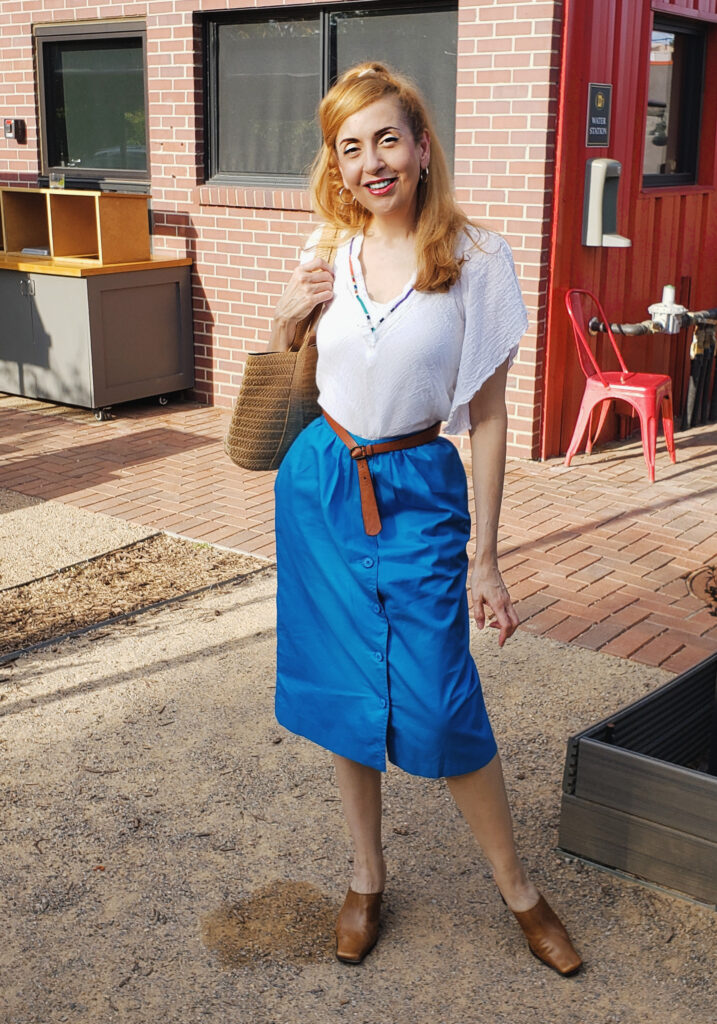 Flowy Sleeves and Button-Down Midi Skirt
Thanks to the recent Amazon Prime series "Daisy Jones and the Six", the boho rock 'n' roll look has taken hold this year. I love that carefree, hippie-esque style, but I've never worn it. Now with the help of this vintage breezy, flowy top and bright midi skirt, I'm getting the boho vibes. Paired with some vintage leather accessories, it's got that California in the summer of love feeling.
Get the look: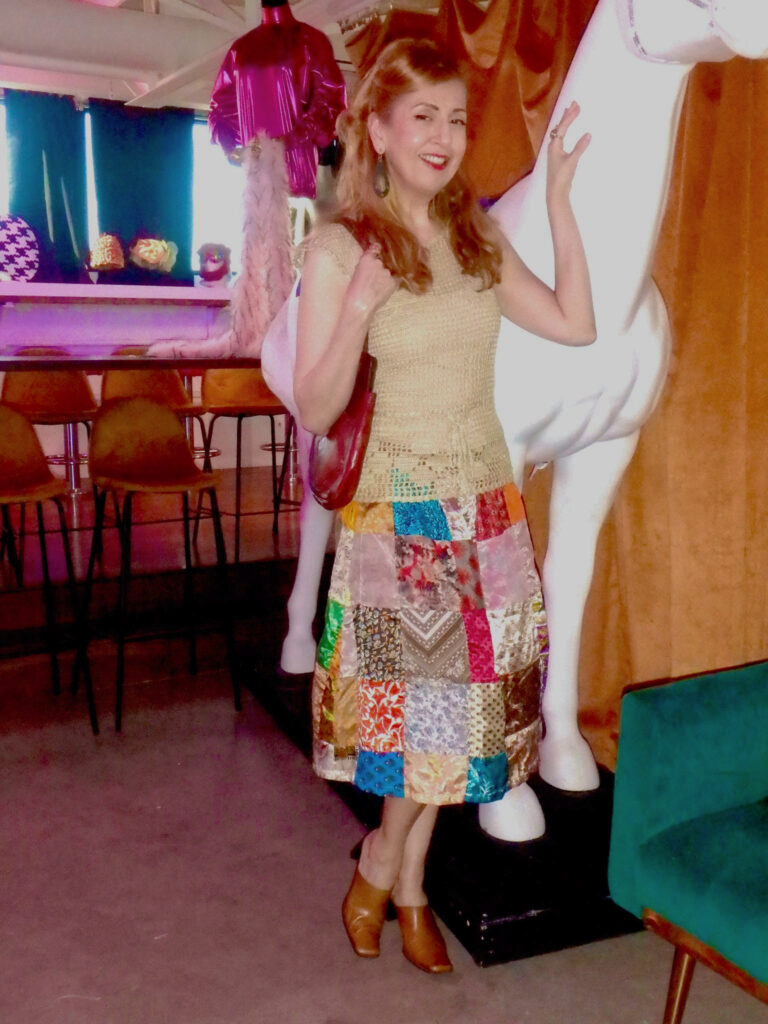 Crochet Top and Patchwork Midi Skirt
I can't think of two more iconic styles that speak to the 1970s than crochet and patchwork. Crochet tops were everywhere in the 1970s, from bags to tops to shawls (we see you Stevie Nicks!) Patchwork was another one of those iconic looks of the era, from leather patchwork purses and jackets to clothing in an array of mixed and matched fabrics and prints. This vintage patchwork skirt is so much fun, made from silky scarf fabric scraps. I paired it with one of my mom's vintage crochet tops creating a great look for summer. If you're wondering, the white horse is a nod to when Bianca Jagger rode a real one into Studio 54 during her birthday party in the '70s.
Get the look: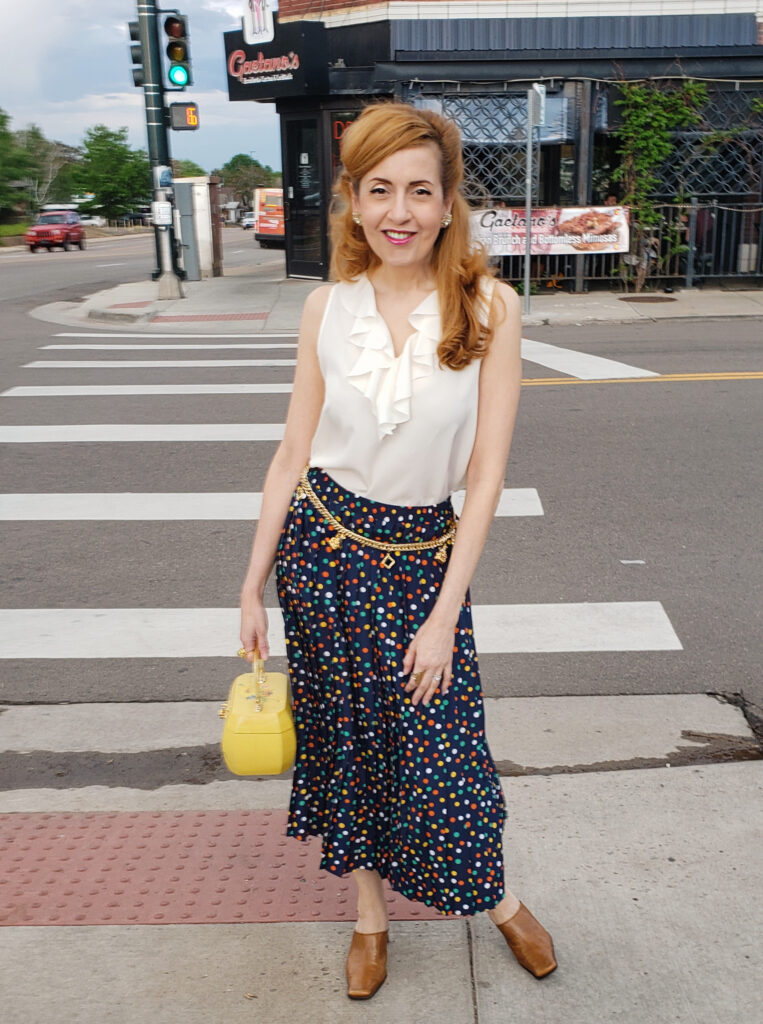 Ruffle Top and Pleated Midi Skirt
Ruffles were a massive trend in the 1970s that appeared on blouse collars and pant bell bottoms. This top has a soft ruffle around the neckline, which pairs nicely with this vintage pleated midi skirt featuring multicolor polka dots. You can't beat the long pleat on this skirt to elongate the silhouette!  
Get the look
The midi skirt holds a special place in the hearts of fashion enthusiasts worldwide. Its history and versatility make it a go-to choice for those seeking an elegant and feminine style. If you're tired of your mini and knee-length skirts, give the midi a spin. You might discover a whole new look!