This past year, I've been helping my mom clear out decades' worth of stored boxes. Since my mom was a fashionista (Now you know where I get it!), she had some fabulous clothes that are now vintage, much of it from the 1970s. She let me take a huge haul home with me and now I have pretty much an entire wardrobe of '70s clothes. And the timing seems to be perfect, because I'm starting to see this vintage trend everywhere – even in vintage stores that used to be pre-'60s-only and vintage reproduction brands such as Unique Vintage are making it.
It's taken me a few months to learn how to style 1970s clothes, but I love the bold colors, wacky pointed dagger colors, and the A-line skirts and dresses that are so flattering and comfortable.
All the clothes you see here are from my mom except the floral midi skirt and yellow striped jacket that I picked up from Ten Penny Vintage after catching the '70s bug! Thanks mom!
Midi Wrap Skirts and Stripe Shirts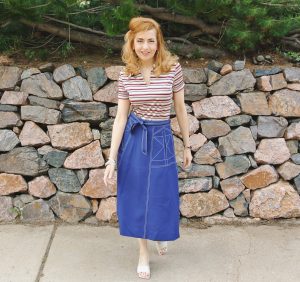 Nothing is more "Brady Bunch" than a striped shirt with a v-neck and dagger collar, paired with a white stitch midi wrap skirt. Can you say, "Marsha, Marsha, Marsha!"
For the Love of Velour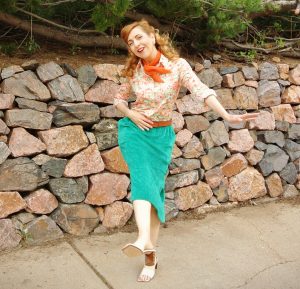 Velour was so '70s and so soft. I remember my mom wearing it A LOT – to the mall, to the pool. It was cool yet warm at the same time. I paired this green velour skirt with a floral shirt with dagger collar made of good ol' polyester – of course! The skirt also came with a matching jacket. Wow!
Button-Down Shirts with Dagger Collars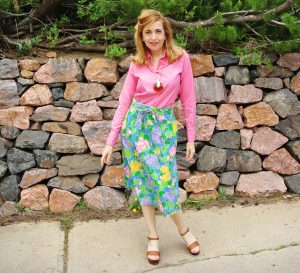 I just love how this floral wrap skirt is so summery and cheerful. I paired it with one of my mom's pointy-collar button-downs and the stiff square fit of this shirt is so telling that this is before "slim fit" cuts.
Peasant Tops Can Now Be Cottegecore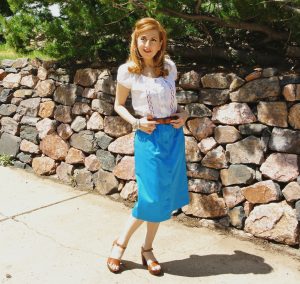 In the '70s, many "ethnic" looks came into play that might be considered cultural appropriation today, depending on how it's worn. "Boho" is a questionable term these days, but I do love the idea of light, free-flowing clothes and counter-culture artistic style. The summery feel of this peasant-style blouse gives a hint of that and could work for a more cottegecore look. I juxtaposed it with a bright teal button-down A-line midi skirt and rustic vintage belt.
So Much Polyester!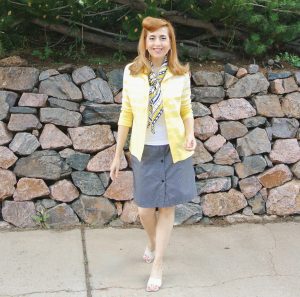 I just can't get enough polyester in my '70s wardrobe and had to have this cheery yellow jacket. It probably came with matching pants at some point, but I made do with one of my mom's scooter skirts in a navy star-print pattern for a little print mixing. And bonus, the skirt has shorts underneath!
Filet Lace Dress

I couldn't believe this long, filet lace dress was in my mom's collection and in perfect condition. I wasn't sure to make of it at first – is it a dress, a swimsuit coverup, a duster jacket? I guess it can be whatever you want – but no question, it's a stunner!
So that's a peek at my new '70s wardrobe. There are few more gems I have yet to style. I'm having lots of fun with it and am loving the new silhouettes it brings into play. See more of my looks on my Instagram page and in my everyday styling articles on Upstyle Daily.
Cheers,
Kastle
Tags:
1970s looks
,
1970s vintage clothes
,
how to style 1970s clothes
,
Vintage clothes