I love a good sweater vest. This simple layering piece became a trend last year and is perfect for between seasons when it's just a little chilly outside but not cold enough for a full sweater. While this piece has a reputation as a conservative mainstay when paired with a button-down shirt, I wanted to share how to style a sweater vest creatively.
Sweater vests come in all different colors and can include some fun patterns. I try to look for unusual designs or a good ol' fashion grandpa sweater.Styling it with other prints and textures can create an interesting look with vintage style.
Mixing Prints with A Sweater Vest

I found this sweater vest at a vintage store and just loved the print. At first, I wasn't sure how to style it and just paired it with solid colors. But then I started to have some fun with it. I put it over a thrifted button-down shirt with a small print in complementary colors and then some pants with a light plaid print in the same color palette that lets the bold print of the vest stand out.
Mixing Textures with A Sweater Vest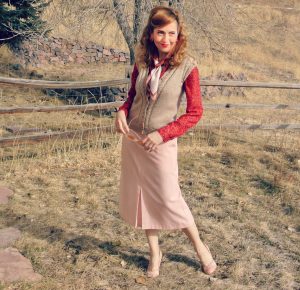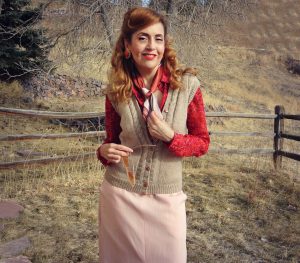 I fell in love with this grandpa-style beige sweater vest at an antique market. It looks like it was lovingly hand-knitted. I decided to have some fun with it by pairing it with a thrifted, silky bold-colored pink and orange print button-down shirt and vintage pale pink linen skirt.
Mixing Prints and Solid Colors with a Sweater Vest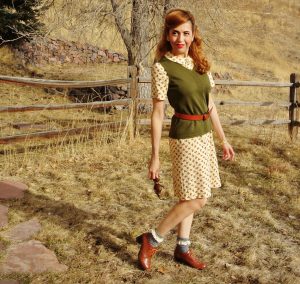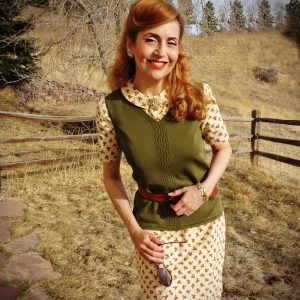 Don't limit your sweater vests to just going over shirts. They also work great over your summer dresses when it's not quite warm enough to wear them. I paired this thrifted green sweater vest over a vintage pony-print dress and added a vintage belt to give it some shape.
What ways can you think of to style your sweater vest? Maybe over a hoodie, with a t-shirt or a puffy-sleeve blouse? The options are limitless!
Check out more ways to style creatively with vintage and thrifted finds on my Instagram page.
Until next time,
Kastle
Tags:
How to Style
,
Kastle Waserman
,
Kastle Wasserman
,
Sweater Vest
,
vintage style