Style Trends You Can Steal from "The Queen's Gambit"
January 4, 2021
by stilettocity — Posted in Fashion
Netflix's runaway hit mini-series "The Queen's Gambit" about a gifted female chess player is extraordinary on so many levels. But it's the fashion that's a real standout. Set in the early 1960s, midcentury modern style trends such as Peter Pan collars and headscarves make several appearances, but it's the clever use of chess-inspired fashion that makes the wardrobe choices unique. There are plenty of style trends you can steal from "The Queen's Gambit."
While the fabulous "Queen's Gambit" wardrobe was my gateway to the show, I quickly realized how compelling Beth was as the lead character. And I grew impressed with the super-smart writing and the exceptional attention to detail in everything from the set decoration to the chess plays and references. You can't help but binge-watch the entire series.
And it was worth a second watch just to study the costume design choices. I loved Beth's vintage style and how she used clothes to reveal who she was, even though she rarely let anyone get too close. As a collector of '60s vintage fashion and mid-mod-inspired style, I also realized I have similar looks in my closet and zeroed in on some "Queen's Gambit" style trends you can easily put together too.
"The Queen's Gambit" Style Trend: Chessboard prints and plaids
Beth either consciously or unconsciously gravitates towards plaids and strong lines in the clothing she wears. This plays on her love for chess and chessboard patterns. You can steal this style trend with plaid and checkered prints. Look for subtle details, such as this vintage sweater with black and white-patterned trim paired with a vintage plaid skirt.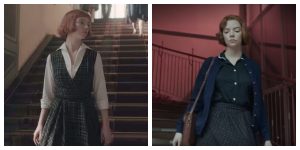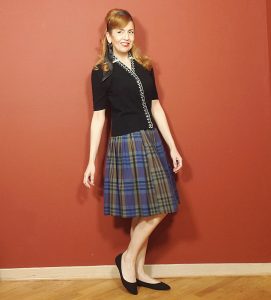 "The Queen's Gambit" Style Trend: Monochrome
More style trends you can steal from "The Queen's Gambit" include a monochrome color palette. Just like with the lines in the prints, Beth also tends to wear a lot of stark black and white, another nod to the chessboard and pieces. Steal this look with split shades of black and white such as this simple yet bold, A-line dress topped with a black tie-belt trench similar to one Beth wears.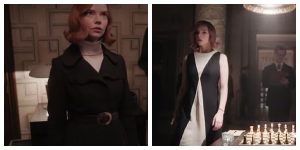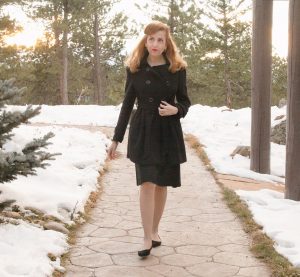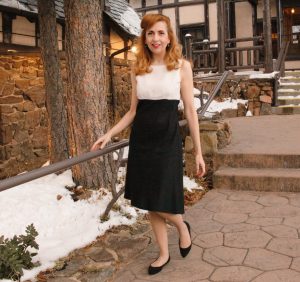 "The Queen's Gambit" Style Trend: Peter Pan Collars
Even though she's a shark in a chess match, Beth maintains her girlish innocence with the '60s trend of Peter Pan collars. You can find this collar style on lots of modern dresses. You can also steal this vintage style by converting the clothing you have by adding a detachable collar that ties on top of a shirt or sweater or is worn dickie-style underneath.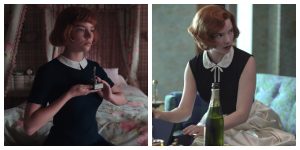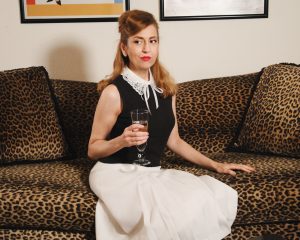 "The Queen's Gambit" Style Trend: Chess Queen White
Nothing is more striking than wearing all white, especially in winter. Beth pulls out an all-white outfit after defeating the Russian champion and struts through the park as the Queen chess piece come to life. You can steal this style trend from "The Queen's Gambit" with a long white coat and hat. Don't forget the gloves to complete the look. Just like in chess, the one who starts out with white will always have the advantage.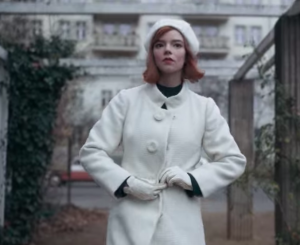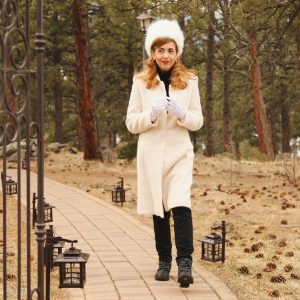 The Queen's Gambit is available to stream on Netflix. What trends will you be stealing from the ultra-stylish show?
Look for more of my midcentury modern-inspired looks on the Stiletto City Instagram page.
Until next time.
Kastle
"The Queen's Gambit" stills from the Netflix television series.
Tags:
How to Dress Like Beth from The Queen's Gambit
,
The Queen's Gambit Fashion
,
The Queens Gambit Style Trends
,
vintage fashion
,
vintage style