How to Wear Pantone's Colors of the Year for 2021
February 6, 2021
by stilettocity — Posted in Fashion
Every year, Pantone releases its color of the year. This color helps stylists, interior designers and other influencers know what's on-trend. This year, Pantone released TWO colors to double your fun. So I thought I'd show you how to wear Pantone's Colors of the Year with a little bit of vintage style shopped from my closet.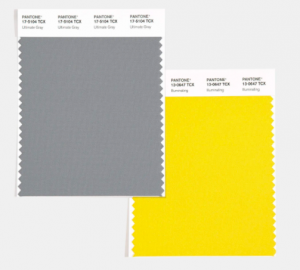 Pantone's Colors of the Year for 2021
For 2021, the Pantone Colors of the Year are Ultimate Gray and Illuminating [Yellow]. These are interesting choices in that one is a grounded, neutral color, and the other is a bright, cheerful color. This may serve to represent this year's juxtaposition of hopeful optimism and realistic uncertainty as the pandemic continues to affect our lives. Both are on the cooler side, so if you're someone drawn to warmer colors, these might not be for you. (But I'm also going to show you how to adjust them to suit your palette.)
Incorporating the Colors of the Year Into Your Wardrobe
Just because these colors are the trend, it doesn't mean you have to make a lot of big purchases to be in style. Thrift stores and second-hand finds on eBay and Etsy are a great way to pepper the color into your wardrobe without spending a lot. I found I actually have quite a bit of grey and yellow in my closet, which took me on an adventure to put some new outfit combos together. A quick disclaimer, the yellows in my wardrobe lean more to warm gold shades than the cooler shade of Pantone's Illuminating because that works better with my skin tone. It's totally OK to rock it your way!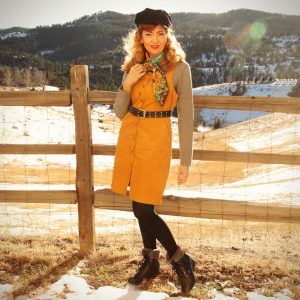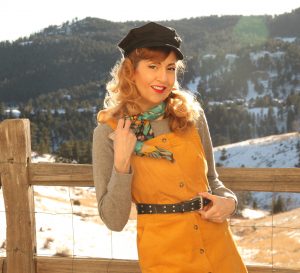 Add a Scarf to Pantone's Colors of the Year Bring in a Print
Why go with straight yellow and grey? Consider it the basics and then bring in a patterned scarf like this vintage one that incorporates the colors of the year and adds a bright teal to "tie" together a simple crew neck grey sweater and yellow corduroy jumper. Black accessories further ground the look.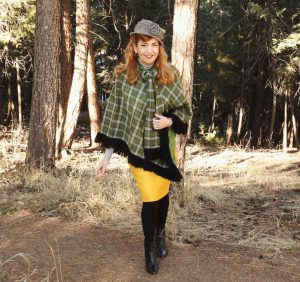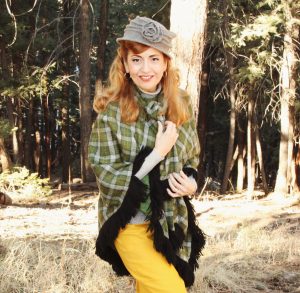 Wear the Color of the Year as the Background to a Statement Piece
You don't have to go with an obvious pairing of grey and yellow to work this trend. They can provide nice background canvas to a statement piece you've been dying to bust out. I put a simple grey turtleneck and yellow pencil skirt under this bold plaid vintage poncho that brings in both shades along with mossy green.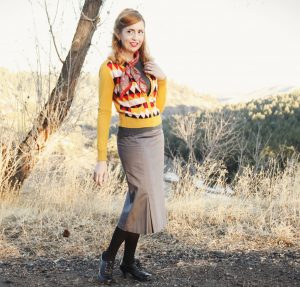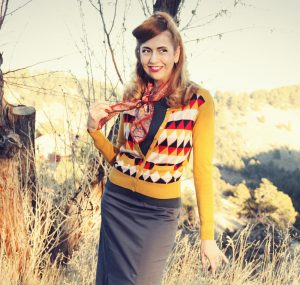 Bring in Other Pops of Color  
Again, don't just think about the two trend colors – bring some others into the fold. This retro yellow argyle sweater brings in shades of deep red, pink, black and white. I paired it with a simple grey long-sleeve t-shirt and grey skirt and played off the pop of red with a red vintage scarf.
So get creative, you've got two colors to work with this year to be on-trend for 2021. Now that you have some ideas on how to wear Pantone's Colors of the Year, what outfits can you put together?
For more vintage, thrifted and shopped-from-my-closet outfit ideas, see my Instagram page.
Until next time,
Kastle
Tags:
How to Style
,
Kastle Waserman
,
Kastle Wasserman
,
Pantone Color of the Year
,
Shop Your Closet
,
Wearing Color