We've had a super cold and snowy winter season in Colorado this year. While it's been hard to get outside and go anywhere, it's still a great excuse to give some of my vintage winter coats a spin.
When winter hits, I always find it so hard to dress stylishly. All I want to do is stay warm, so it's easy to fall into a rut of grabbing a big, warm sweater and pants or leggings and calling it a day. But what's great about vintage winter coats is that they are so stylish; they ARE your outfit. With fabulous colors, textures and trims, they really knew how to make coats back then. Just put one on and make a statement.
Here are a few from my collection: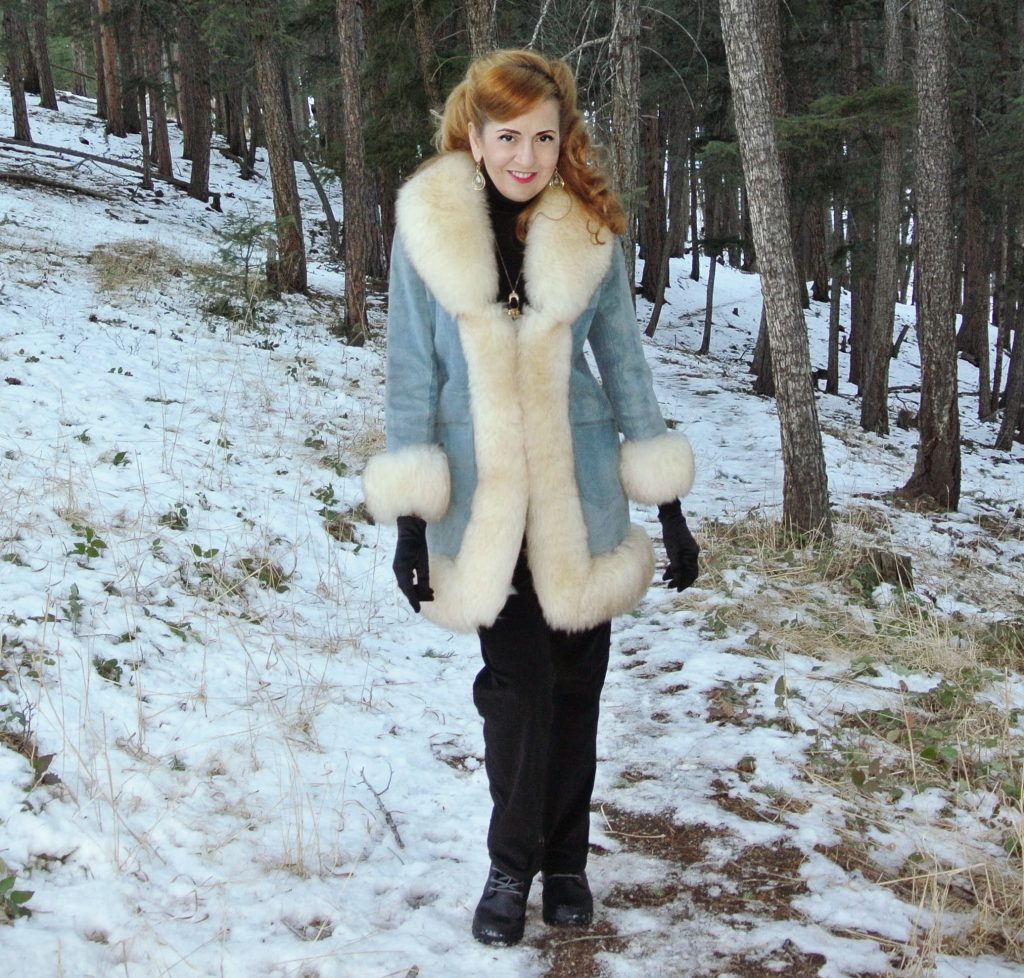 1970s Dream Coat
This coat belonged to my mother and has been literally sitting in my parent's hall closet for decades. Recently, I've been helping my parents clean out some storage, and my mom has been willing to part with a bit of her beloved clothing collection, much of which was from her young, fashionable days in the 1970s. This coat came back on my last trip, and it's such a stunner. Blue suede and a cream fur trim with a flattering hourglass silhouette. I usually avoid anything with real fur because I'm an animal lover and a little conflicted about the justifications for wearing vintage fur. I certainly would never buy fur new. But since this came from my mom, I'm making an exception. I feel so glamorous in this coat! It truly is an outfit in itself.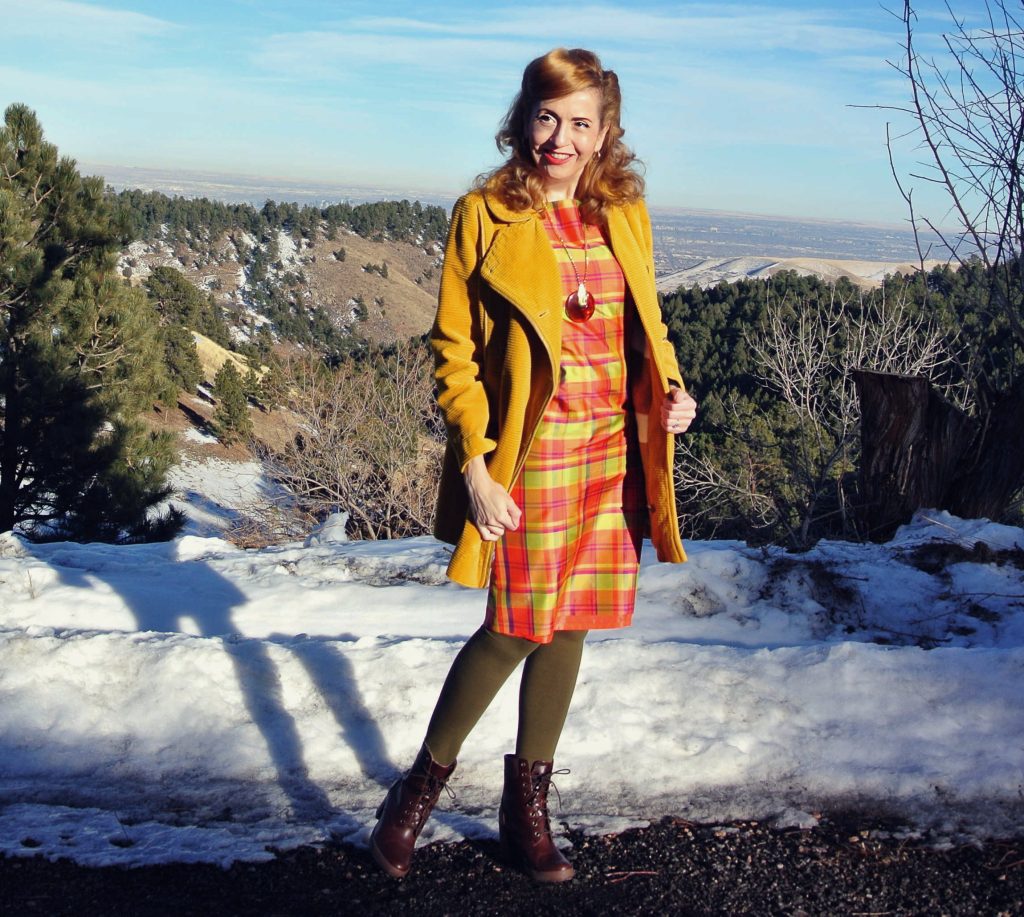 1960s Corduroy Coat
I picked this coat up recently for a steal at our local modernism show. I can't resist corduroy and the color mustard yellow. I love the straight fit of this coat that works well with almost any dress or skirt length. Because of its 1960s styling, it looks fabulous with shorter skirts, which I wear a lot of in winter with warm leggings because they go well with chunky snow boats. The casualness of this coat makes it great for a daywear showstopper.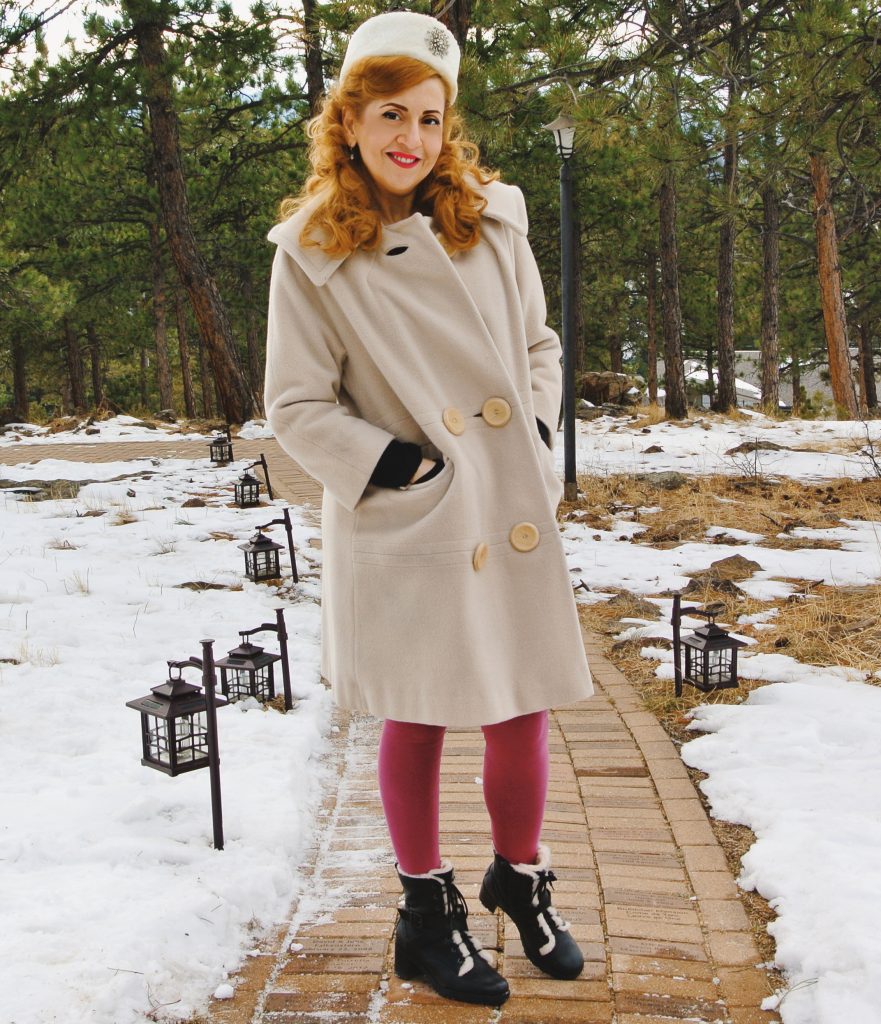 1950s Wool Coat
This was an early impulse purchase when I first moved to Colorado and needed some warm coats. I never needed them in my former home in sun-drenched Southern California. It's been a great excuse to up my coat game, and this off-white mid-century wool coat is such a head-turner. I love creating winter white looks with it, which makes it feel a bit more formal when wearing it. With three-quarter sleeves, I definitely have to be aware of what I wear under it. I have to plan for pairing long sleeves with matching gloves or longer gloves with anything short-sleeved.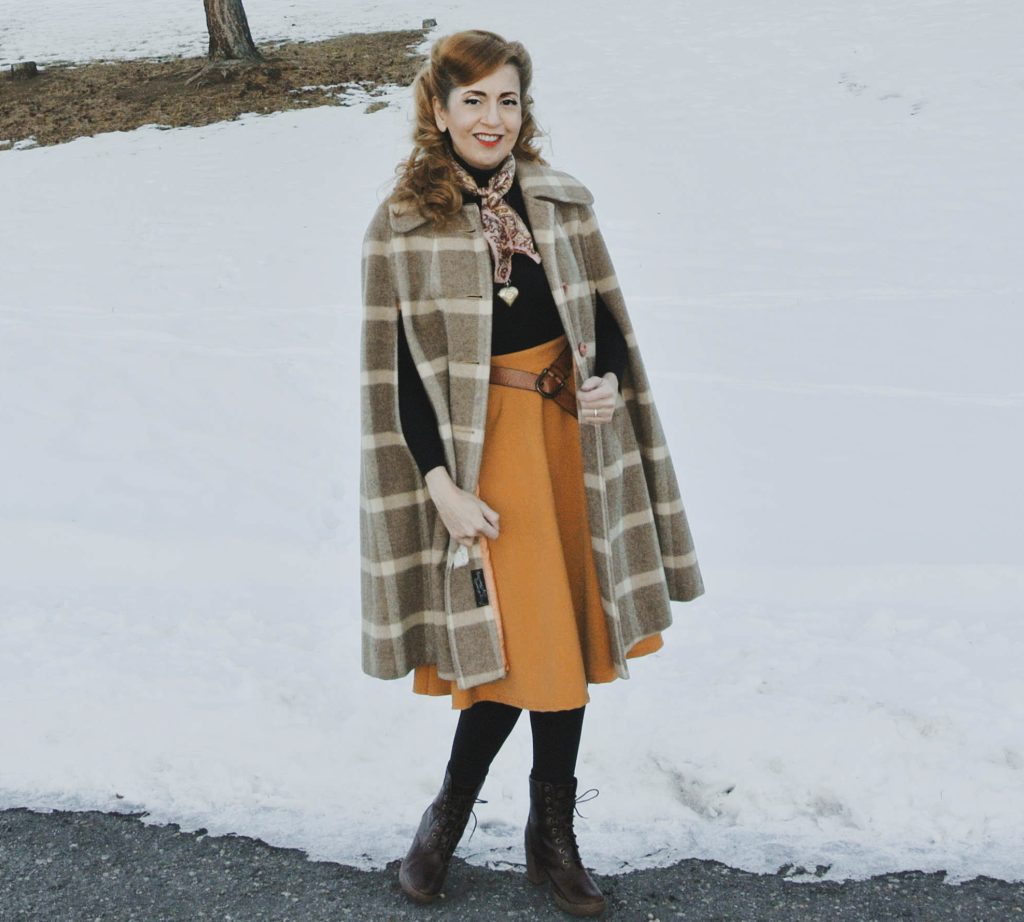 Vintage Cape
Don't forget capes as part of your vintage outerwear! I picked this up from a friend cleaning out her closet. Since she's a big collector of 1940s vintage, I'm guessing this coat originates anywhere from the late 1940s to the early 1960s. I love the taupe plaid pattern that goes with almost anything and is fun for doing some print mixing. Plus, the generous sizing means it can go over almost anything, even a light jacket, for lots of layering options. There is really nothing like the drama of a cape wafting along with your every move to really make an entrance in a room!
So that's my current vintage coat collection. I'm sure it will grow and change over time as I learn to dress for Colorado winters. For now, I have some fun options to play with. Check your local vintage shops to find your dream vintage coat to put some extra style in your winter wear!
Until next time,
Kastle
Tags:
Vintage clothes
,
vintage coat