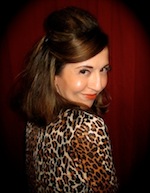 And the horses are on the track! I spent a day at the races for closing day at Santa Anita Park last week. A big group of us dressed in our vintage for a good ol' fashion afternoon.
I'd never been before and had no idea that Santa Anita Park Race Track was just a little bit outside of Pasadena. I must admit that I'm a bit of a fan of horse races but not an experienced attendee. I tend to get swept up in the excitement of the Kentucky Derby every year and long for an afternoon when I can wear a big hat, drink mint juleps and admire some absolutely magnificent animals. I usually end up watching the entire Triple Crown on TV and picking my favorites by the time it's all over.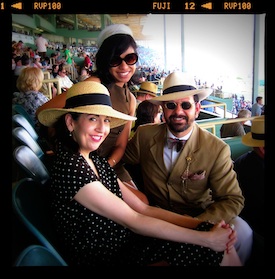 So I was excited to see a horse race in person. We met at the statue of Seabiscuit, which in itself had me a bit awestruck. (It's an amazing story if you don't know it. See the movie, much of it was filmed at Santa Anita where Seabiscuit raced many times.) We then made our way up to the stands. Since we were all dressed up in styles from the 1930-60s — the men in their suits and hats and the ladies in their dresses and gloves — we made quite a scene as people stopped and stared.
I had a few dollars burning a hole in my wallet so I turned to one of the fellas to assist this virgin racer on how to place a bet. Of course I had no idea how to beat the odds, so  I went by names I liked.
With the sound of the bugle, we were ready for our first race. I watched as the numbers I picked flew past with the thunder of speedy hooves in the dirt. Not a winner but I tried again. Ok, well I lost two races and I stopped there. We spent the rest of the day exploring the grounds, posing for pictures and we even snuck into the Winner's Circle for a spell, just long enough for one lady from our group of retro dollies to be pulled into the coach 'n' horses for a private spin around the track!
See photos from the day by clicking on the image below: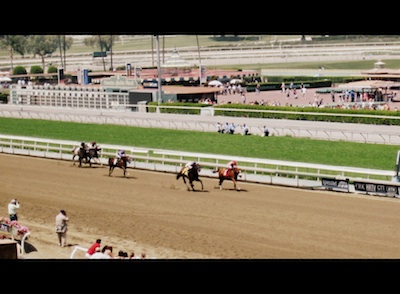 It was a great time and a perfect lead-up to the Kentucky Derby on May 5th. If you want to celebrate like they do at Churchill Downs, the historic downtown Los Angeles Athletic Club is having a viewing party. Don't miss the "Most Exciting Two Minutes in Sports!"
Run for the Roses,
K.
Horse racing
,
Kentucky Derby
,
Los Angeles Athletic Club
,
Santa Anita
,
Santa Anita Park
,
Seabiscuit
,
Vintage clothes