ReVamping Vintage Fashions
December 6, 2010
by — Posted in Fashion

In a hip little penthouse lost downtown is a store and workshop called ReVamp, which makes vintage recreations from the period between 1910-1950.  Owned by the ever-stylish Annamarie von Firley (who can always be spotted in a crowd because of her fashion sense and canary-yellow bob), this retro designer makes clothes for the vintage lover and many TV and film productions from a workshop/store that sits in the penthouse stuite of the historic Platt building, wedged between the Broadway Bar and the Orpheum Theatre. They also host weekend retro hair and makeup workshops to teach you how to get the right look to match your period outfits. Other events include fashion shows for their latest collection that was cute indeed! See their super-cute fashions by clicking the link below: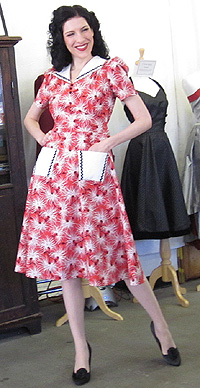 View the slideshow of fashions
So many clothes, so little time!
K.
fashion show
,
ReVamp Vintage
,
Vintage clothes
,
vintage fashion