This year, the holidays are very different, thanks to the pandemic. Parties aren't happening, gatherings with friends are banned and traveling to see family is too risky. But one way to keep the celebratory spirit alive is to put on a cute holiday outfit. I wanted to share a recent Instagram challenge I participated in that called for putting on 5 festive wear trends. I have to say it really picked up my holiday spirit, and I hope it will inspire you too.
Dressing up can brighten your mood. As mentioned in a recent blog, it can be a form of self care. You feel good when you look good.
I have to give a shout-out to the Instagram community of fashionistas, mainly the vintage lovers and thrift shoppers, that keep me inspired to dress up, even if it's just for taking a photo. Mixing and matching things from my closet and experimenting with new styles has given me a creative outlet. So here's what I came up with for the festive wear challenge:
5 Festive Wear Trends
Festive Wear Trend: Velvet
Velvet is always sumptuous to put on and just feels dressy. This vintage velvet swing dress is in a Christmassy shade of deep green and always ready for a party. The simplicity of it calls for accessorizing, so I added a fluffy, faux fur, tie-on Peter Pan collar in snowy white and vintage brooch that reminds me of a snowflake.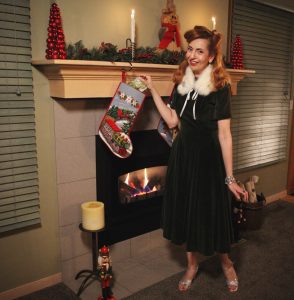 Winter White
Who says no white after labor day? White is one of the most beautiful winter looks for serious snow queen vibes. I've been having fun with this fluffy, faux fur white hat, and it makes the perfect accessory for a winter white look. I paired it with the vintage reproduction cocktail swing dress I bought for my wedding reception a few years back. It has a little silver sparkle in the material, so I set it off with some silver metallic heels. I feel like a shiny Christmas fairy godmother!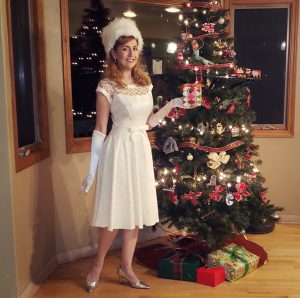 Festive Wear Trend: Metallic
Nothing feels more dressy than metallic. The way it catches the light is perfect for a party vibe. You can wear it through your jewelry or clothing. I thrifted this metallic brocade jacket a while back and decided to pair it with a glamorous, long, ruffled skirt in a shiny black taffeta. Perfect for just wafting through my living room to have a glass of wine with my hubby. (The silver top is also for sale in my store by the way!)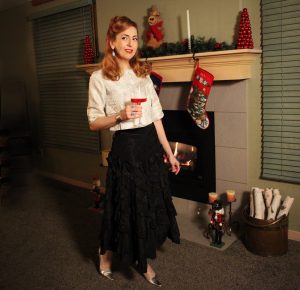 Festive Wear Trend: Plaid
I'm always mad for plaid, but plaid shades of red and green scream Christmas outfit around the holidays! I purchased this burgundy plaid, tie-on Peter Pan collar from one of my favorite makers on Instagram, @collarandbow, and I caught this vintage reproduction swing skirt on sale just to go with it. It makes for a festive, yet still casual, holiday outfit.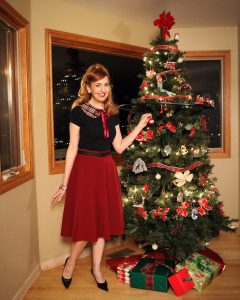 Festive Wear Trend: Nontraditional color
The holidays don't always mean wearing red or green or blue. You can put on whatever color makes you feel good because that's really what the holidays are about. I love the bright teal color of this vintage reproduction wiggle dress. The shiny fabric makes it feel extra dressy, and I paired it with some glittery gold heels to play off the gold trim in the dress. Because hey, who doesn't wear sparkly stilettos around the house? I do now!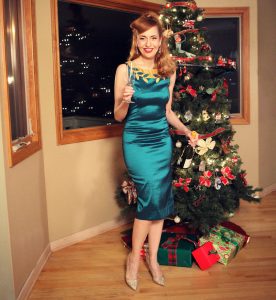 So get dressed up this holiday season, even if you are staying at home. Trust me, it will pick your holiday spirit. If you need some inspiration, check out at what the Instagram community came up with and special thanks to two of my favorite Instagramers, @bestdressedwallflower and @pointy.chin.diaries, for giving me a reason to put on my dressy outfits! Check out more of my looks on my Instagram page @StilettoCity
Until next time,
Kastle
Tags:
Christmas outfit
,
Christmas Party Looks
,
Festive wear
,
holiday fashion
,
Holiday Party Outift
,
holiday style
,
Trends for Holiday Outifts