I recently participated in a fashion challenge on Instagram to create outfits using a different color each day for a week. Boy, did that get me thinking about another way to look at my wardrobe! I came up with some of the most fun and exciting combinations I've put together in a long time. So I wanted to share how to wear a monochromatic outfit with vintage style.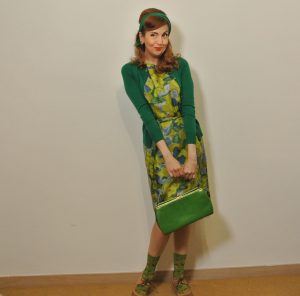 What Is A Monochromatic Color Scheme?
A monochromatic color scheme simply means picking one color, say yellow, and wearing all yellow clothing. It can be the pure color or different:
Shades (darker as if mixed with black)
Tones (darker as if mixed with grey)
Tints (lighter as if mixed with white)
While I've seen many monochromatic looks with solid color pieces, you can also throw in a print or even print mixing, as long as it sticks to your one color choice as the main color.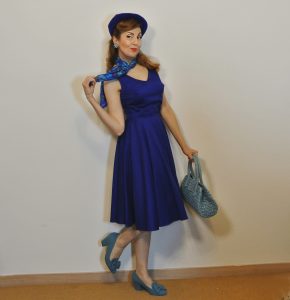 How to Pick A Color
Let's face it, color just makes you smile. And with summer on the way, it's time to break out some bright hues. You can probably put together a monochromatic outfit using what you already have, in my case, a lot of vintage clothing. Most of us gravitate to one or two favorite colors when we shop for clothes. For me, it used to be a lot of black and white, and now it's rich jewel tones.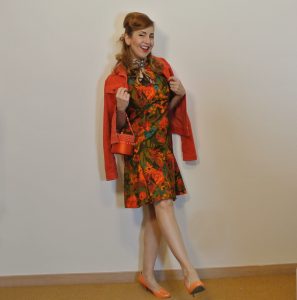 How to Put Together A Monochromatic Outfit With Vintage Style
The way I came up with these outfits is I had a color for the day. So I went to my closet and laid out everything I have in that color. Then I started pulling together an outfit based on what worked together. It's fun to do this with separates because you have more options, but don't forget accessories – purses, scarves, tights, bangle bracelets, earrings and shoes. If you're not a big accessory collector, you may want to reach for a neutral or metallic shoes and handbag to complete the look if you don't have any in that particular color.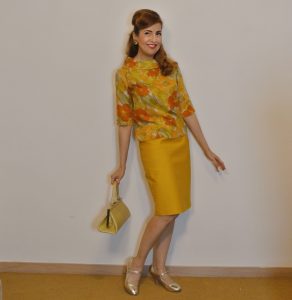 Try Different Textures
Part of the fun of creating a monochrome look is mixing and matching. Since you're working with one color, you can do this in the texture of the clothing. Try mixing different types of materials to create interest – think silks, linens, velvet, cotton. This will give your outfit more dimension and make it look downright touchable.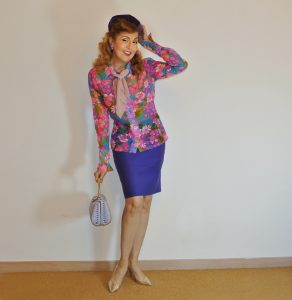 Now that you know how to wear a monochromatic outfit with vintage style, what color will you choose to challenge yourself to put together a new look?
Check out more of my fashion challenge outfits on my Instagram page.
Until next time,
Kastle
Tags:
Kastle Waserman
,
Kastle Wasserman
,
Monochrome Outfit
,
vintage style