Crewneck sweaters are a wardrobe staple. They'll take you from the first crisp days of fall to that last chill in the air in springtime. But while they are a basic, they can also be a little boring and nerdy, when just worn over a button-down shirt, which is how you mostly see it styled. Last winter, I invested in a good assortment of crewneck sweaters (mainly because I had no warm clothes after moving from Southern California to Colorado) in classic colors. I learned how to wear a women's crewneck sweater with vintage style.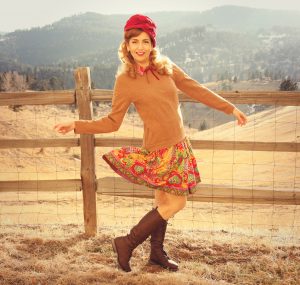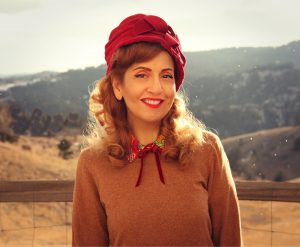 Style a Crewneck Sweater Over a Vintage Dress
You can use a basic crewneck sweater to winterize a vintage dress, even if it's in bright spring colors. Just ground the color palette in a more seasonal neutral such as this tan crewneck sweater over a bright paisley vintage dress. The collar on this dress works well peeking out of the top. I added a little ribbon tie. Top the look with a fun vintage-style hat and, depending on the outside temperature, boots or cute shoes.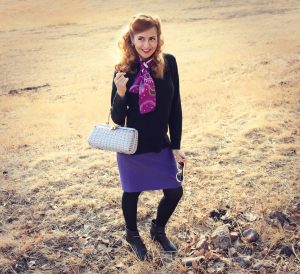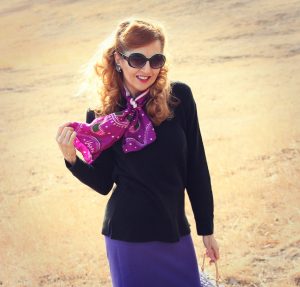 Style a Crewneck Sweater with a Vintage Scarf
A basic black crewneck sweater goes with everything but can blend into the background – that makes YOU disappear! Jazz it up with a beautifully-patterned vintage scarf like this one I have from 1960's designer Vera. The bold colors give the outfit a pop. It also provides an opportunity to coordinate it with the rest of your outfit, like this pinup-style purple pencil skirt and lavender vintage handbag. It makes black anything but basic and boring.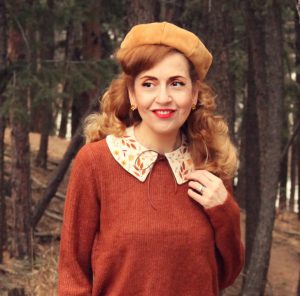 Style a Crewneck Sweater With a Detachable Peter Pan Collar 
Vintage-inspired Peter Pan collars have been trending for the past year. Lots of crafty makers on Etsy and Instagram create detachable ones in fun designs that simply tie-on. These are perfect for adding some style to your plain ol' crewneck sweater. Coordinate your pants or skirt with the colors in your collar pattern, like I did with these vintage pants, hat and ankle booties, and you have quite a clever retro-inspired outfit!
So spice up those plain ol' staples in your cold-weather wardrobe by learning how to how to wear a women's crewneck sweater with vintage style. This styling works well when you're out in the cool weather and also look great on Zoom when that sweater is all everyone will see! You'll learn to love your winter-wear workhorse all over again.
Tags:
Crewneck Sweater
,
Kastle Waserman
,
Kastle Wasserman
,
Peter Pan Collar
,
Sweater Weather
,
vintage dress
,
Vintage Scarf
,
vintage style
,
winter wear