Passion for Ponchos
May 10, 2022
by stilettocity — Posted in Fashion
When the weather is between seasons, it's hard to know what to wear. I often just want to reach for my classic vintage jean jacket, but that gets so boring after a while. I recently became obsessed with ponchos. After seeing Denver fashion designer Mona Lucero style them up in a fashion show last year using gorgeous vintage fabrics, I started looking around the vintage shops to see what I could find.
Ponchos are the perfect layering piece. They provide the warmth of wrapping a blanket around you. But they are also free-flowing enough that when the weather warms up, say in the afternoon, you don't get too hot. And springtime here in Colorado means you can get anything from wind to rain to snow to cloudless days of sunshine.
What  I love about ponchos is you can put them on over just about anything, without worrying about it looking bulky. Ponchos also work well for a daytime around-town look, and you can dress them up to add interest to a casual evening outfit.
See how I styled a few vintage ponchos I picked up to add to my spring /fall between-seasons wardrobe.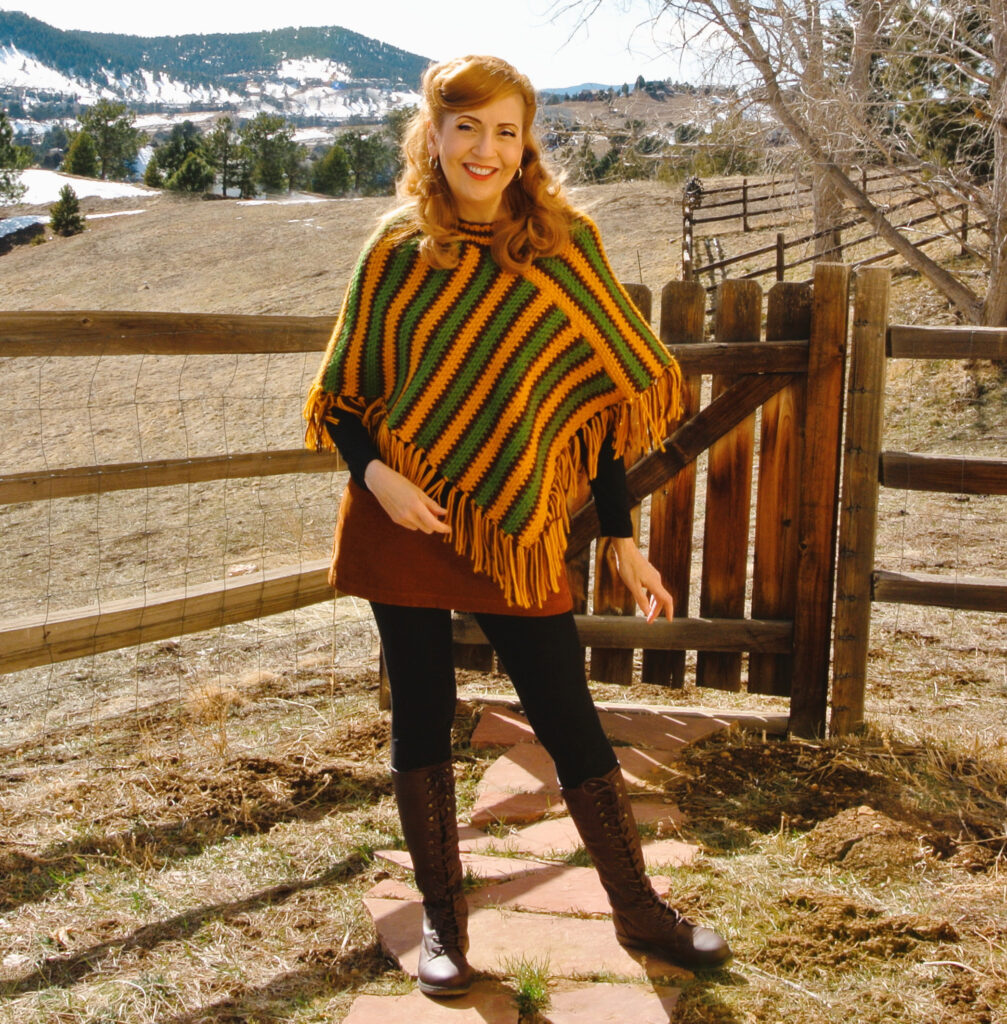 Handmade Vintage Poncho
I fell in love with the rich colors and the thick crochet material of this poncho I found on Etsy. Lovingly hand-knitted, this poncho goes on overhead with a crew neckline and rests on your shoulders. While you could add a necklace or scarf, I think the pattern and colors of this one do all the talking. I really like how this looks with a short skirt, tights and tall boots.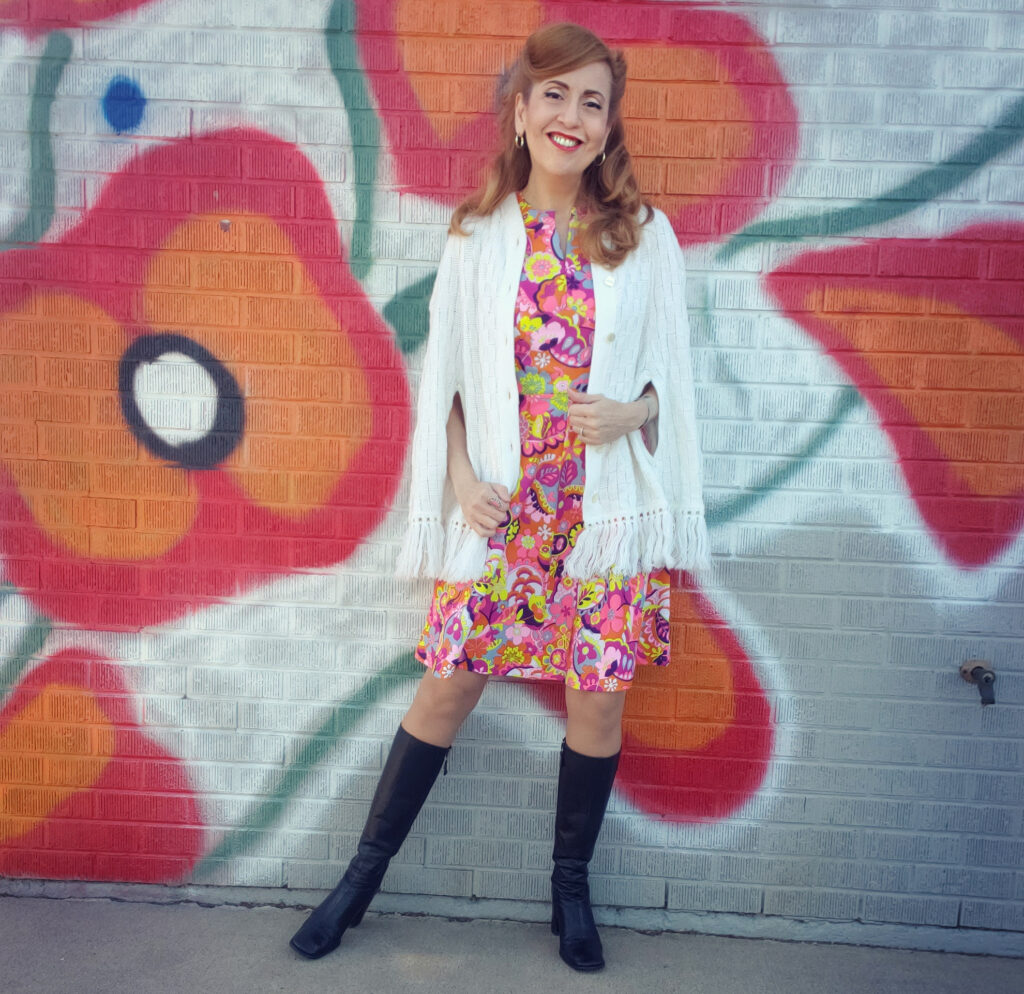 Button-down Vintage Poncho
This poncho was actually my mom's. I found it in her storage bins on a recent trip back to my parent's house and she was kind enough to let me have it. She told me she used to wear it over her outfits when she took dance classes decades ago. Now I'm having fun styling it up with some of my vintage clothes, like this 1960's dress. The light white color works perfect for springtime and it's a very light, breathable knit material. You can leave it unbuttoned to see more of your outfit underneath. It's perfect for putting on over a dress, just like mom used to do!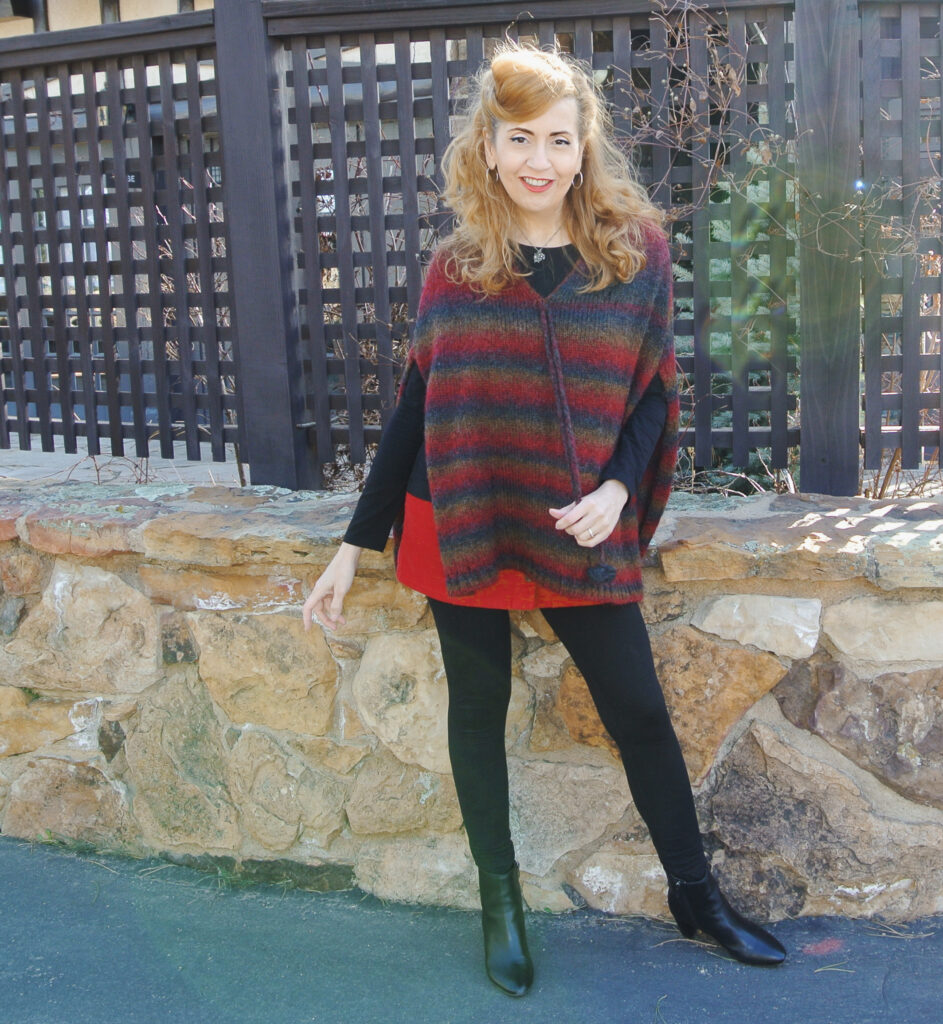 Flea Market Poncho
I found this poncho at a vintage flea market. Again I was drawn to the great colors. I also like the cut on this one. It's has a high slit on each side, which makes for great movement. I can also cinch it in and belt just the front panel and leave the back loose and flowing like a cape for a different look. The v-neckline has two fun pom-pom tassels and sometimes I tuck in a big scarf if I need to keep my neck warmer on days when it's a little on the colder side. I styled this one with a short skirt, leggings and ankle booties.
So that's my current poncho collection and some styling ideas. Hope you find one for yourself!
Until next time,
Kastle
Tags:
ponchos