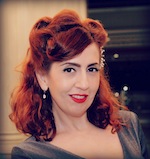 October is a time for transition from summer to fall. Some of the things I'm loving this month in women's fashion include some layers to spice up your wardrobe and stay warm on chilly nights, bold accessories, and adding the color orange in my makeup look. Plus I have one big, rockin' music favorite! Check out the video for my beauty and fashion October favorites and see where to buy these and similar items in the links below:
WHERE TO BUY IT:
I shopped my own closet for the items mentioned so here are links to some of them and similar items:
Spiked Bracelet with Rhinestone Bling 
Spiked Bracelet, Black Leather
LOOK OF THE DAY: See how I wear my faux fur vest and statement necklace!
Read my review of OCC Lip Tars on Yahoo!
Subscribe to the Stiletto City YouTube Channel and stay tuned for more videos!
See ya next month!
Kastle
Filmed and edited by Kastle Waserman
This video/blog was not sponsored. All items featured in the video were purchased by the author (except powder). Some of the above links are affiliate links.  See disclosure.
Tags:
Bloglovin
,
cinema secrets powder
,
Clash box set
,
Clash Sound System
,
comic books
,
Fake fur
,
fall fashion
,
fall makeup
,
fall trends
,
Fashion
,
faux fur
,
Kastle Waserman
,
obsessive compulsive cosmetics
,
OCC Lip Tar
,
october favorites
,
shrug
,
spiked bracelet
,
statement necklace
,
The Clash
,
vests
,
Women's Fashion