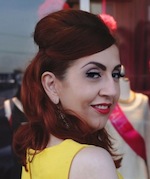 A few months ago, I stumbled across a photo on Instagram of '60s Lucite earrings with interchangeable clasps. I loved the idea of being able to buy silver and gold clasps and just swapping out the earring part.
I tracked down the designer, Loretta Maurencig of Blue Belle Vintage Clothing out of Australia, and discovered the variety of styles and colors she makes – many with glitter, confetti or candy-like details mixed into the Lucite making playful and unique pieces, perfect for retro fashion lovers. I had such a hard time deciding which ones to order from her Etsy shop and she also emailed me more colors and styles to choose from. I was in heaven!
Here are the ones I chose, along with a few Loretta was kind enough to throw in* for this blog: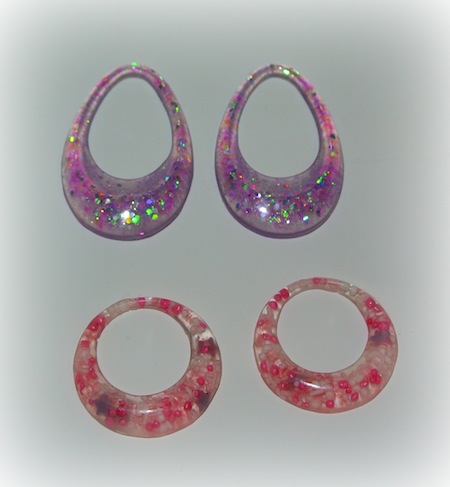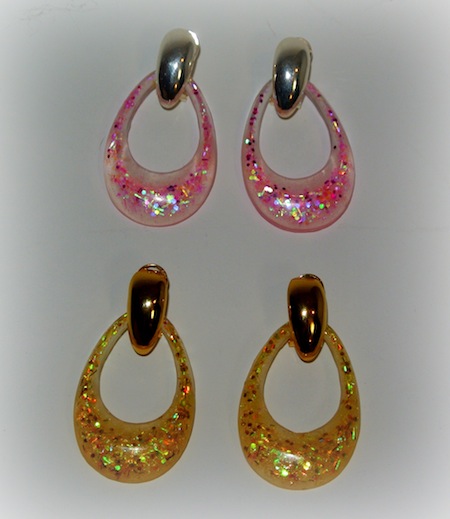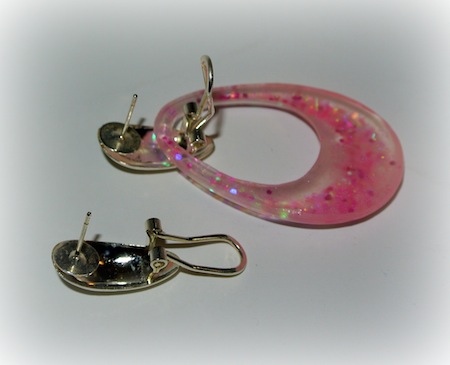 I also learned a bit more about BlueBelle Vintage reproduction designs, which includes hair clips, shoes clips and clothing, and asked Loretta a few questions about her business and how she started:
"I love vintage fashion — the prints, colors, the eras — it tells a story.  Unfortunately a lot of real vintage doesn't fit most women today so that is why I do reproduction pieces after I do a lot of research."
"I am a Designer/Patternmaker. The Australian market is quite small and with China invading our shores with cheap products, it has been hard to find a full-time position. I am lucky that I am a good crafter and love vintage. I source dead stock and vintage pieces that I can reproduce into unique items that have a modern feel. I may find a pair of old Lucite clip earrings in an unusual shape, make the mold, then add a mix of hand-blended glitter or other bits and bobs to the resin. I'm trying to create a niche market and employment for myself."
Be sure to check out her designs on Etsy and don't be afraid to ask if she has more styles than the photos posted. She provides great customer service and loves to make her customers happy.
Here's to creative entrepreneurs,
Kastle
*Some styles featured here were compliments of BlueBelle Vintage Clothing
Tags:
Accessories
,
designer interview
,
Kastle Waserman
,
retro style