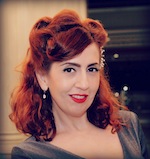 Happy Movember! That's mustache-November in case you were wondering, a movement for men start growing some serious facial hair to raise awareness of men's health issues including prostate and testicular cancer and mental health challenges.
I became all too aware of prostate cancer while my father battled it – twice! Fortunately, through catching it early and the advances in medical treatment, he survived and is doing well.
So while us ladies can't exactly grow a mustache for the movement, we can join in the Movember spirit with mustache accessories like the ones below.
Click the photos to purchase.* Proceeds go to the Movember Foundation. Also check out the Movember shop.
Oh and be supportive of your man as he grows out his 'stache. Yes, it prickles when you kiss him and it may look a little funny, but it's all for a good cause!
To read more about the Movember movement, visit the website.
And now I must-tache!
Kastle
I am not affiliated with or sponsored by any advertisements shown below. They are placed by WordPress.
Tags:
Accessories
,
Consciousness raising
,
Fashion
,
Moustache
,
movember