Since moving to Denver from Los Angeles, I've had to learn how to dress with vintage style in winter weather. As someone who never needed a heavy coat or sweater in LA's year-round mild climate, this was a whole new fashion challenge for me. I wanted to be warm but not look bulky.
After two years of exploring Colorado and going out in the snow, I've learned some tips to share with my fellow cold-climate fashionistas.
It's all about layers. One thing I learned is it's not enough to buy a thick sweater and heavy coat. Colorado weather changes quickly from freezing to mild, and since I live close to the mountains and go into downtown Denver all the time, the temperature can vary by 10-20 degrees, snowy and wet on one end, dry on the other. So being able to dress for both is essential.
How Dressing Layers Will Keep You Warm
It's much better to wear several light layers than one heavy layer. Especially since you're going to go from outside cold to inside heat and you don't want to boil in your heavy clothes. For me, that means no sweater dresses! Instead, I opt for several layers, as follows.
The Bag You Need When You Dress In Layers
Your first purchase for vintage style in winter is a big purse or tote bag.  And I mean BIG. No little vintage handbags in wintertime. This will come in handy when taking off your layers once inside. You'll see what I mean as we go along.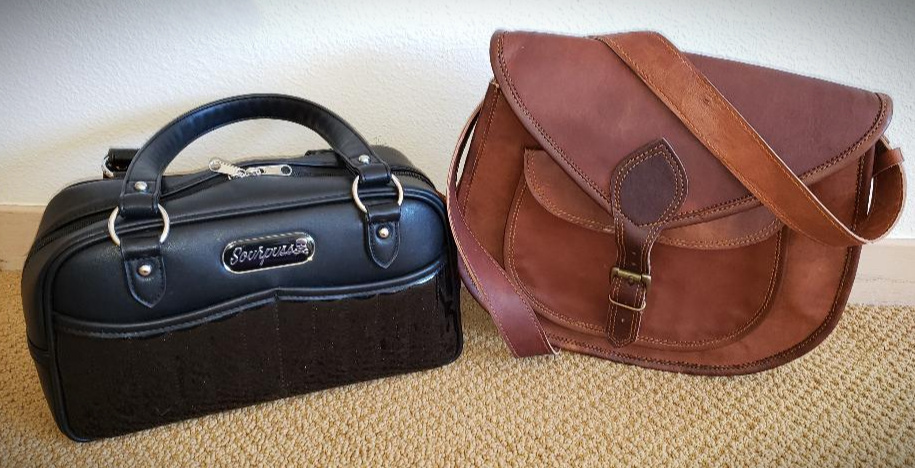 What to Wear Under Your Layers
I start with a tank top. This will help keep the core of your body warm without much bulk. For an even thinner option, try a Thermasilk camisole. Silk makes a great, lightweight base layer that will keep you surprisingly warm, and it's so thin, it doesn't add any bulk at all. The brand is available in a camisole, long sleeve top and leggings. Plus, this is something you can easily go into a bathroom, slip off and tuck in your purse if you get too warm once inside.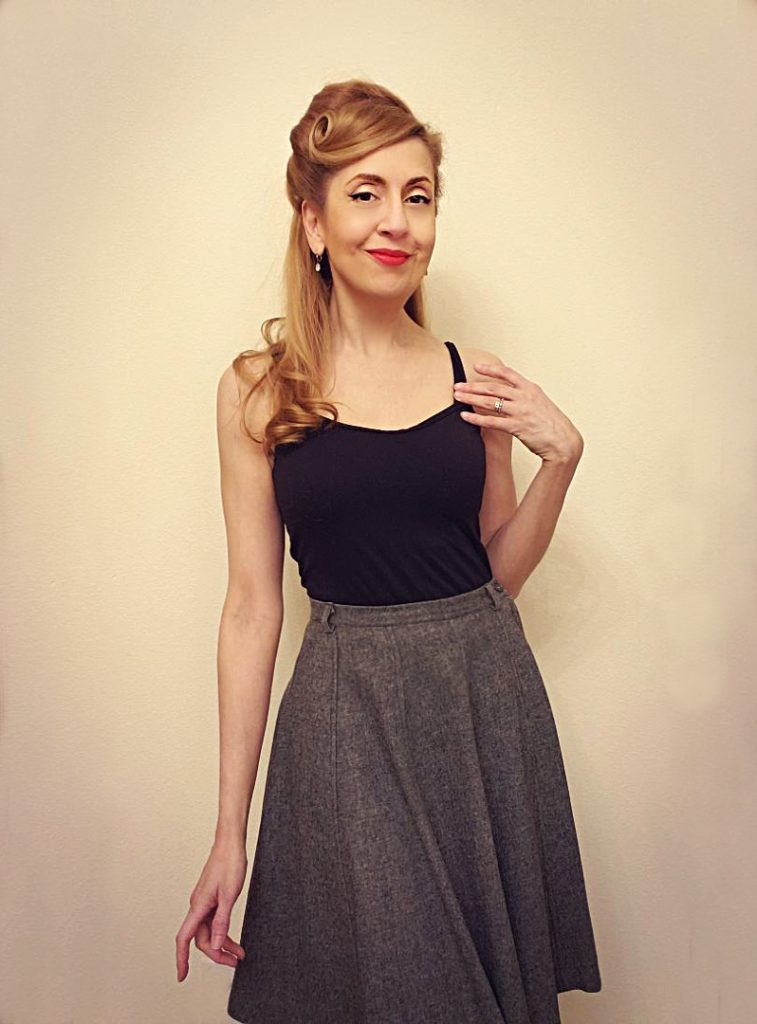 Next, add a blouse, or what I consider a staple of my wardrobe, a fitted crewneck t-shirt. A fitted turtleneck is also a good option as a warmer, go-with-everything layer that works as a top on its own.
For the next layer, almost every person I know who loves vintage style has a collection of cardigan sweaters in every color. This is a year-round staple that works in the summer when you go into air-conditioned buildings and works in winter as another stylish layer. Button it at the waist and add a belt to give yourself that hourglass shape. Remember, we want to avoid looking like a bulky blob!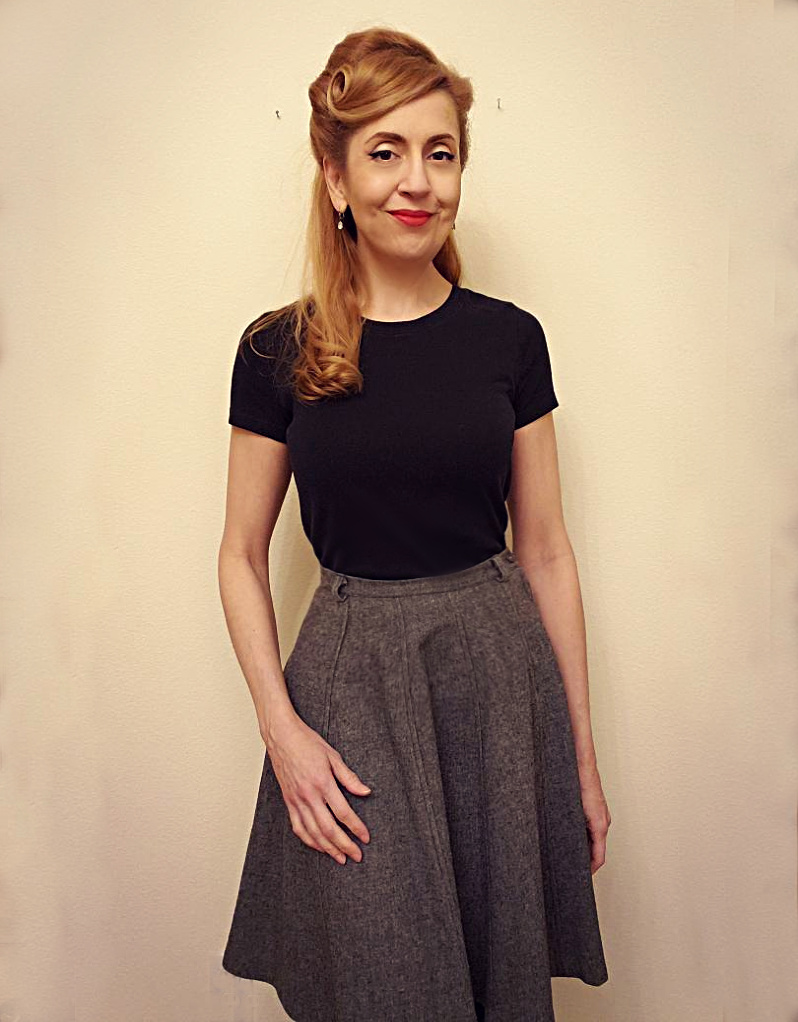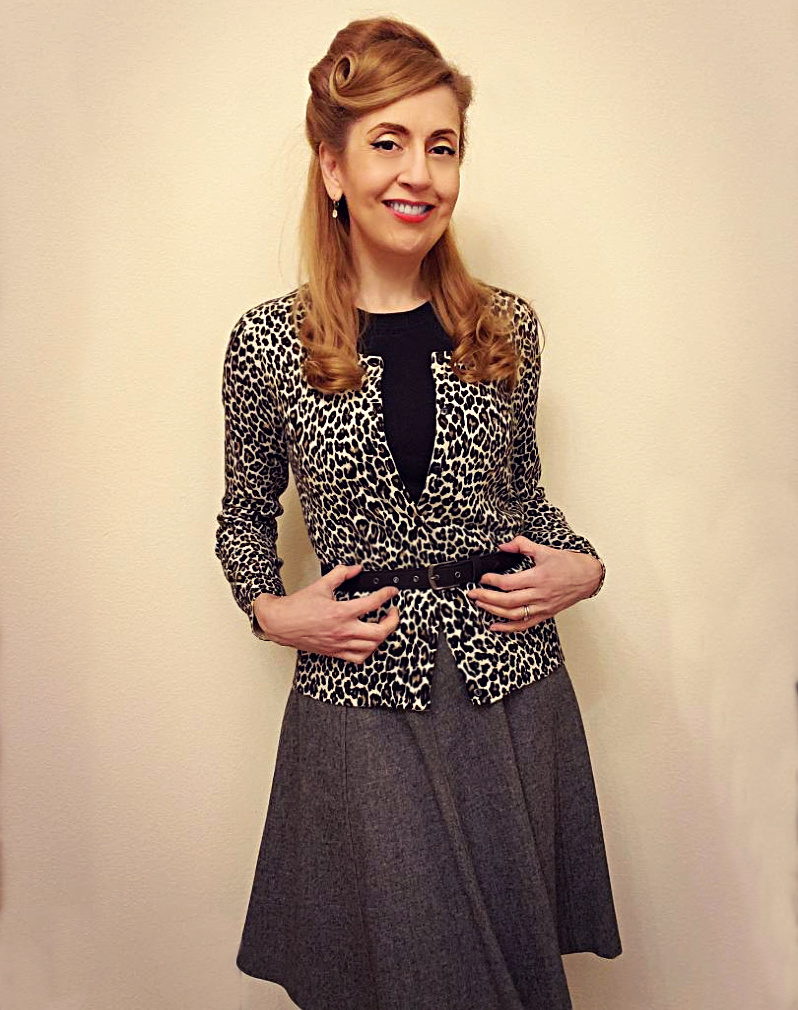 On top of that, I will add a heavy sweater. Try to get one that's a size up from your regular size. You want this to cover all of your layers and be a bit loose. You're wearing this mostly for warmth while you're outside. Once inside, just take it off and tuck it into your bag so everyone can see your cute outfit, and you won't be too warm in heated buildings.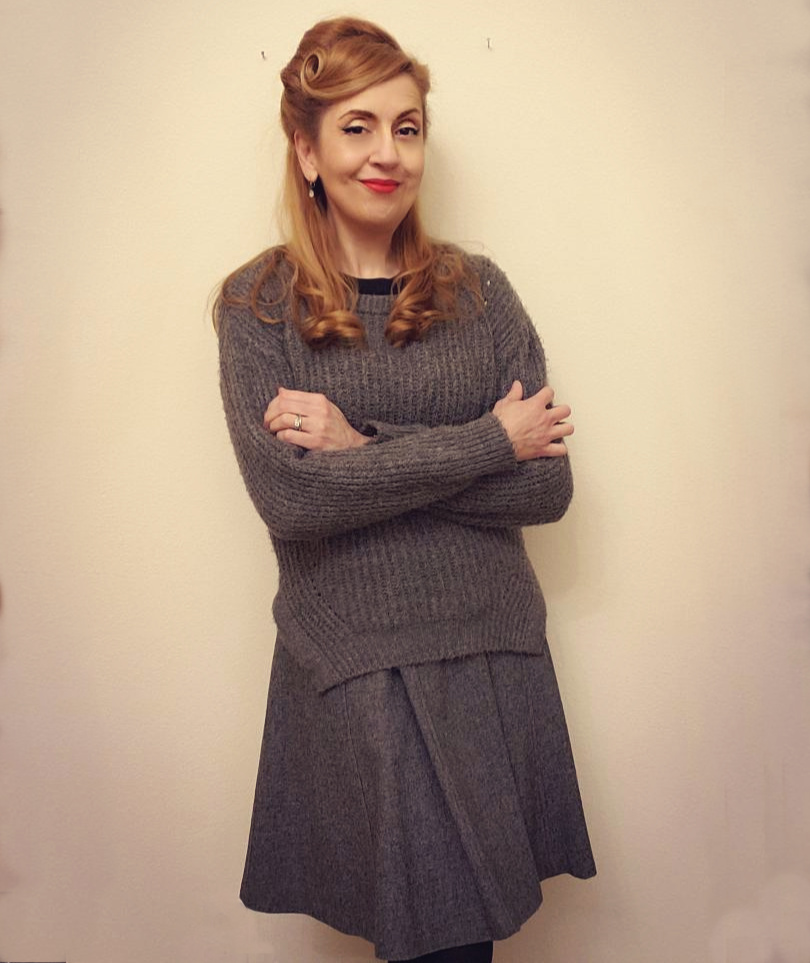 Options for Base Layers
On your bottom half, a circle or a-line, vintage-style skirt is great for putting layers underneath and they look best with heavy boots. But these layers can also work with pencil skirts (if they're not too tight!) Pick your skirts in a thicker material, such as wool, for maximum warmth.
Get yourself plenty of leggings. I have them now in three different levels of warmth: thin, medium-thickness and fleece-lined. You can also add a Thermasilk base layer or tights under them for extra warmth.
Add a pretty vintage slip. Like the Thermasilks, these add a super thin layer and the vintage ones are so pretty and affordable! You can get them in a full slip or skirt slip. The skirt version is easy to slip off and tuck in your bag if you get too warm when the heaters are on.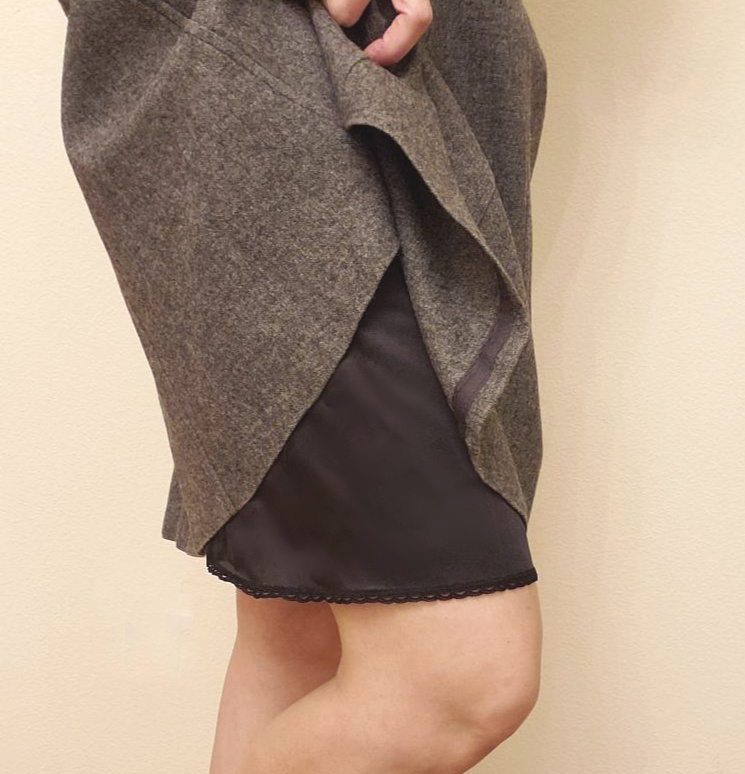 Then get yourself a collection of leg warmers. I love these in winter! You can pull them over your legs when you go outside and slip them off once you're inside, and they add so much warmth! Lastly, get some thick wool socks to keep your feet warm.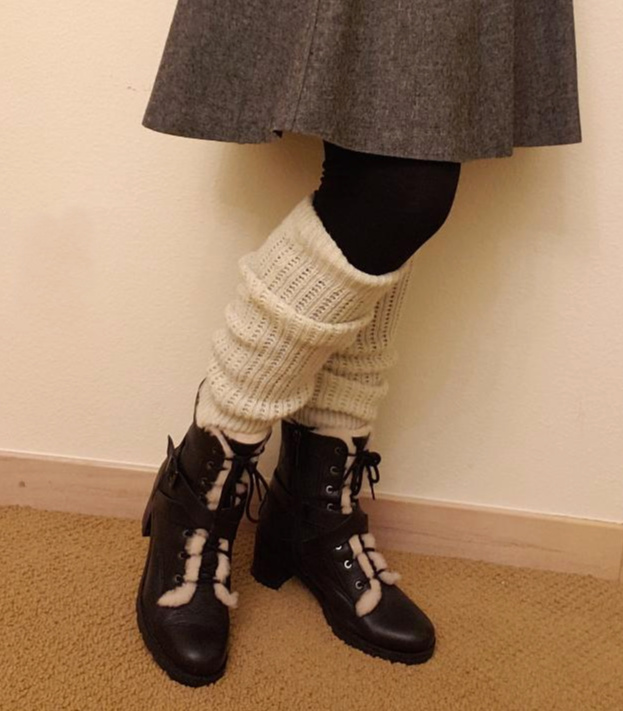 How to Pick Your Winter Boots
Boots were a learning curve for me. I love heels, so I wanted to find snow boots with a heel. They also needed to have traction for walking on icy sidewalks – because there's plenty of that in the wintertime. Thank goodness you can find some warm and fur-lined boots with a nice chunky heel and rubber soles with traction. Lace-up boots will be the most fitted on the leg and give you that vintage style in winter. Look for waterproof or water repellent for snowy days.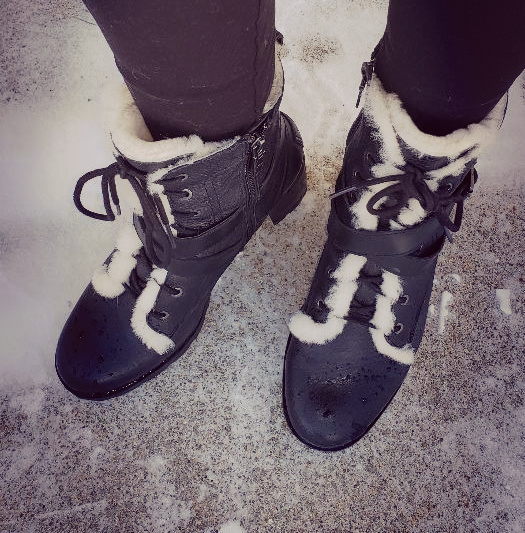 Accessories That Will Keep You Warm
Don't forget all the little add-ons to keep you warm when you're outside. Once inside, you can peel them all off and tuck them into your big bag. (See why I started with the big bag now?)
Scarves – you can go for long scarves, infinity (I like these when I wear my hair up) or cute little vintage-style knitted ascots that you can find from some crafty folks on Etsy.
Gloves –  basic knit gloves or mittens usually do the trick. For extra cold days, add glove liners. ThermaSilk makes some. I got mine from L.L. Bean and they can be worn as sleek gloves on their own. For snowy days you'll want waterproof gloves or mittens – great for making snowballs!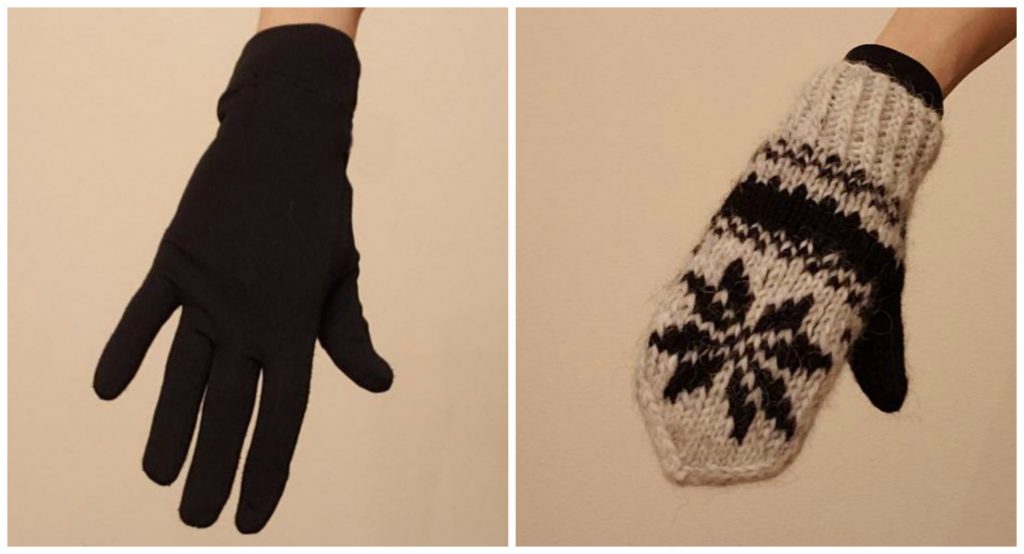 Hats – now I absolutely hate the look of ski caps, which everyone in Colorado seems to wear in winter. They smash your hair and make your head look small and flat. Instead, I opt for earmuffs, which will keep your ears warm (the main reason I need something on my head) and they won't mess up your hairdo! I also like wool berets as a warm and stylish outfit accessory. I have a few in different colors and they give you that great vintage style in winter.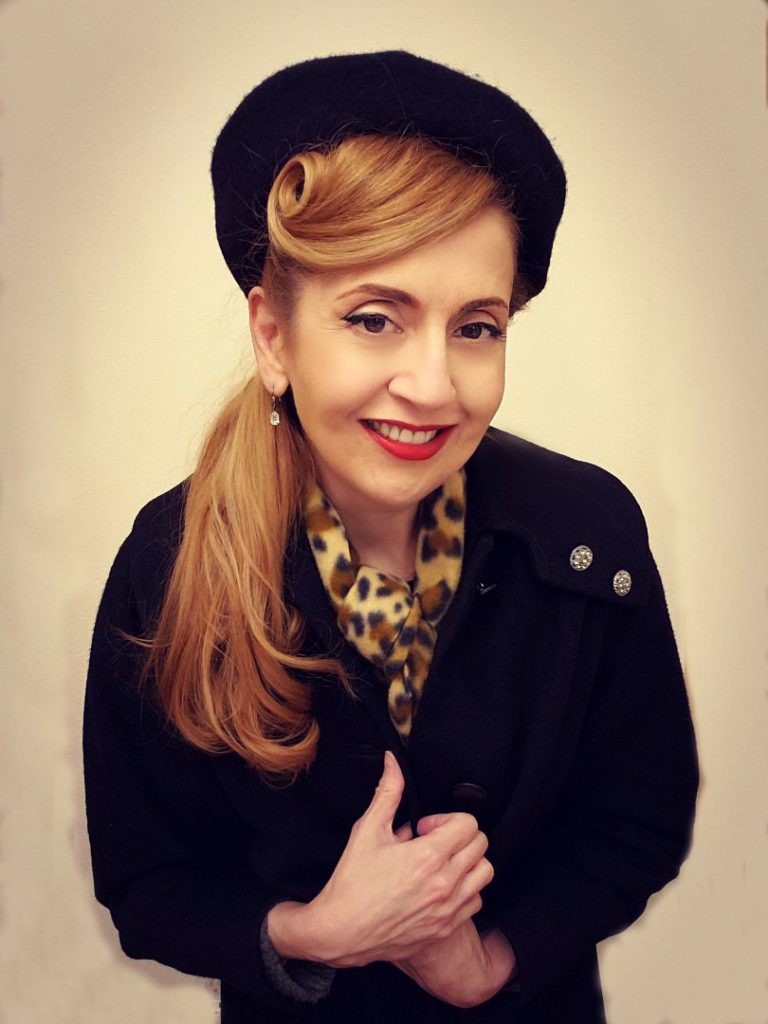 Stylish Vintage or Practical Winter Coat?
There are so many choices for coats. For someone new to cold climates, it's hard to know where to start. I did a few impulse buys that I'm now finding don't work for me at all. But here's my best advice.
Vintage – there are beautiful coats available in vintage stores at great prices. Most are made of wool and will keep you warm, but not dry if it's raining or snowing. Many have real fur collars, as was the (uninformed) style a few decades ago. So watch for that if it's something you wouldn't want to wear. I have a good basic black vintage wool coat with no fur that goes with almost everything. If it's wet out, I have a light, hooded rain cape I can throw over it, but usually an umbrella will do. And yes, I use an umbrella when it snows.
Vintage reproduction – there are lots of coats out now that are vintage-inspired and they can be dramatically beautiful. I've had the princess coats from Collectif on my wish list for a while. While these coats are gorgeous, I'm debating spending the money because I usually take off my coat once inside, so nobody sees it. Then I have to carry it around. They can be a lot of material and quite heavy to deal with. But they are temptingly gorgeous!
Utilitarian – You can't walk around Colorado and not see almost everyone dressed in the adventure-wear brands of The North Face, Patagonia, REI and Columbia. These are the puffy parkas I swore I would never wear because I thought they made me look like the Michelin man! However, I bought a Patagonia jacket a few years ago for travel and I found out why everyone wears them. They are super lightweight. They keep you warm on lightly cold days as well as snowy days and some styles are light enough that you can smush them up into your bag to easily pack or carry around. So instead of a princess coat this year, I opted for a long coat from The North Face that is fitted at the waist and very light to carry. My thinking was I'm going to be taking it off once inside to reveal my cute outfit. Plus, I can wear it day or night as opposed to the vintage-style princess coat that I would only wear with dressy outfits. It's been a good decision so far. I still might add that princess coat one of these days!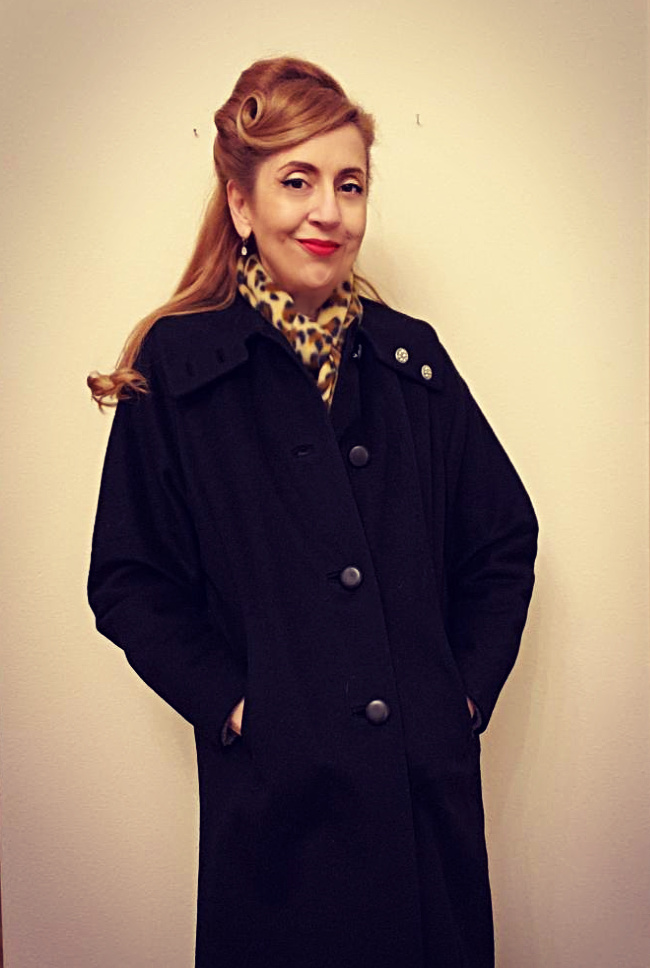 I hope these tips help you stay warm with vintage style in winter! Be sure to check out my Instagram for photos of some of my winter outfits!
Cheers,
Kastle
Tags:
Kastle Waserman
,
Kastle Wasserman
,
Vintage style in winter
,
winter wear