Vintage Fashion for the Most Wonderful Time of the Year
December 23, 2019
by stilettocity — Posted in Colorado, Fashion
It's the holiday season! Time for dressing in holiday-colored vintage fashion and for chilly temperatures, as the Denver area has had its coldest winter in almost 20 years! We had several early snowfalls that gave me the white Christmas feels I never had in warm Los Angeles. Plus, we've had SO many fun holiday events happening around town. Here are a few of my adventures and the festive outfits I wore.
If you could cross a funhouse and Christmas, this is it. This mega installation, in the Hanger at Stanley Marketplace, features holiday lights galore and over-the-top décor in a variety of settings. It puts those houses in Hallmark Christmas movies to shame and adds a touch of sass. I loved the punny Christmas trees, such as the Gum Tree, decorated with packs of chewing gum, of course! We had so much fun walking through the different areas, taking photos and having a Christmas cocktail. It was the perfect place to wear my latest thrift-store find – a red fair isle-pattern sweater with a vintage Santa Claus brooch. Plus, I picked up some adorable teddy bear gloves.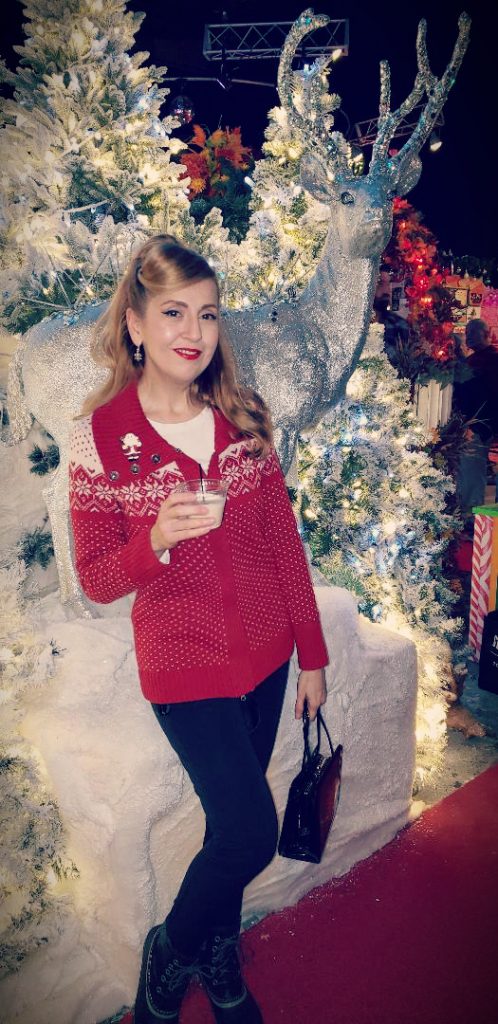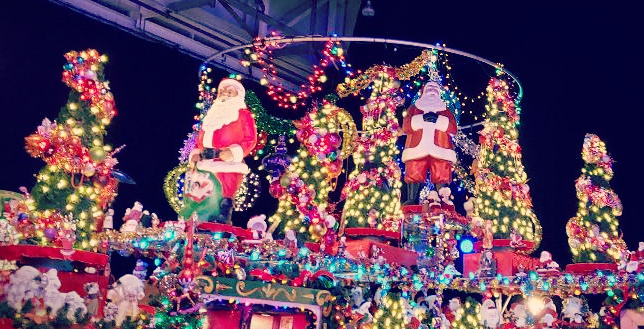 The pop-up Christmas Miracle Bars have become an annual holiday phenomenon, drawing lines around the block to get in. They are a fun place to have a cup of cheer among some extreme holiday décor that includes walls lined with Christmas wrapping paper and literally hundreds of stick-on bows. This year Denver got a new themed bar that crossed Tiki and surf culture with Christmas and a drink menu from Tiki cocktail-connoisseur Jeff "Beachbum" Berry. Who could resist? We rounded up a group of friends and went on a weeknight to avoid the crowds. We kicked back among the plethora of Tiki statues and twinkle lights with a delicious libation served in a Santa glass, of course. For the occasion, I wore a blue-trimmed vintage cardigan with yet another fair isle pattern, which I topped with a festive red, vintage reproduction pencil skirt.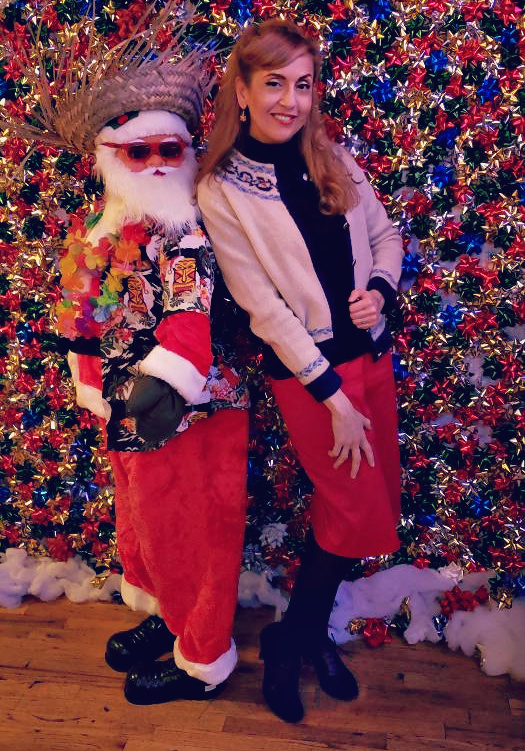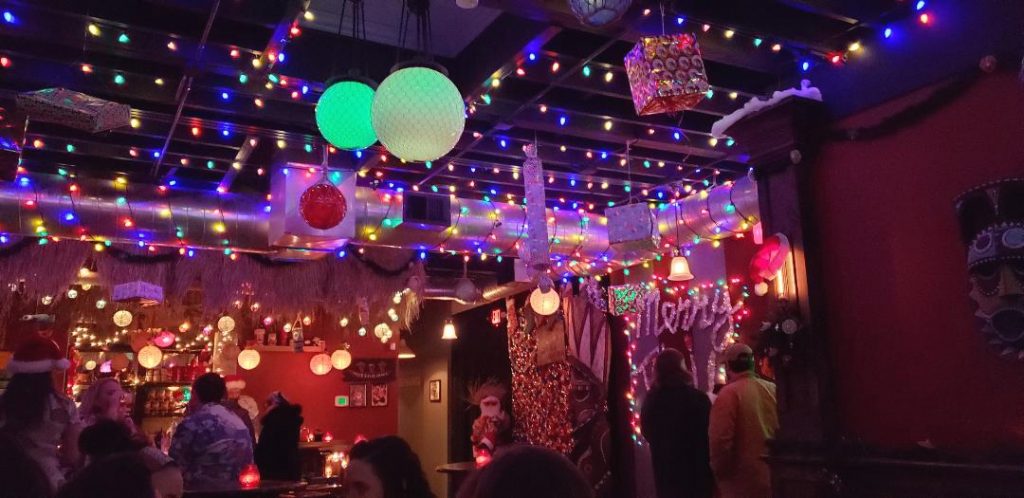 If ever there was an event to dress up in your finest vintage fashion, the 1940s White Christmas Ball is it. Inspired by the classic movie "White Christmas" (which I finally saw for the first time the week before), this mega event draws hundreds of people ready for a classy night out dressed in vintage and vintage-inspired attire, some even in replica costumes from the film! There were big bands, dancing, picture-taking sets, and a buffet dinner. I had to bring out my vintage red lace dress and vintage bolero cardigan sweater with beaded snowflake detail.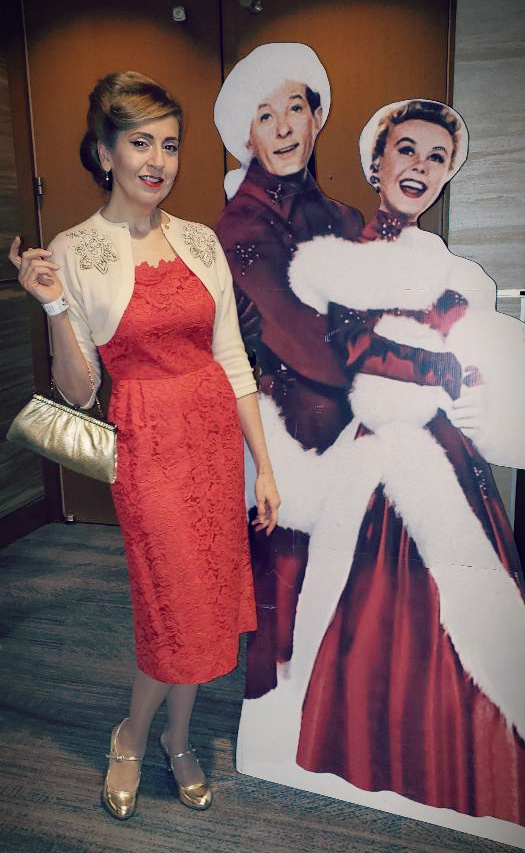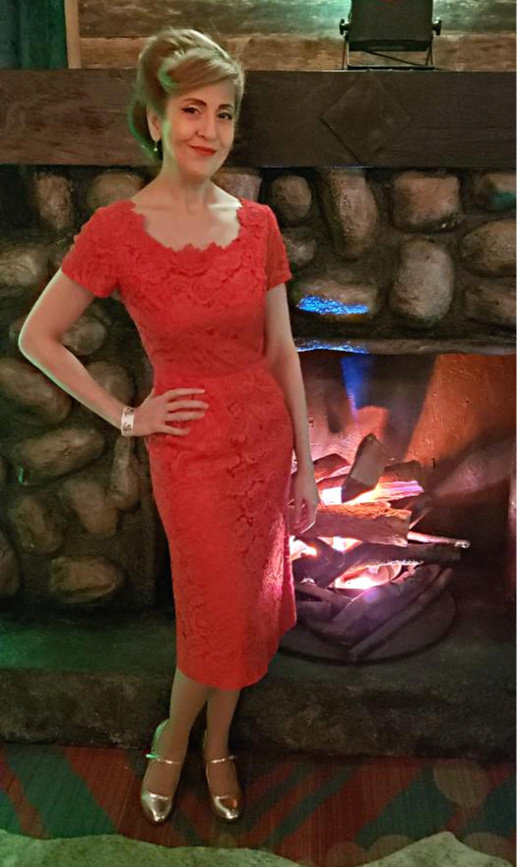 I hope you enjoyed a peek into some of my holiday fun and vintage fashion. Wishing you a very merry season and a stylish New Year!
Cheers,
Kastle