7 Ways to Celebrate Modernism Week in Style
August 17, 2020
by stilettocity — Posted in Colorado, Fashion
I love the look of midcentury modern style – from 1950s pin-up looks, swing and wiggle dresses to bright, colorful shift dresses of the 1960s. Denver usually celebrates all things mid-mod every summer for Modernism Week with home tours, a fashion show and a massive shopping expo filled with vintage fashion, memorabilia and home décor.
But alas, COVID-19 took another great event from us. They canceled the Denver Mod Expo this year. But that doesn't have to stop you from celebrating Modernism Week in the comfort of your home.
Like so many other events, Denver Modernism Week went virtual. It's now taking place online, August 19-22, with several webinar events from architectural tours to photography lessons focused on midcentury modern style.
For me, it's a great excuse to dress up! Here are a couple of favorite mid-mod looks from my vintage collection and how I styled them:
2 Ways to Style a 1960s Midcentury Modern Look 
Bright Vintage Dress in All The Colors
I call this my happy dress. Because I just can't feel down when I wear it. With all the bright colors, this 1960s vintage dress never fails to catch the eye. I paired it with my biggest, brightest pillbox hat – a hot pink basket weave. Daisies have got to be the most cheerful flowers on earth and a plentiful wildflower in the summer. I was lucky to find this vintage enamel brooch and earrings at an outdoor market. I completed the look with a bright yellow basket weave vintage purse and pink mule sandals – both belonged to my mom. She had great style back in her youth and lucky for me, she kept a lot of it.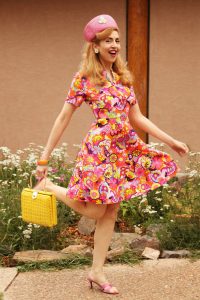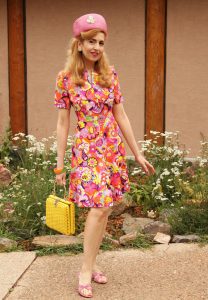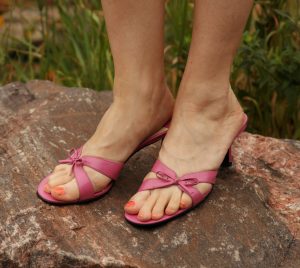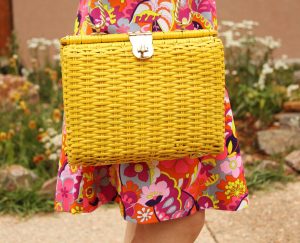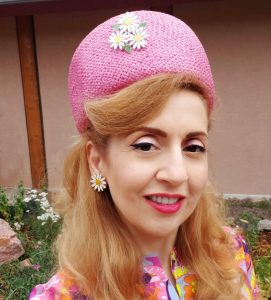 Vintage Dress in Pastel Shades
Part of the thrill of vintage shopping for me is finding great items wildly underpriced. I couldn't believe I found this '60s-era house dress on Etsy for $6! It's light cotton, comfortable and full of charm. And guess what, there's a row of pastel buildings in Denver that it matches perfectly! There are so many ways to accessorize this dress with different colors. I stuck with powder blue to keep the look consistent. I paired it with a matching vintage scarf, vintage reproduction shoes and another vintage basket weave purse from my mom for some fun photo-taking.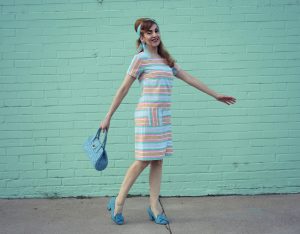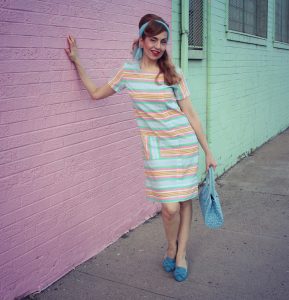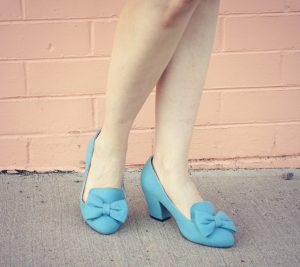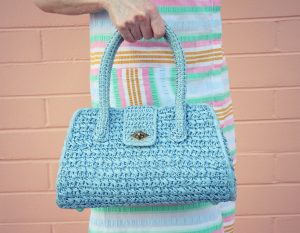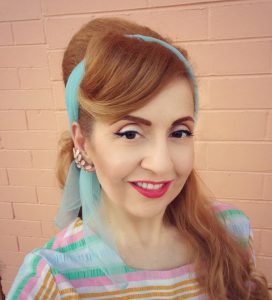 So are you ready to tune into Denver Modernism Week? Need a little midcentury modern inspiration?
7 Ways to Celebrate Modernism Week 
Attend Denver Modernism Week online– Lectures, historic walks, a photography lesson and discussion of a local restoration will give you that Modernism fix, and you'll learn something too.
Make a mid-mod cocktail  – popular drinks of the era include The Stinger, The Old Fashioned and Tom Collins.
Plan your own historic architecture walking tour – There are lots of neighborhoods in the Denver area that have maintained their midcentury modern charm. Check out the Historic Denver Walking Tours and don't forget the two DMW historic walk events to give you some ideas. And please be respectful of the homeowner's property.
Make your own mid-mod era music soundtrack – From the exotica and lounge sounds of Les Baxter and Martin Denny to the Rat Pack classics by Frank Sinatra and Sammy Davis Jr. to the rockabilly of icons Elvis and Little Richard, music will set the mood. Check out this playlist on Spotify.
Donate to a mid-mod architecture preservation group – Help protect and restore midcentury modern buildings and homes for years to come by donating to a group such as Denver Architecture.
Shop for a mid-mod outfit – Celebrate in style with a new look. Many of the local vintage stores have reopened, including Goldmine Vintage and Regal Vintage. If you're still not comfortable shopping indoors, there's always Etsy, eBay and many vintage and reproduction shops online. Isn't it time you got out of your PJs anyway?
Host a mid-mod-themed Zoom party with your friends – Dress in mid-mod style, mix a drink and hang out with your pals. Better yet, join the Denver Vintage Society for the Modernism Zoom party on August 22!
So put on your happiest mid-mod outfit and let it lift you up with the beauty of the era. Be sure to check out my other vintage looks on my Instagram page.
Until next time.
Stay well,
Kastle
Tags:
Kastle Waserman
,
Kastle Wasserman