Ladies Tea Party with Vintage Style
October 11, 2015
by stilettocity — Posted in Fashion, Where to Go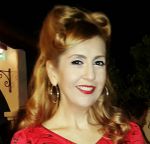 Ladies who get together for afternoon tea time is a classic social tradition that dates back to royal Britain's Anna, the Duchess of Bedford, who started drinking tea and eating light snacks when she became peckish in the afternoons.
Now it's a great excuse to get dressed up with some vintage style and get together with the girls. Recently, a bunch of us got together at one of Los Angeles' prettiest tea rooms at the Biltmore Hotel.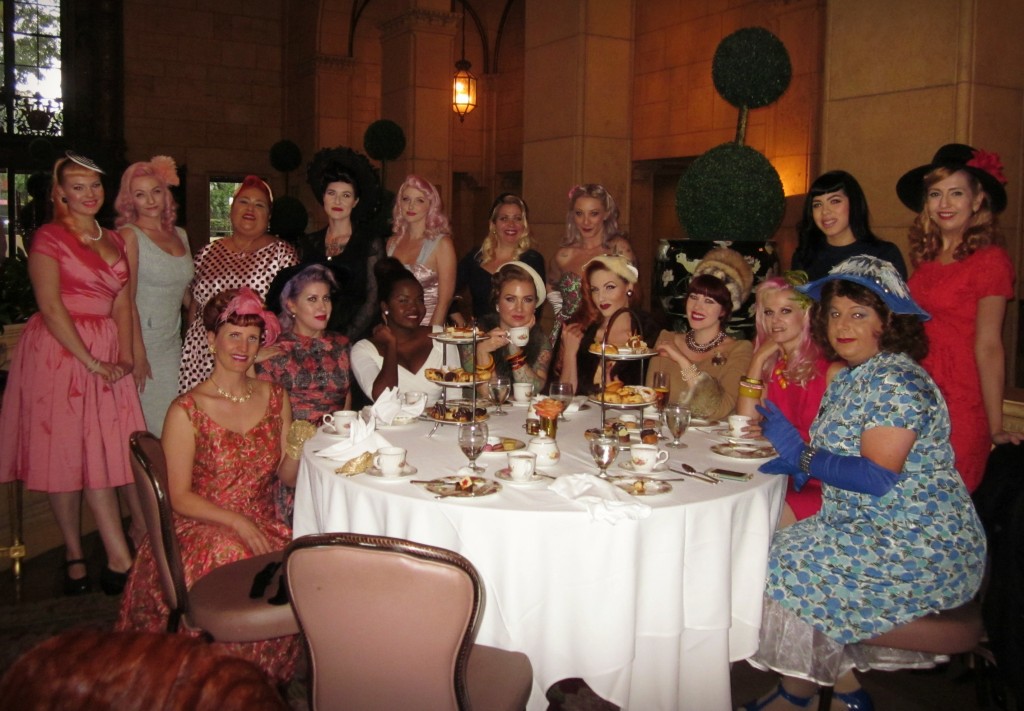 About 20 of us graced into the Biltmore's glorious Rendezvous Court in full vintage outfits, including hats and gloves . The hotel patrons didn't quite know what hit them as we snapped photos and took our seats at the round tables. The waiter served us tiered trays of little fingers sandwiches of salmon and egg salad as well as so many yummy cakes, cookies, scones and macaroons! We chose from a generous selection of black, white, green, oolong and herbal teas that made it all go down heavenly!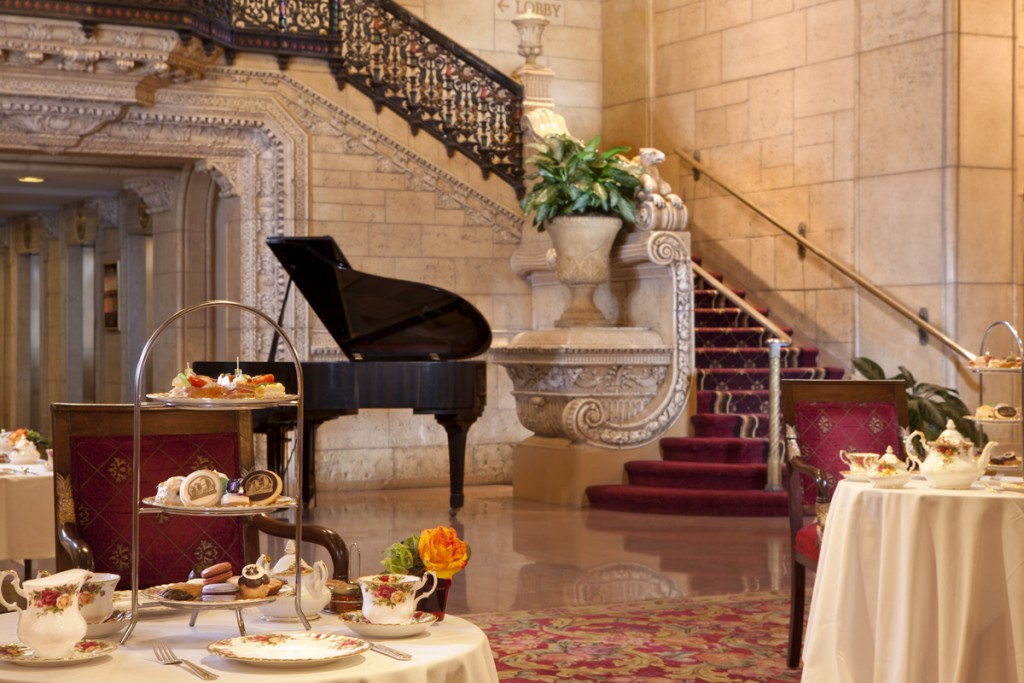 And we all really enjoyed the beautiful surroundings – and I don't just mean all my lovely gal pals! The Biltmore's Rendezvous Court was designed by Anthony Heinsbergen.  The three-story ceiling is Moorish plaster with hand-painted beams, carved wood and 24-carat gold accents.  The bronze and crystal chandeliers were imported from Italy in 1923; the fountain was added in 1986 and is made of Tennessee rose marble.
The grand bronze doorway is designed in the Spanish Baroque style, with an astrological clock installed in 1923.  It's been seen in films "Daredevil," "The Nutty Professor" and "Beverly Hills Cop" as well as TV shows "Without a Trace, ""Mad Men" and "Heroes."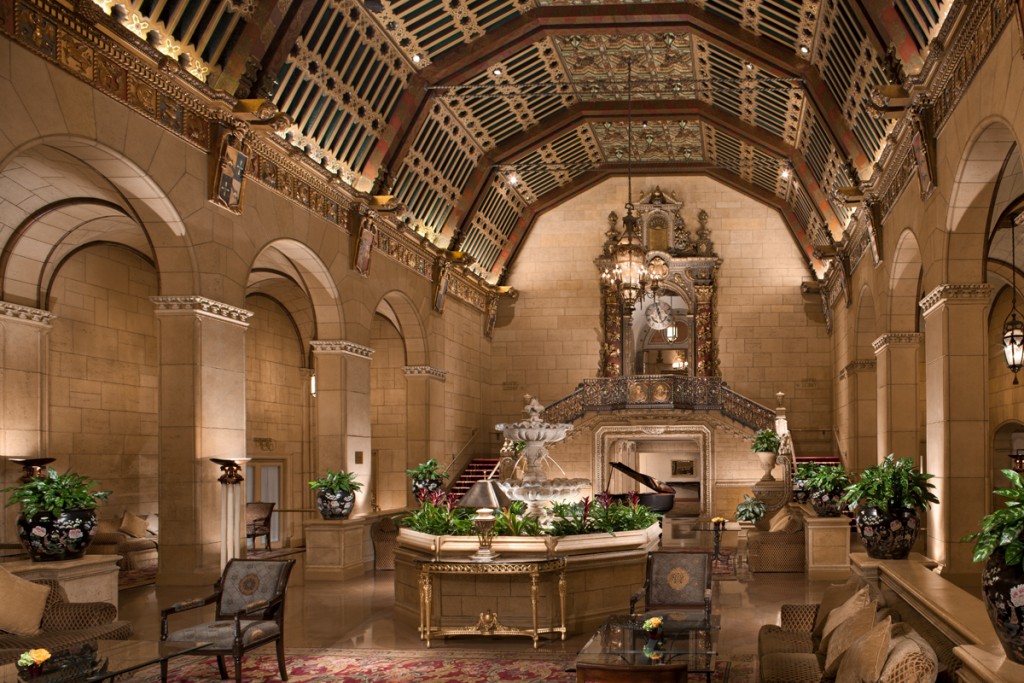 What I Wore
Our ladies tea was clearly a vintage style, dress-up event with hats and gloves recommended. We wanted to go back to a time when people dressed in their best for a special occasion. I paired a red lace vintage dress with some dramatic black accessories including a vintage, wide-brimmed hat and black silk short gloves. I added some red flower hair clips to the hat band to tie the look together.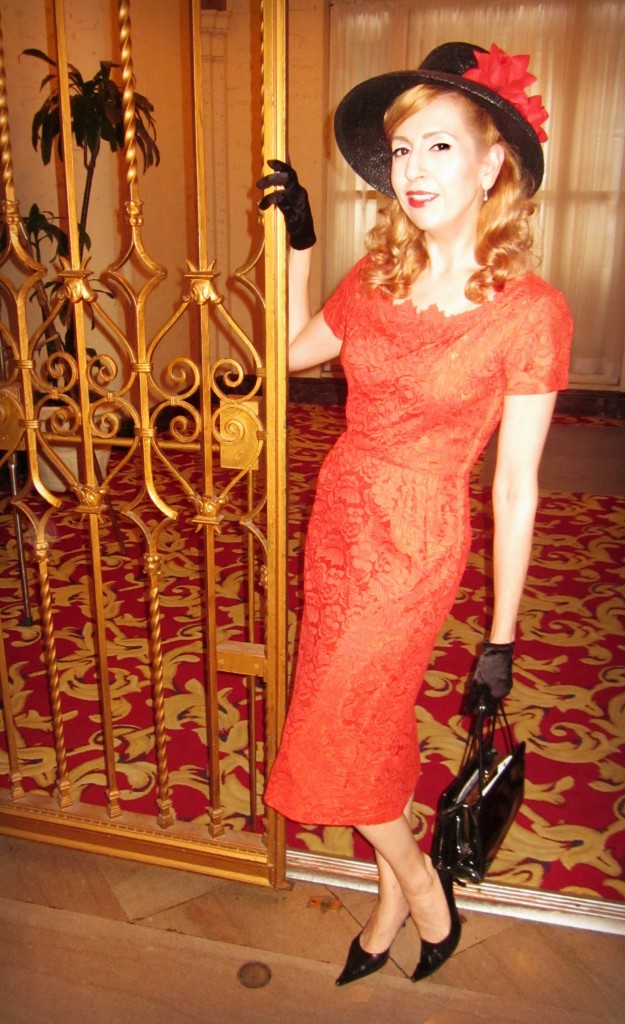 How to Dress for a Vintage Style Tea Party
Plan a tea party with your girls and use it as an excuse to put on some glamorous vintage style of your own. This stunning dress is both feminine and unique with a beige lining topped by a black mesh overlay and velvety swirls. While it is new, vintage reproductions style, you can also search for an authentic vintage dress on eBay. Add in some color with burgundy accessories such as a feathered hat and gloves with a black bow detail to tie back into the color of the dress. Click the links to shop* this look!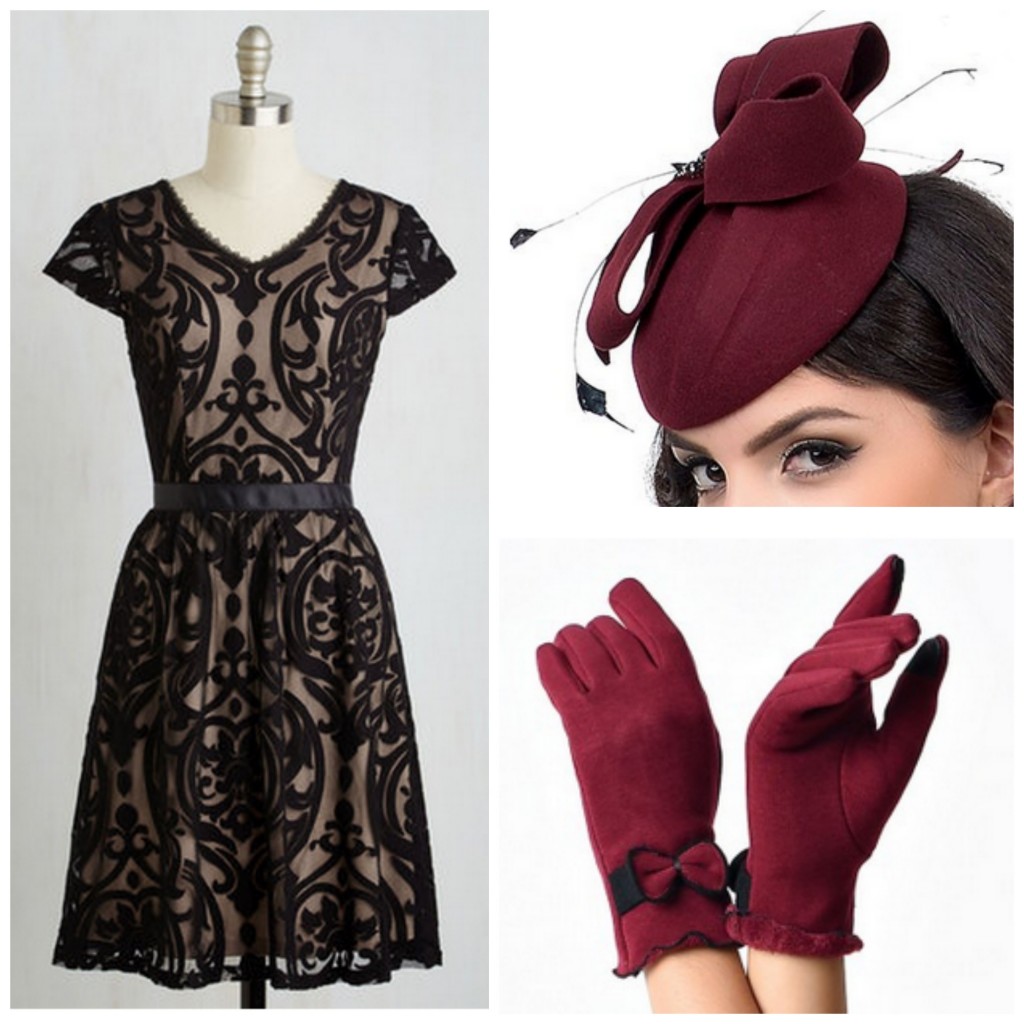 Hope to get a chance to take in an afternoon tea soon!
The Millennium Biltmore Hotel is located at 506 S. Grand Avenue, Los Angeles, CA 90071-2607. Traditional afternoon tea is served here Saturdays and Sundays. 2-5 p.m.
Tea time!
Kastle
Photos courtesy of the Biltmore Hotel.
Photos edited with PicMonkey*: fearless photo embetterment. Get it!
Tags:
Kastle Waserman
,
retro style
,
vintage style
,
where to go in Los Angeles