Dressing Vintage Style to Historical Union Station
October 18, 2015
by stilettocity — Posted in Fashion, Where to Go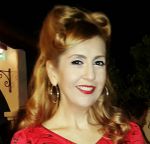 When dressing in vintage style, there's nothing like a historical landmark to provide the perfect setting for your outfit. Luckily, Los Angeles still has a few beautiful buildings that have been preserved insteand of torn down to make way for ugly development projects.
One of them is LA's Union Station, which opened in 1939 and is the largest railroad passenger terminal in the Western United States. Conceived on a grand scale, it became known as the "Last of the Great Railway Stations." It was placed on the National Register of Historic Places in 1980.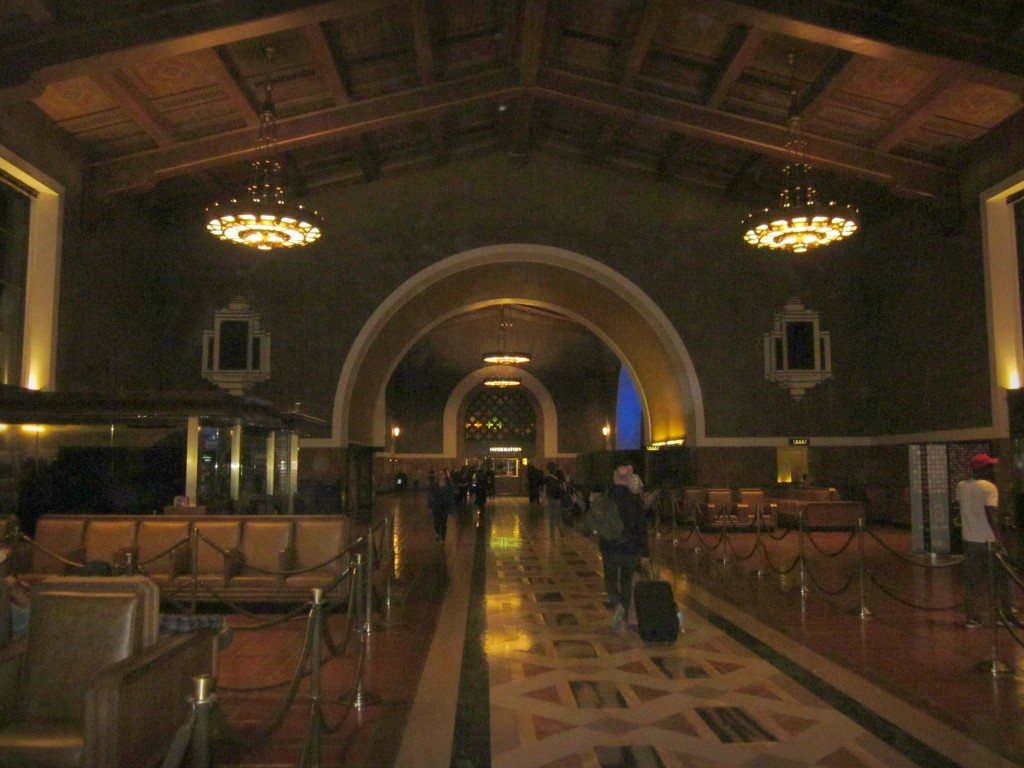 Designed by John Parkinson and Donald B. Parkinson (the Parkinsons) with the assistance of supporting architects. Union Station's look combines Art Deco, Mission Revival, and Streamline Moderne style, with elements of Dutch Colonial Revival architecture.
The waiting area has the feeing of elegant grandeur of a time long ago. Nestled in the corner is a place for passengers to grab a drink and rest a spell at Traxx bar. The bar is a comforting repute and also opens up to a fabulous view to appreciate the station's lovely architecture. Across the way is a full restaurant for those on long layover from their train rides or just wanting to escape the bustle of downtown LA.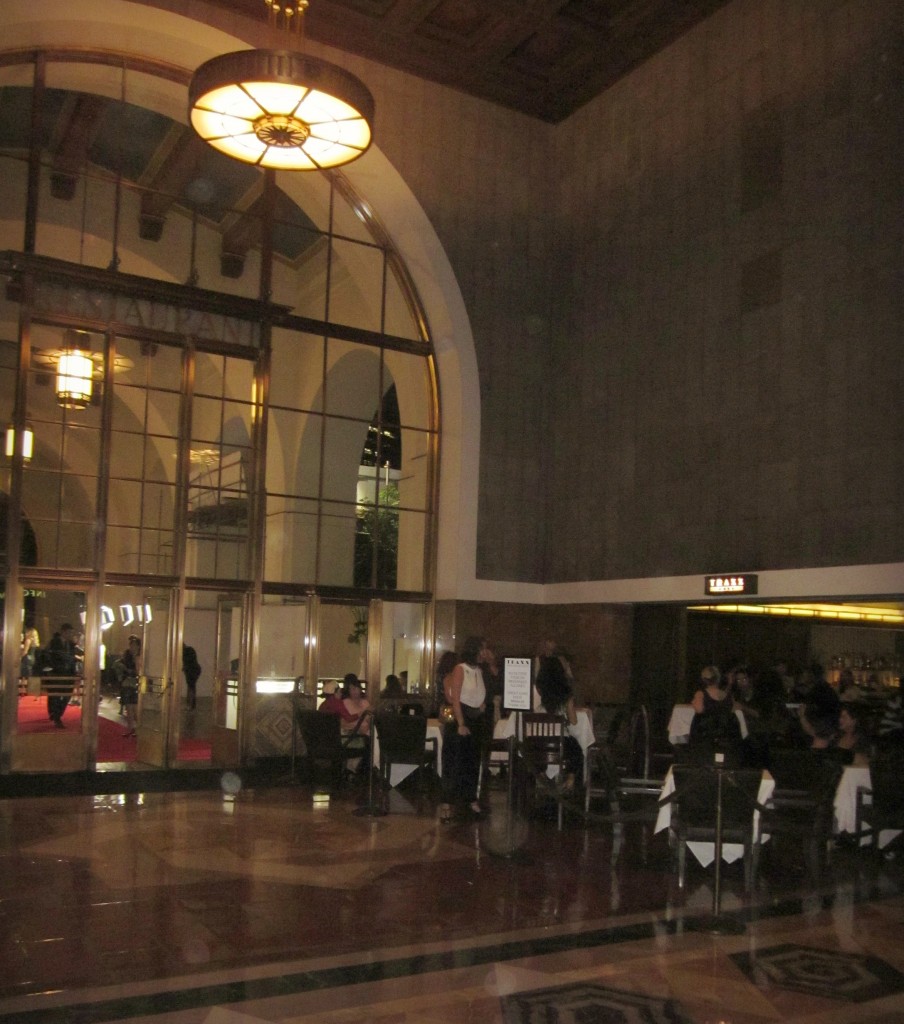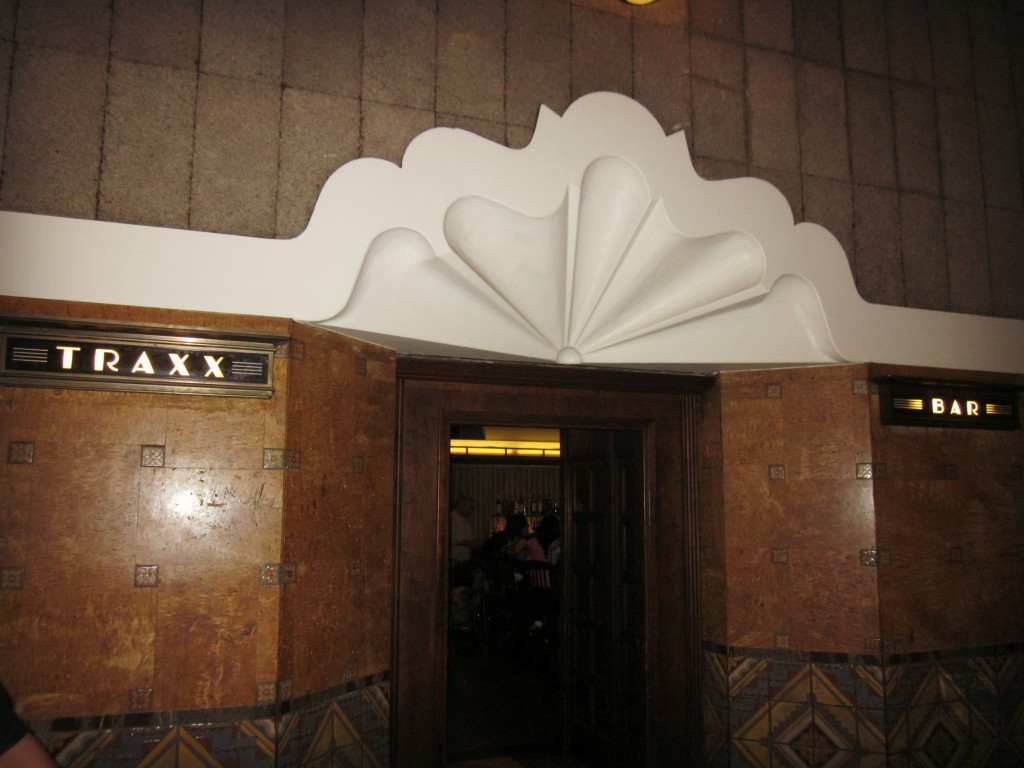 What I Wore
For this night of having a drink at one of America's great crossroads, I put on some comfortable yet elegant, vintage style that seemed appropriate for visiting a historical landmark. I opted for a vintage dress in warm fall colors. I actually purchased this dress from Pinup Girl Clothing's Micheline Pitt who noted how much she loved the details of circus characters in the print and the pearl studded details in the front. I paired it with a vintage cigar box purse and t-strap vintage inspired heels. It set nicely against the background the Union Station's tile and for a drink at the bar.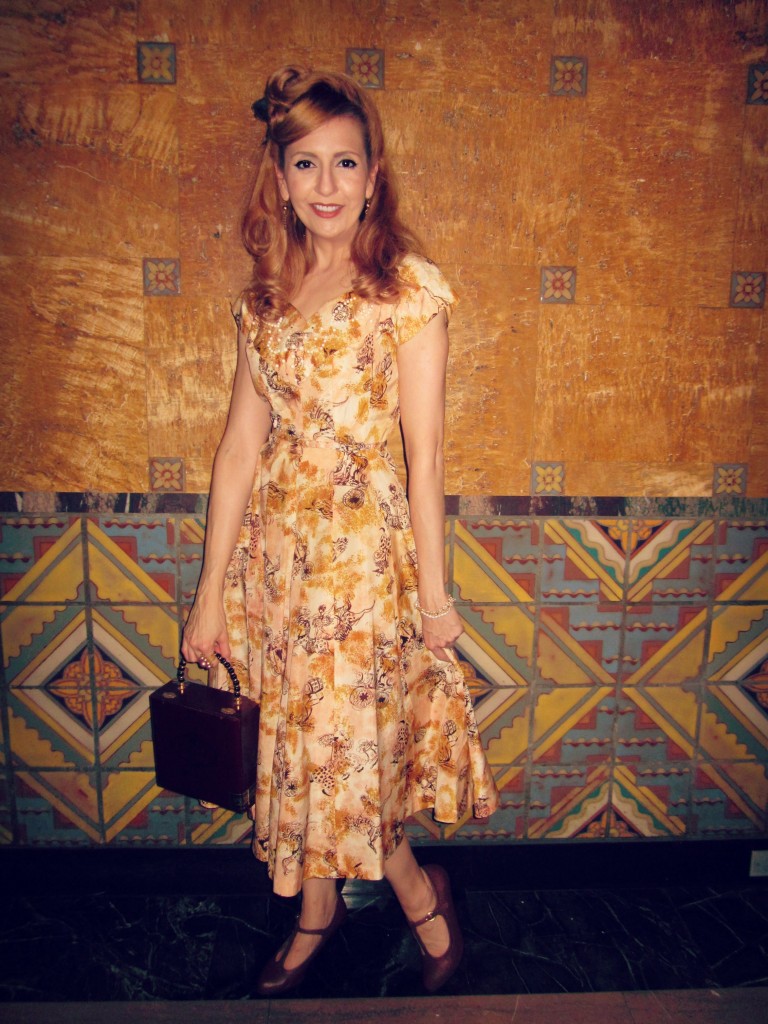 Dressing Vintage Style for a Night Out with History
If you're headed out to your own local historic landmark or any place that makes you feel transported back in time, bring a bit of vintage style just as ladies did a few decade ago when looking classy and feminine was de rigueur. This classic 1940s inspired chiffon swing dress features a vintage caped bodice with a teasing and pleasing keyhole, fitted waist with sash tie, and crepe lined swing skirt. A cream-colored, vintage style purse and t-strap shoes complete the look. Click the links to shop* the look!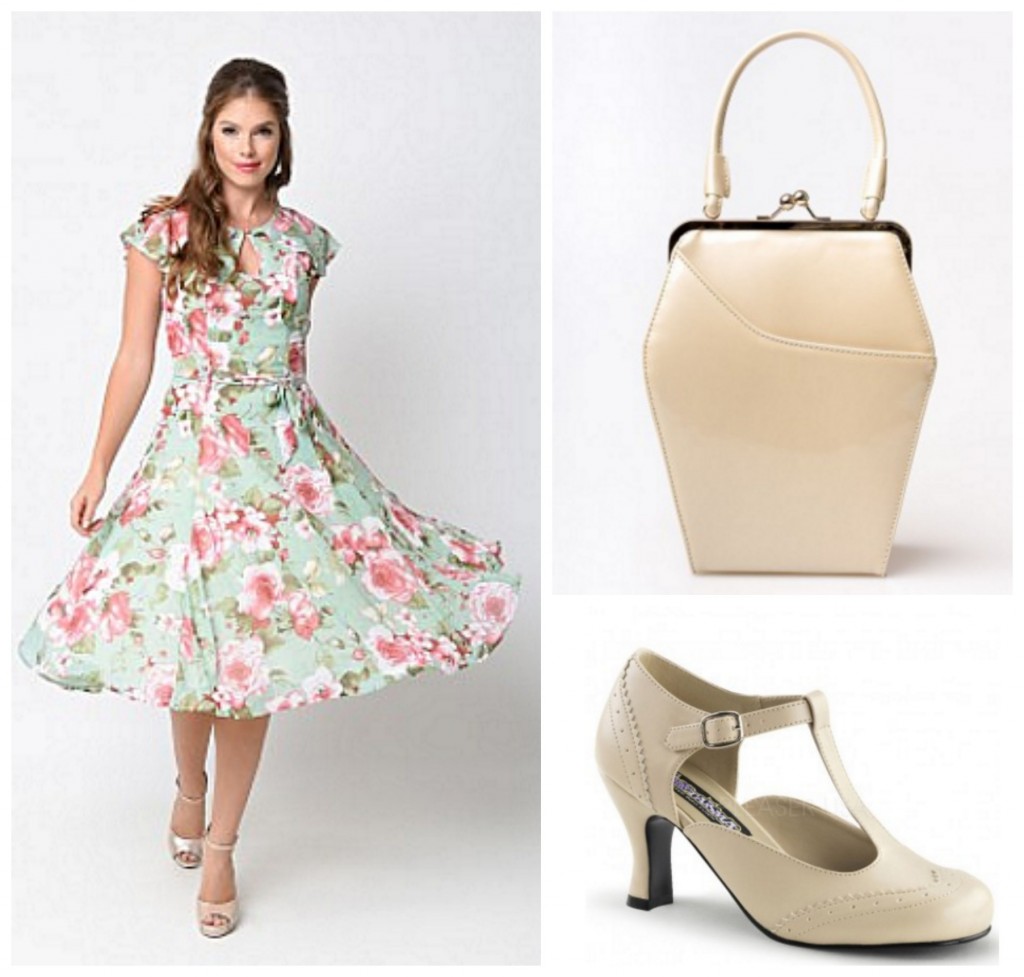 Hope you get a chance to take in a bit of history at a landmark near you!
Union Station is located at 800 N Alameda St, Los Angeles, CA 90012. Traxx Bar is just inside the main front doors in the waiting area.
To the past,
Kastle
Photos edited with PicMonkey*: fearless photo embetterment. Get it!
Tags:
bars in Los Angeles
,
Historical Sites
,
Kastle Waserman
,
things to do in Los Angeles
,
vintage style