Dress Up Date Nights with Pinup Style and Ice Cream
October 25, 2015
by stilettocity — Posted in Fashion, Where to Go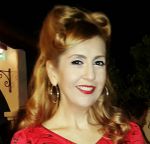 Every time my man and I passed by a little ice cream shop called the Salt & Straw on Larchmont Boulevard, there was a long line out front and loads of people sitting around chatting and taking selfies with their ice cream. 'What is it about that place?' we asked ourselves. Finally one night we decided to try it out.
We waited in line and finally got in the door to see the menu. They had a regular menu of all kinds of delicious sounding, and unusual, combinations such as sea salt ice cream with caramel ribbons, honey lavender and avocado and strawberry sherbet. Plus, they had a monthly menu of specialty flavors. The month we came it was all fruity combos as summer fruits were just coming in season. We got to the counter and got to try as many flavors as we liked then order our pick in a cup or cone. The ice cream was fresh, delicious and so unique. Yum! So THIS is what the fuss is about!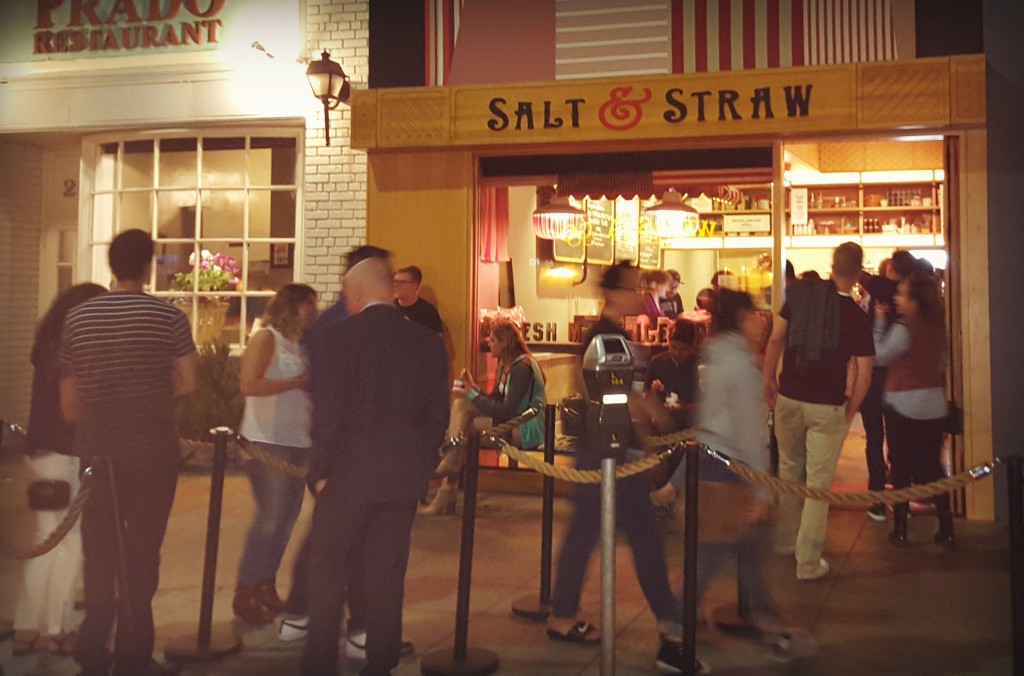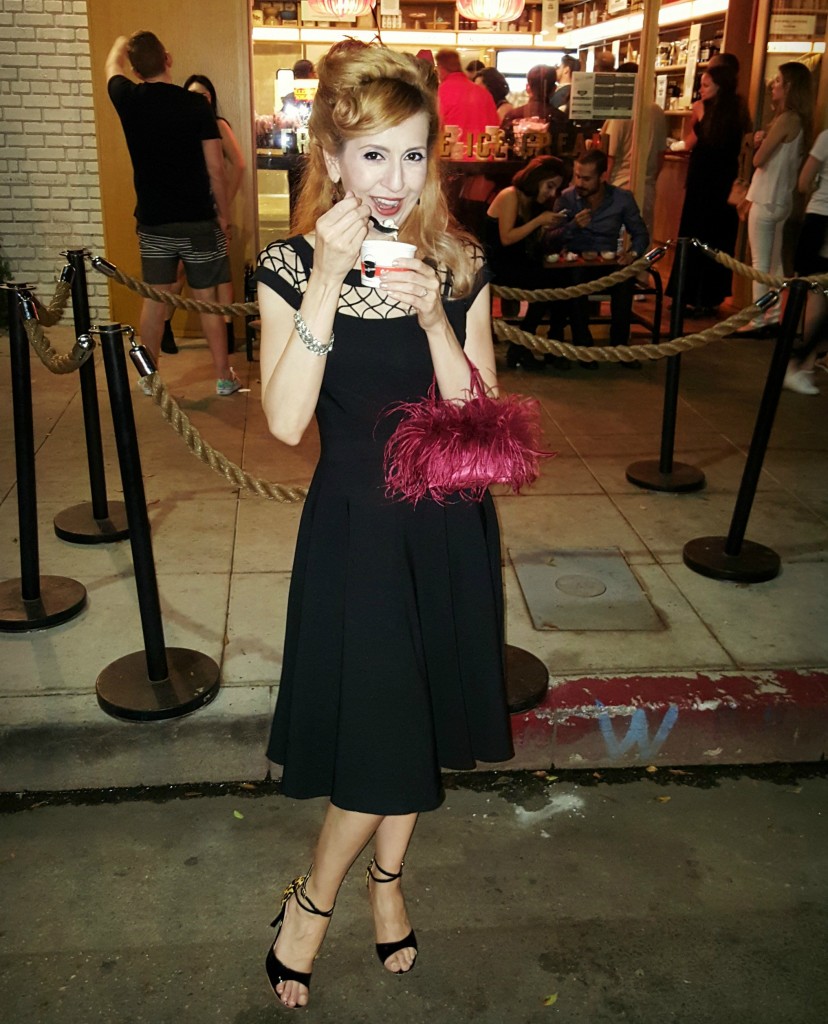 The Salt & Straw started in Portland Organ as an entrepreneurial business by two people who wanted to make good quality ice cream in lots of interesting flavors. Judging by the lines and our own taste test, they've definitely succeeded and thank goodness they brought it to LA!  It's so fun to get all dressed up pinup style for a date and cap the night with the childlike indulgence of ice cream – especially these wild flavors with something new to try each month! Be sure to check out October's menu, which has lots of Halloween candy inspired flavors!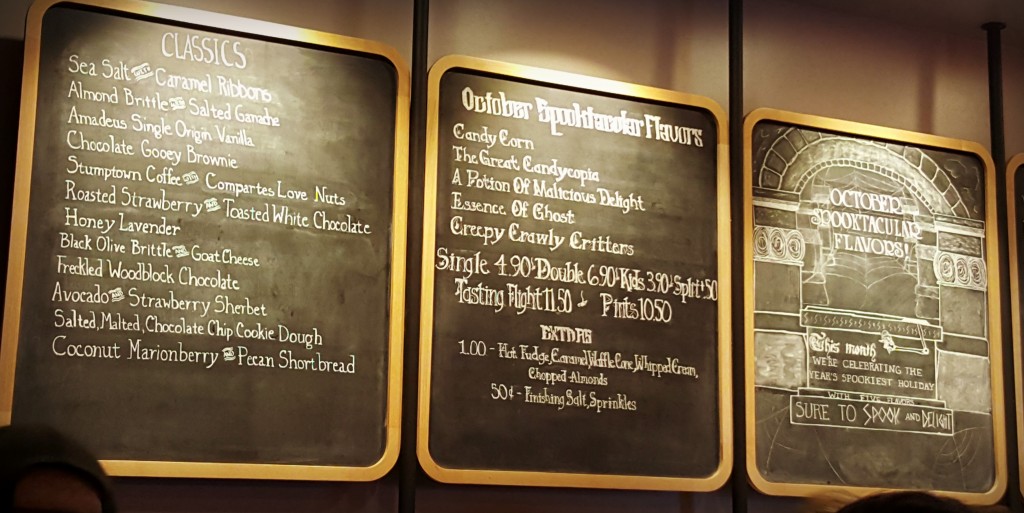 What I Wore
Date nights seem to call for a sexy, yet playful pinup look. On this night I brought out one of my fave dresses, the Alika classic swing dress from Tatyana. I just love the crisscross detail around the neckline and the way the dress feels on. I got it in black so I can work it pinup style or rocker style. I paired it with a pop of color with a burgundy rose comb in my hair, and shopped by closet to rediscover a purse I purchase in Italy a few years ago that has the same color and feathery texture. My shoes are another treasure from my travels, actual Tango shoes from Buenos Aires. They are so comfortable because they are made for dancing! And I love the leopard print on the heel! I took a moment to pose with the mural on Larchmont by graffiti artist Punk Me Tender.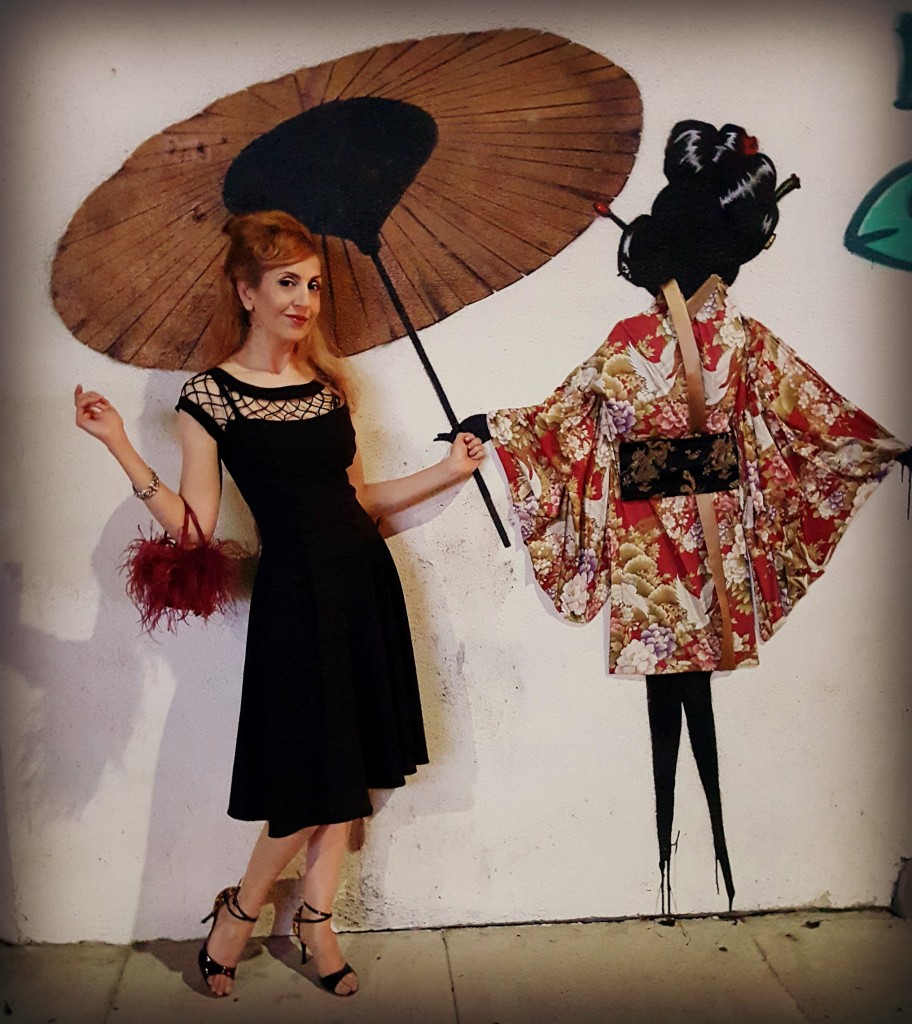 How to Wear a Swingin', Date Night Pinup Look
Date night means a little romance and lots of fun so why not combine both in your outfit? Show your sultry pinup style in a lace swing dress like this one in stunning eggplant with beige lining. Beige vintage style heels play off the dress color without being overpowering. Bring along an ice cream purse to show you don't take life too seriously. Who knows, your date just might take you to taste some new taste sensations at a place like the Salt & Straw! Click the links to shop this look!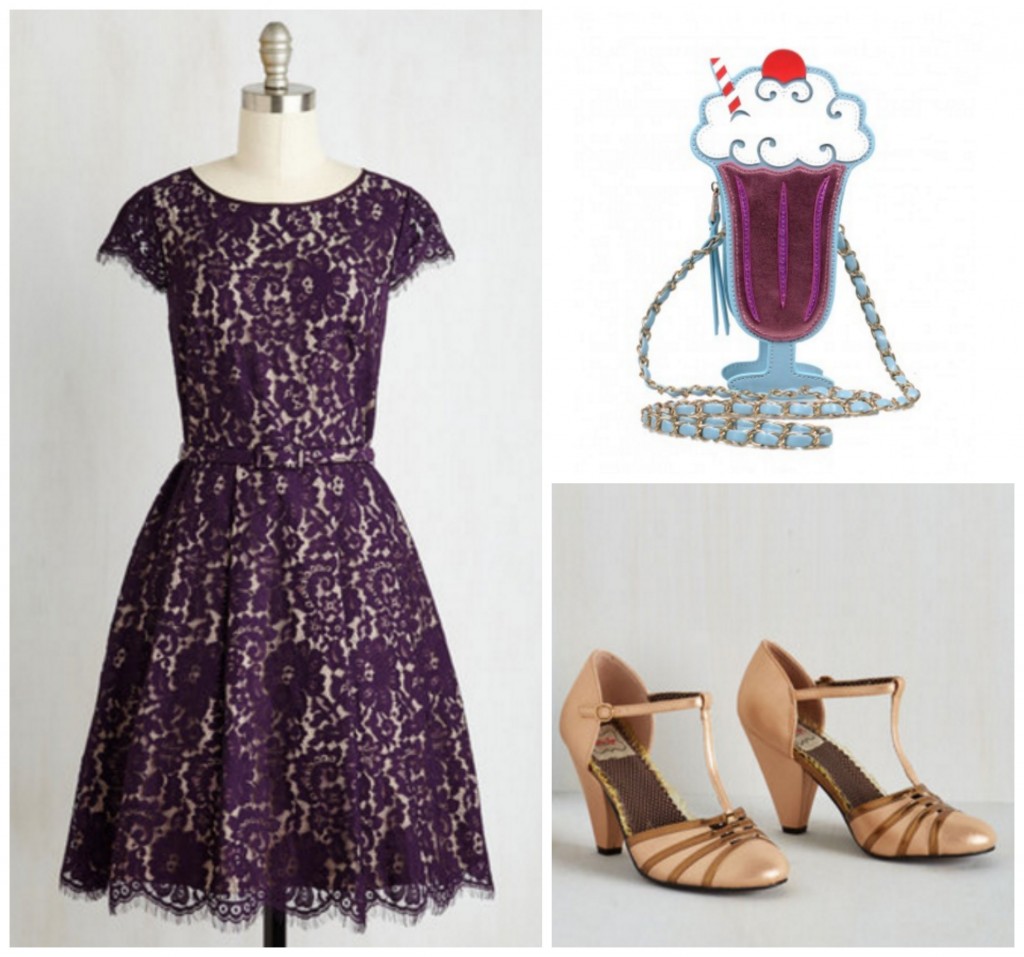 Hope you get to taste al the flavors life has to offer!
The Salt & Straw is located at 240 N Larchmont Blvd, Los Angeles, CA 90004
I scream, you scream
Kastle
Photos edited with PicMonkey*: fearless photo embetterment. Get it!
Tags:
date night look
,
Kastle Waserman
,
pinup style
,
things to do in Los Angeles