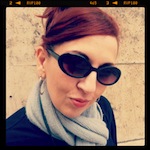 When the PHAMExpo Beauty Conference comes in town, I know I have to brace my credit card for some serious purchasing. That's because PHAMExpo brings the best products and experts in the beauty industry to offer makeup tips and products available at deep discounts so makeup enthusiests like me can fill up our makeup drawers with new products to try and rave about, and professional makeup artists can load up their kit with the latest in beauty.
Check out what I brought home from the PHAMExpo this year and click the links below to shop each item.
Shop* the items mentioned in this video:
Embryolisse Concentrated Lait Cream
Bdellium Studio 365 Square Mask Brush
Brett Brow Duel Sided Eyebrow Spool/Brush
Rock Your Hair Bombshell Volumizing Powder
Rock Your Hair Spray It Hard Big Volume Hairspray
Rock Your Hair Moringa Dry Oil Mist
Rock Your Hair Hot Curls Thermal Spray
See photos and a full report of PHAMExpo LA 2014 in this previous blog post.
Haul it home!
Kastle
See *disclosure
I am not affiliated with or sponsored by any advertisements shown below. They are placed by WordPress.
Tags:
Bdellium Brushes
,
Beauty
,
beauty products
,
Brett Brow
,
Cinema Secrets
,
Makeup Geek Eyeshadows
,
PHAMExpo
,
Rock Your Hair
,
Stiletto Pinup Cosmetics