Last Minute Mother's Day Gift Ideas
May 5, 2014
by — Posted in Beauty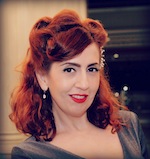 Moms, we gotta love 'em. They might make us crazy once in a while but they gave us so much, like that little gesture of bringing us into this world. This Mother's Day, treat your mom to a gift to make her feel like the beautiful creature that she is. I know my mom always loves skin care and makeup products and is always asking about the latest things I'm using. So I thought I would put together a few gift ideas to get that special lady in your life – or add it to your own wish list for Mother's Day!
All items are available at your local Sephora or click the image to shop online* (great for when you need to express ship to moms who live elsewhere!)
FRAGRANCE
What mom doesn't like to smell pretty? These fragrances will look lovely sitting on her dresser and she'll think of you every time she glances at them and puts 'em on.
MAKEUP
Every lady loves to play with makeup. This gift palatte from Sephora guarentees she'll never run out of options to try. And if you mom is anything like my mom, she can't get enough lipstick! She may not have heard of the long-wearing Lip Tars from OCC that have recently gone from a pro makeup artist's secret to the mainstream, so get her this perfect sampler set.
SKIN CARE
OK, admit it, you may have helped put a few lines on your mother's face. Time for payback for all the worrying and squabbling. Get her these skin care sets to care for her skin and fight the aging process.
Now go tell you mother how beautiful she is!
Happy mother's day!
Kastle
See *disclosure
I am not affiliated with or sponsored by any advertisements shown below. They are placed by WordPress.
Tags:
Beauty
,
Cosmetics
,
fragrance
,
Makeup
,
Mother's Day Gift Ideas