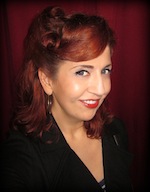 If you can imagine Sephora on steroids, you can imagine what a beauty convention is like. For the first time ever, PHAMExpo put down stakes in Pasadena, CA and opened its doors to makeup pros, beauty bloggers and the public alike. Inside, was a giant candy store of cosmetics, pro artist demos and deep discounts on product purchases.
As a beauty junkie and avid watcher of YouTube makeup tutorials, I have to say there's nothing like having a roomful of pro artists providing tips and answering questions, and the makeup right there for you test and purchase.
When I walked in, Doe Deere from Lime Crime was doing a Q&A on the main stage. With her long lavender hair and doll-like style, Doe and her fun, colorful cosmetics line have amassed a huge following. The audience was packed with girls with funky hair colors and bright makeup eager to ask a question. The most popular question turned out to be turning Doe's favorite question back to her "What is your daydream?" to which she answered, "To give all my Lime Crime fans a big hug!"
Following the her Q&A, fans lined up to get a photo with Doe in front of the daydream board where the entrepreneur encouraged them to pen their own dream.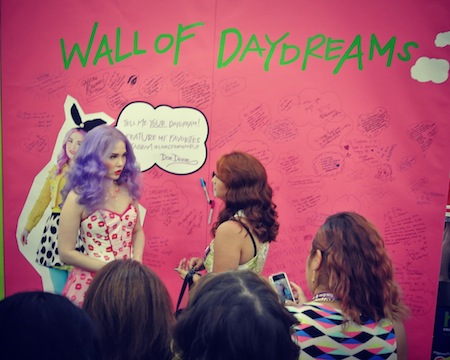 I took some time to walk around and see what was available. There were known brands such as MAC, Stila, Inglot, OCC and Makeup Forever and lots of up and coming brands that specialize in lashes, nails and brushes and other pro tools. I spotted a couple of Vanity Girl Makeup Mirrors and got to say hello to founder, Maxine. A few beauty schools were also there to help makeup enthusiasts enroll and go pro.
Some of the displays were pretty over-the-top, especially to exhibit some of the character makeup and artist airbrushing. MAC's display probably drew the most attention. While all the other booths had female models, MAC lined up five hunky guys in nothing but their boxer briefs to airbrush for what was mostly a crowd of women in attendance. Yeah, that went over well!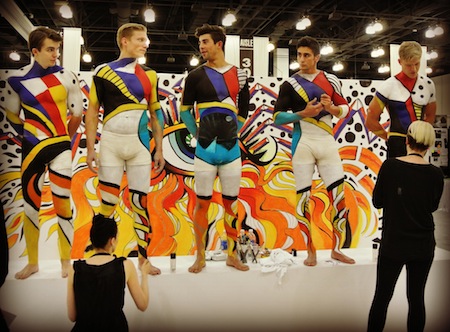 My favorite part of the weekend had to be the pro artist demos. Nothing encourages me to try new products more than an explanation on how to use them to get a specific look. At this expo, the running theme seemed to be how to get HD-ready skin. All of these makeup experts work to prep models and actresses for photo shoots and TV and film work, but were well aware that with the popularity of Instagram and YouTube and having an HD camera on that phone in your pocket, EVERYBODY needs to be camera ready!
Some of the most inspiring pro artist demos I checked out included:
Cory Bishop, Stila Cosmetics – really knowledgable about HD-ready makeup. Loved that he used a mature model for his demo (anyone can make a thin, 20-year-old with high checkbones and perfect skin look good!) His tip on using silicon-based products and non-talc powder changed my thinking on my makeup. I was lucky enough to catch him at the Stila counter and he helped me pick out some color matches for my foundation overhaul – thanks Cory!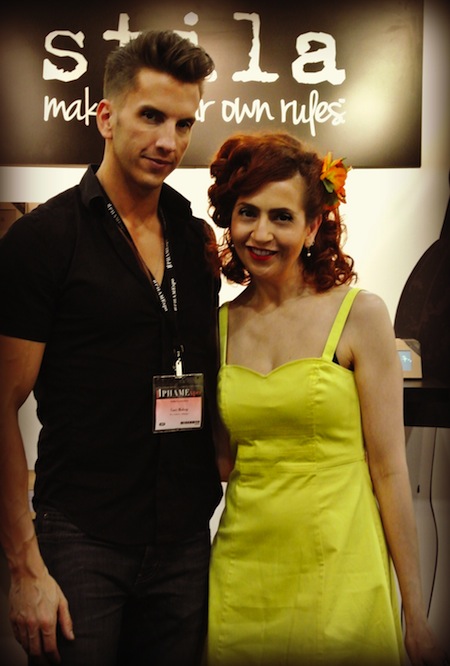 Caitlin Callahan, MAC Senior Artist – a real pro in knowing how to make skin look like skin, not made-up or powdery. "Creams look like skin, powder looks like makeup." Really knew her stuff. Offered the great suggestion of taking a quick photo or video of your makeup as you're doing it or after you're done to see how it reflects on camera and with a flash.
Tracey Taylor, Temptu Pro Artist – a lesson in airbrush makeup, the ultimate in making skin look smooth with a long-lasting look. Tracey talked about how air-brushing needs very little touch up, is waterproof (yes, you can swim in it!) and covers everything. If you are willing to invest in the equipment and the learning curve, it's probably the best solution for a flawless face. If you are a pro artist, knowing airbrushing allows you to charge more for your service.
Keynote, Pro Artist Valente Frazier – Emmy award winning makeup artist who has worked with Tyra Banks, Michelle Obama, Rhianna Heidi Klum and more. Has a super fun personality. Created a glamorous but natural look. And thanks for the compliment on my 1940's hairdo Valente!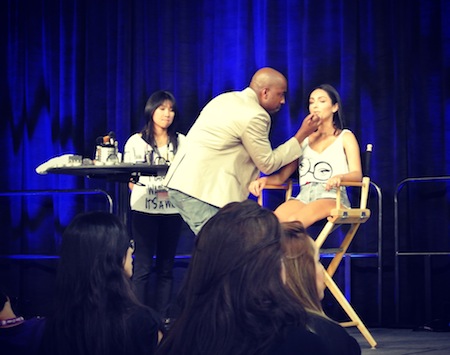 Here's what I learned:
HD shows everything!
Silicone-based products look closest to skin, have light reflective qualities, don't break down, need primers, powder or setting spray.
A moisturizer with mineral oil gives silicon something to cling to.
If you're getting camera-ready, don't use products with sunscreen, it will make skin appear white with a flash.
Buff foundation on with a kabuki brush for an airbrush finish or use a damp Beauty Blender sponge.
Synthetic brushes are better from cream products. Won't absorb product into the bristles so applies smoother and are easier to clean.
A foundation in a warmer color can used as a bronzer.
Blue and purple-based colors can make you look older. Go for orange-base to look younger.
Strengthen the natural lines of your face – hairline, brows, and lash line and it will make you look younger.
Play-up the features you like about your face (such as eyes or lips) deflect from flaws.
For mature eyes, use browns. They won't turn grey or ashy. Brown shadow and liner, then a pop of black liner in the waterline.
Use cream blush, it has the same texture as skin, especially on mature skin. Put on hand to warm it, mash into bristles of brush, or dab on cheeks and blend with fingers.
Eye pencils are creamy and reflect like skin. Powder shadow looks like makeup.
Don't use talc-based powders with silicon-based foundation, it will look cakey. Use low or no talc loose powder to dust on just areas prone to shine to set.
Put concealer under the eye only where it's dark, not in a big "U". Then blend with a brush.
After applying concealer under the eye, take a folded tissue to blot and absorb excess concealer to prevent creasing.
Take a photo of your makeup when it's done to see how it looks to others and with a flash. Nobody wants to be caught out like Nicole Kidman's famous red carpet flub.
Here's my haul:
Stila Stay All Day Foundation, Fair #2
Stila Convertible Color, Gladiola
Stila convertible color, Camilia
Stila Lip Stain, Cherry Crush
Stila Stay All Day Liquid Lipstick, Beso
Stila In the Know Eyeshadow Palette
Stila Kajal Eyeliner, Oynx
Stila Stay All Day Waterproof Liquid Eyeliner, Black
Stila Smudge Stick, Silver Dollar (free gift!)
Makeup Forever Aqua Brow
Purely Cosmetics Diamond Perfect Finish Powder
Embryoisse Lait-Crème Concentré Moisturizer
Beauty Blender Sponge
Beauty Blender Sponge Cleaner (free gift!)
SILK Flat Powder Brush
SILK Complexion Brush
Karen Zander Pro Brush Soap
J. Cats Nail Art Strips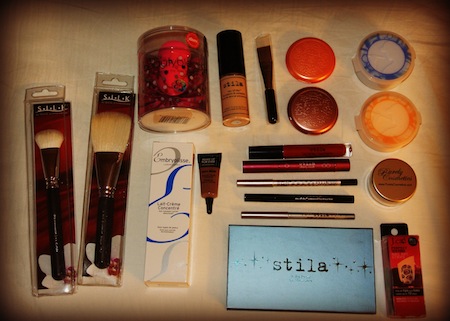 Stay tuned for my upcoming blog on getting my HD look!
Be your best self,
Kastle
Caitlin Callahan
,
Cory Bishop
,
Doe Deere
,
Kastle Waserman
,
Lime Crime
,
MAC
,
Maxine Tatlonghari
,
PHAMExpo
,
Stila
,
Stiletto City
,
Temptu
,
Tracey Taylor
,
Valente Frazier
,
Vanity Girl
,
Vanity Girl Hollywood