Vanity Girl Hollywood: Bringing Glamour to the Party and the Home
November 16, 2012
by — Posted in Beauty
Living in Hollywood, an abundant amount parties and clubs is a regular perk of the city.   At many events you'll find a DJ, a bar, maybe even a goodie bag full of product giveaways. But one entrepreneurial woman is offering something us beauty lovers can really get behind – mini makeovers to liven up your look while you're out. Maxine Tatlonghari, founder of Vanity Girl Hollywood*, began bringing beauty bars to the party – and I can't believe we went without them for so long! If you are lucky enough to attend an event she is at, you can grab a cocktail, sit down in a chair in front of one of her fabulous mirrors, and have one of her "glam posse" of professional makeup artists give you big, sweeping eyelashes or a colorful new pout.
CLICK HERE to read all about it in my recent report on Yahoo! on how Maxine is setting a new trend of beauty bars as entertainment.
CLICK HERE to  check my previous Stiletto City feature interview on how Vanity Girl Hollywood came to be.
SHOP for your own Vanity Girl Hollywood Makeup Mirror!*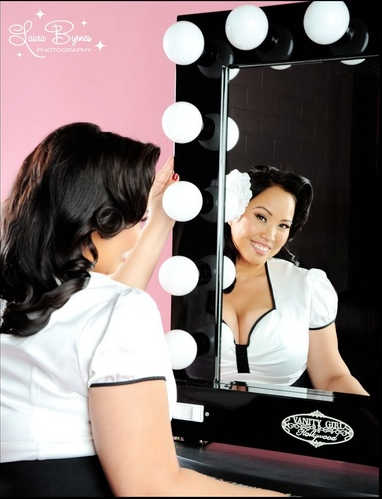 Be the star you are!
Kastle
Photo courtesy of Vanity Girl Hollywood
*Disclosure
beauty bar
,
beauty blog
,
Kastle Waserman
,
Kastle Wasserman
,
Maxine Tatlonghari
,
Social Media Manager
,
Stiletto City
,
Vanity Girl Hollywood
,
vanity mirror