Nail Files: The Painted Nail Party
May 15, 2012
by — Posted in Beauty, Event Reviews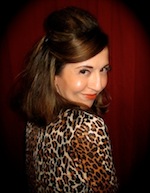 Nothing like a last minute party invite to liven up your week! I got an email from my pal Maxine from Vanity Girl Hollywood* to join her at her makeover station at a party celebrating the new hair salon & blow-out bar at The Painted Nail, home of the "Nail Files" reality show on the TV Guide channel. If you haven't seen the show, owner Katie Cazorla brings a whole lot of Hollywood glamour to the land of mani-pedis, with a big celebrity clientele and spa-like experience — you never know what's going to happen! But what I like best is the surprisingly affordable prices for service in a ultra hip atmosphere! My kind of place!
The party was an Alice in Wonderland-theme with Katie decked out as Alice herself and lots of beautiful girls and handsome dudes in Wonderland glam for a surreal tea party complete with whimsical treats and amazing decor. TV cameras and boom mics where swinging around everywhere following Katie and her music producer husband, Walter Afanasieff  wherever they went. I'm sure we'll see what drama ensued in the next episode of "Nail Files"!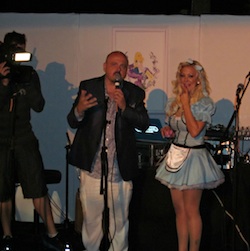 We were also treated to music by girl trio The Goods and Alex Hughes, who got the crowd going with her great energy. Each guest was given a beauty card to visit all of the makeover stations for a little primp treat. I had my lips done in of-the-moment tangerine at Maxine's Vanity Girl makeup station by makeup artist, Zarah Villarreal. She did a fantastic job – thanks doll! The Vanity Girl "glam squad" also included, makeup artist/blogger Olivia Danielle and makeup artist Crystal Strayer.
Then I was off to get a hot pink hair extension and a splash of blue hair chalk coloring. Lastly, was the nail "Ice Cream Bar" before I could pick up the amazing gift bag stuffed to the brim with all kinds of beauty samples and goodies I can't wait to try out and write about in future posts.
Check out the pictures from the party by clicking the image below: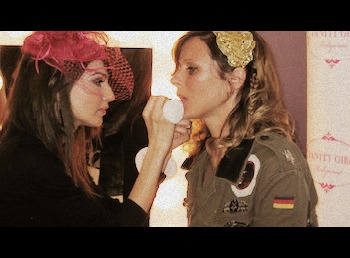 Read more about Vanity Girl Hollywood in the Stiletto City interview.
Shop for your own Vanity Girl Hollywood Makeup Mirror* as seen here!

Nails on ladies!
Kastle
Alex Hughes
,
Beauty
,
beauty blog
,
celebrity beauty
,
Crystal Strayer
,
fashion blog
,
Katie Cazorla
,
makeup artist
,
Maxine Tatlonghari
,
Nail Files
,
Olivia Danielle
,
The Goods
,
The Painted Nail
,
Vanity Girl Hollywood