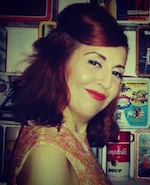 It was one of those California days when the sunshine made the city sparkle, bright and full of promise. It was the perfect setting to gather at the Getty, with its spectacular hilltop views across Los Angeles, and meet a group of social media enthusiasts to share ideas, tips and Twitter handles, take in some amazing art exhibits – and of course have unlimited Instagram moments. They came to be social about social, meet people face to face, and see what unfolds when as life imitates Tweets. This was the Getty Social.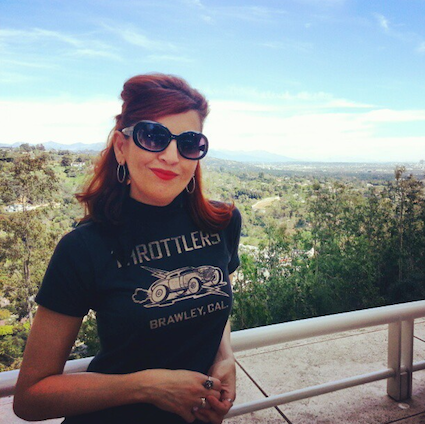 Kastle at the Getty @StilettoCity
Put together by:
This unique "Tweetup" didn't have a set agenda other than to meet like-minded Socialistas and revel in our current engaging and ever-changing social culture. It was an in-person and online mix of stimulus as people talked and pecked away on their smart phones simultaneously.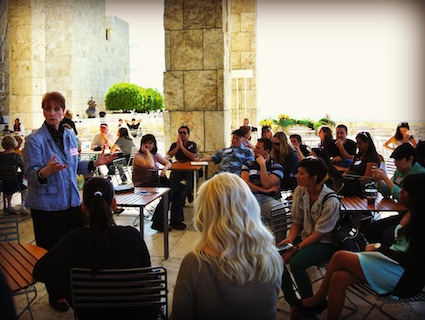 Beverly Macy @Beverly Macy
The highlight of the event was a keynote speech by Nic Adler (son of music producer Lou Adler and actress Britt Ekland), a band manager, promoter, and restauranteur and owner of the Roxy Theatre on the Sunset Strip, best known to this group as the man who got the Sunset Strip to go social with by taking the Roxy venue's social media strategy into the stratosphere.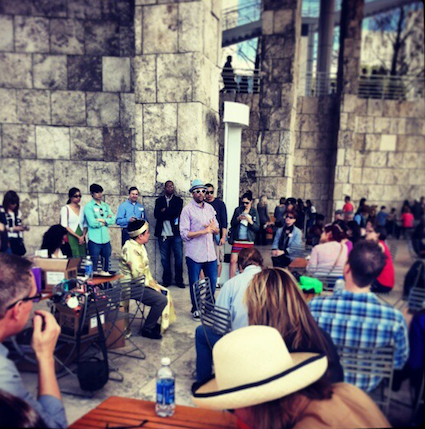 Nic Adler @NicAdler
Some highlights of Adler's talk included the story of how the Roxy really started listening to what their customers were saying about the venue on social media and how making little changes and becoming engaged with the community lead to building a large and loyal following.
He then encouraged us all to turn and snap a photo of the person sitting next to us and share it. So here's a pic of my pal Jon, social superstar in his own right, who I know from attending UCLA's Social Media Marketing class.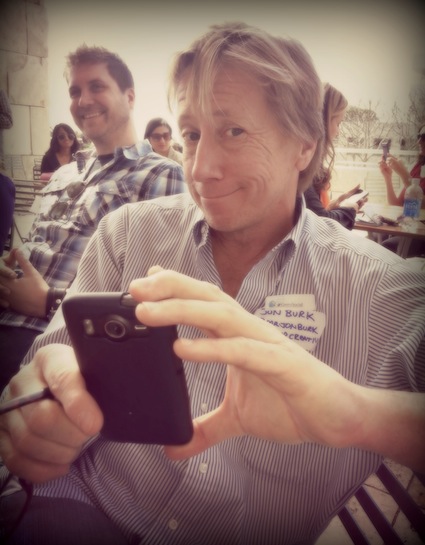 Jon Burk @MrJonBurk
After, we were turned loose on the Getty to take in some of the exhibits and spectacular views. I enjoyed the "Farewell to Surrealism" exhibit, soaked up the gorgeous black and white photography of Robert Mapplethrope, and was particularly moved by the city scene compositions of photographer Ray K. Metzker. My how photography has changed with phone pix and Instagram as we capture real life moments more than ever!
Check out some of the photos and tweets of the day by looking up #GettySocial on Twitter and Instagram.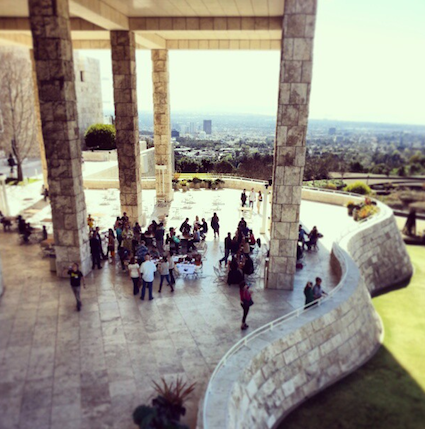 View at the Getty @GettyMuseum
Tweet up people!
Kastle
#GettySocial
,
Beverly Macy
,
Getty Museum
,
Getty Social
,
Instagram
,
Jon Burk
,
Kastle Waserman
,
Kastle Wasserman
,
Lana Layne
,
Laura Billiter
,
Nic Adler
,
photography
,
Roxy Theatre
,
Social media
,
Stiletto City
,
Ted Nguyan
,
Tweet Up