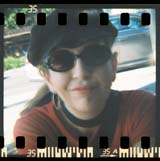 Every picture tells a story. It's one of the reasons I've always loved photography. I did some photojournalism a few years back and would go wherever and whenever to get a great shot. It was a major creative rush. But I fell out of doing artistic photos when easy point-and-shoot digital automatics came along. There was no art to it, just capturing the scene in perfect focus, perfect lighting – and perfectly boring. Recently (as many who follow this blog know) I've fallen for Lomography – experimental analogue photography using plastic cameras and film, yes, film to completely deconstruct the perfect photo into moody, textured, inspired works that play off happy accidents of light leaks and double exposures.
Sure there are now apps available on your iPhone for that. But nothing is more fun than getting a roll of film back to see what you got. It's like a prize inside the Cracker Jack box – sometimes you love it, sometimes it's disappointing, but usually there's at least one or two shots that draw pure excitement.
Mind you, my first few rolls were complete crap as I learned to work with my camera and started remembering to check all the manual settings. But if you ever need help, the super friendly and supportive staff at the Lomography store In West Hollywood is standing by to show you how to work the camera and recommend films to try for different effects. I love going in there, I always leave feeling part of a community of total enthusiasts just nutty for these colorful little cameras.
I was lucky enough to get a Diana F+ camera for my birthday last month and the Lomography store just happened to have a workshop on how to use it. During a brief session in their upstairs "classroom," we learned all about the different lenses and backs you can try for endless possibilities – way beyond what you can do with a little digi automatic. I tricked out my camera with a 35mm sprocket back and splitzer lens and we took stroll down Santa Monica Boulevard to shoot what inspired us. Here's a sampling from my roll.
Click below to see the slideshow: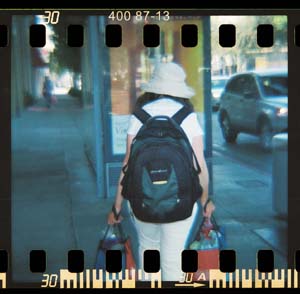 Lomography Diana F+ Workshop
 Thank you Lomography – you've got my creative juices going!
Smile for the camera,
K.
analog camera
,
camera
,
Diana F+
,
Lomography
,
photography