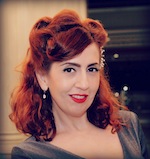 December is a time for holiday sparkle and being festive. It's also when winter starts to hit head on, which can take a toll on your skin.
Check out my favorite things this month to dress for all the parties and joyful events that fill the calendar through the News Year and make sure my skin is well cared for:
Click the links below for more details and to buy* the items mentioned in this video:
Clinque Repairware Uplifting Firming Cream
Lancome High Resolution Eye Refill 3x Cream
Clairsonic Skin Cleansing System, Mia
See the Press On Nails How-to VIDEO
See the full view of the red lace dress from Clever Vintage
Looking forward to the New Year!
Kastle
This post is not sponsored. All products were purchased by me, except Clairsonic, which was a gift.See *disclosure
I am not affiliated with or sponsored by any advertisements shown below. They are placed by WordPress.
Tags:
December Favorites
,
Fashion
,
fashion video
,
holiday looks
,
holiday style
,
how to dress for the holidays
,
Nail art
,
skin care
,
sparkle