Bringing Retro Style for Cocktails at the Idle Hour
September 26, 2015
by stilettocity — Posted in Fashion, Where to Go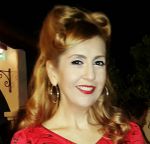 There's nothing like a drink with a good gal pal to help you blow off steam from a long week and provide an excuse to get dressed up in some cute retro style and gab about clothes, makeup and upcoming events.
Recently, a very cool bar opened in the North Hollywood area and you can't miss it driving down the street. Shaped like a huge wooden barrel, Idle Hour was originally built in 1941 following on the heels of "programmatic architecture," in which buildings were designed in unusual shapes to catch the attention of passersby.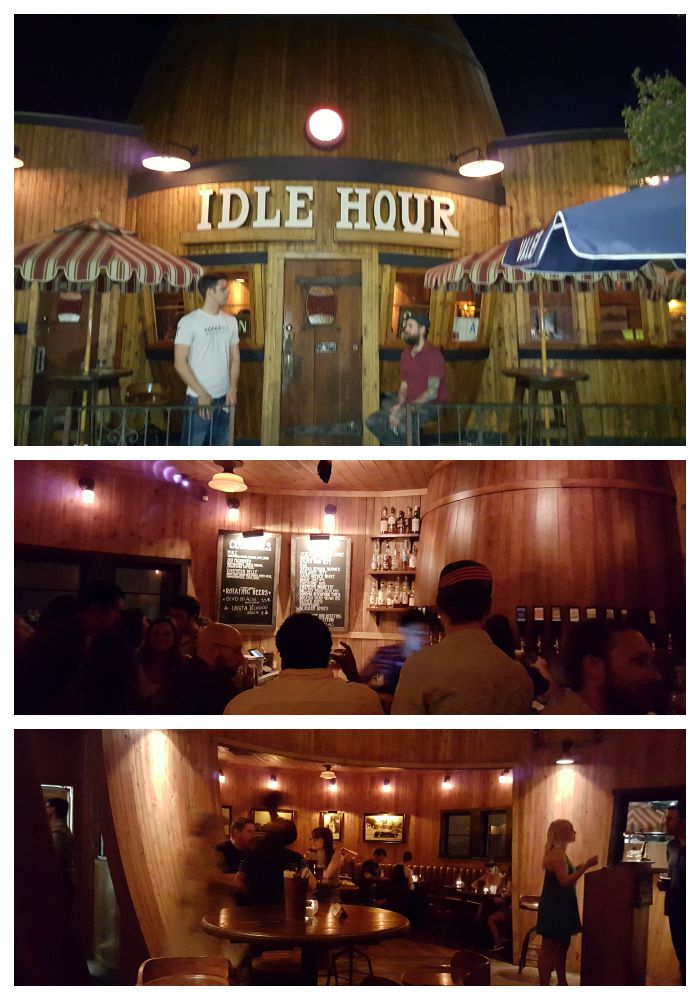 It served as a tap room for several decades, then a Flamenco bar in the 1970s. The place then began to fall into disrepair. It wasn't until LA Magazine columnist Chris Nichols petitioned to get the venue historical status in 2010 that it was set to make a comeback.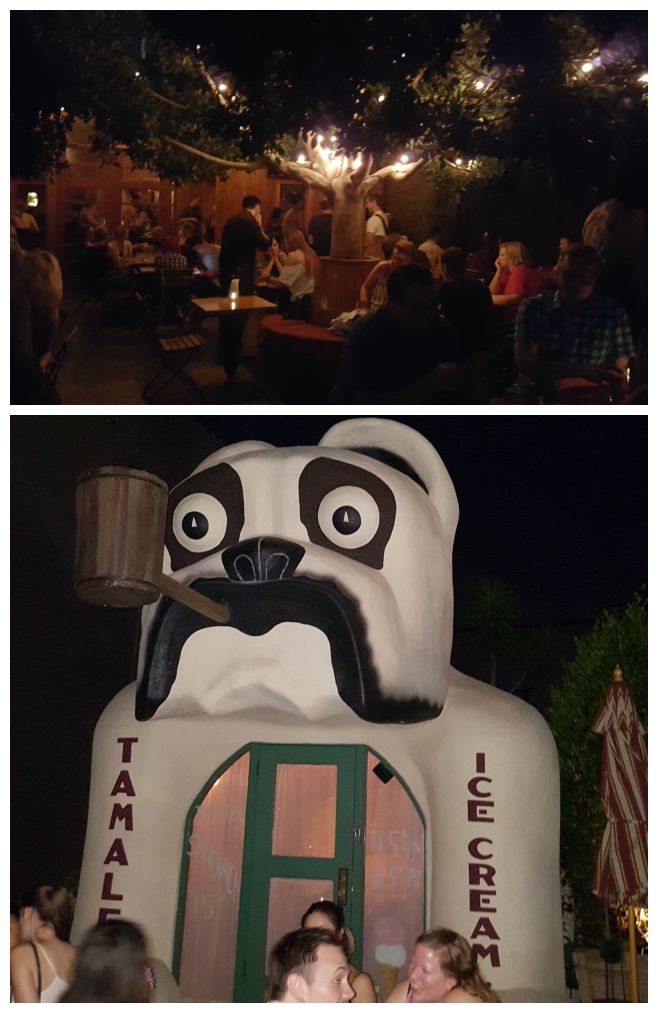 Purchased by the 1933 Group in 2011, the place underwent a massive renovation and emerged this past February with a shiny new look both inside and out. Pull up a seat inside the huge barrel and you'll feel as though you want to drink the whole thing when you see the variety of beers and ales on tap. The place also serves light meals, lunch and brunch. There is a lovely patio out back surrounded by twinkling lights. Looking over everyone is a giant bulldog structure, a replica of the 1920's era Bulldog Café.
The place is perfect for getting an eyeful of the beautiful architecture and the crowd of hipsters that frequent it.
What I Wore
For this historical landmark that spans several decades, I put on a little retro style with a Tiki-inspired '60s look. I paired a bright green vintage shift dress with bamboo hoop earrings with matching bracelets and a colorful swirl colored Bakelite bracelet. My purse has a Tiki print with bamboo handles, and gold mule slide shoes kept me light on my feet.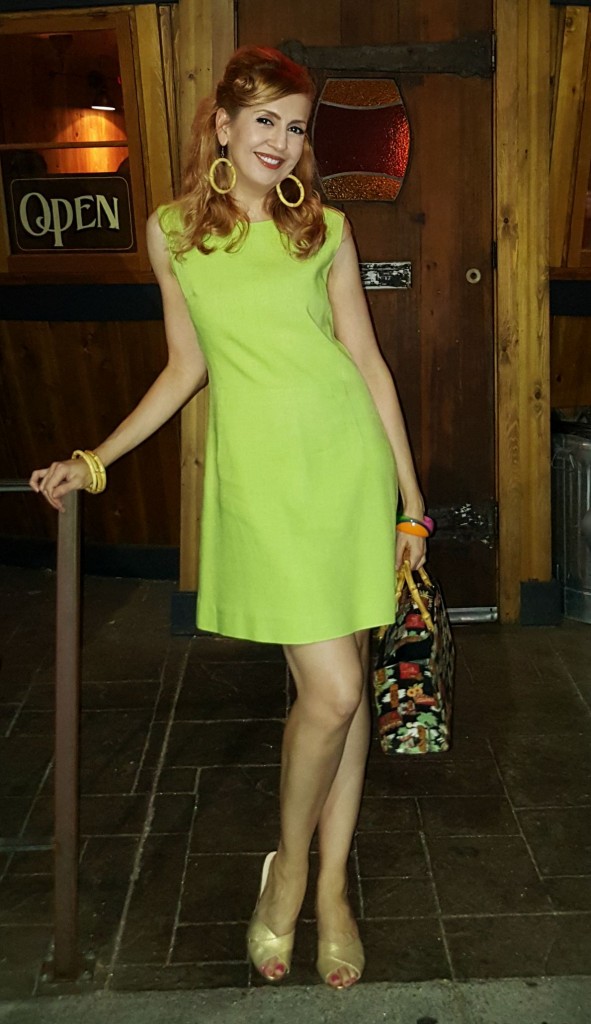 What to Wear to a Hipster Bars in Los Angeles
In LA, it can be tough to stand out in a crowd of beautiful people. For a long time, wearing black was a way to look cool but I say make a statement in a bright color and a bit of retro style to show your fun personality on a night out. This bright green dress with very California palm tree fronds will catch the light in a dark bar as will your colorful heels. Keep accessories simple with a textured black clutch and gold bracelet that says your in for a good time day or night!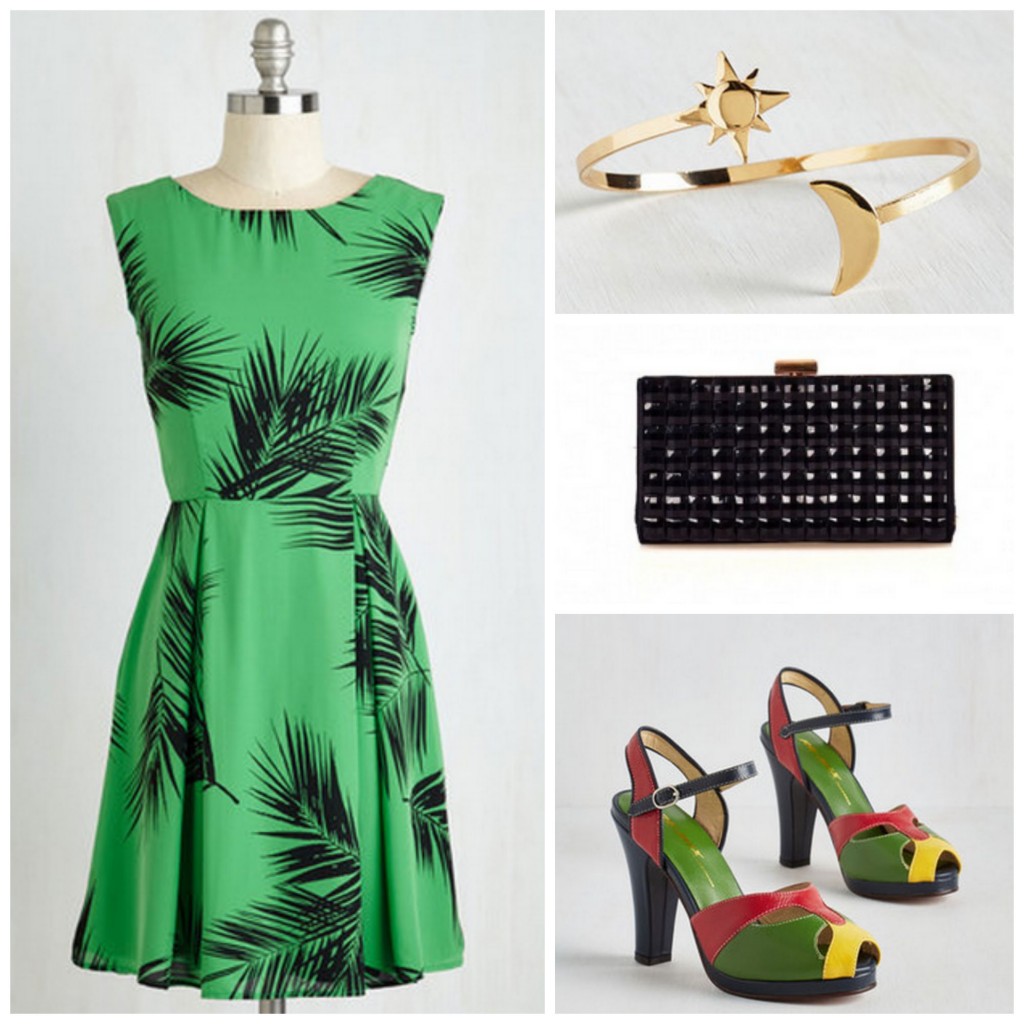 Hope you get a chance to check the Idle Hour. Want to try out some other bars in LA? Be sure to hit the tag below for more blogs on bars!
Idle Hour is located at 4824 Vineland Ave, Los Angeles, CA 91601
Cheers,
Kastle
Photos edited with PicMonkey*: fearless photo embetterment. Get it!
*disclosure
Tags:
1960s fashion
,
bars in Los Angeles
,
Historical Sites
,
Kastle Waserman
,
retro style
,
things to do in Los Angeles