Glam Rock Style at the Bowie Mick Rock Photography Exhibit
September 18, 2015
by stilettocity — Posted in Fashion, Where to Go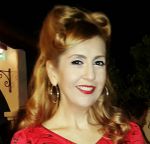 Wham! Bam! Thank you Ma'am! It's a glam rock feast for the eyes at the Taschen Gallery with its current exhibit, "Mick Rock: Shooting for Stardust. The Rise of David Bowie and Company."
As a lover of glam rock style and music, I had to go check it out and get an eyeful of Bowie in his prime during the 1970s. So many photos of Bowie, with his shock of bright red hair, colorful suits and wild makeup, as well as candid moments backstage and having a meal. Photographer Mick Rock is known as "The Man Who Shot the Seventies" because he and his lens seemed to be around during rock 'n' roll's most pivotal time, shooting everyone from Bowie to the Sex Pistols. During Bowie's legendary Ziggy Stardust period, Rock was his official photographer.  The exhibit also features some of Bowie's glam rock peers including Iggy Pop, Debbie Harry, Queen and Lou Reed, all shot by Rock. The whole gallery is a rock 'n' roll oasis. Want to keep the glitter in your eyes long after you leave? Then you can take home one of Taschen's amazing coffee table photography books featuring all kinds of pop culture icons, which are for sale in the gallery.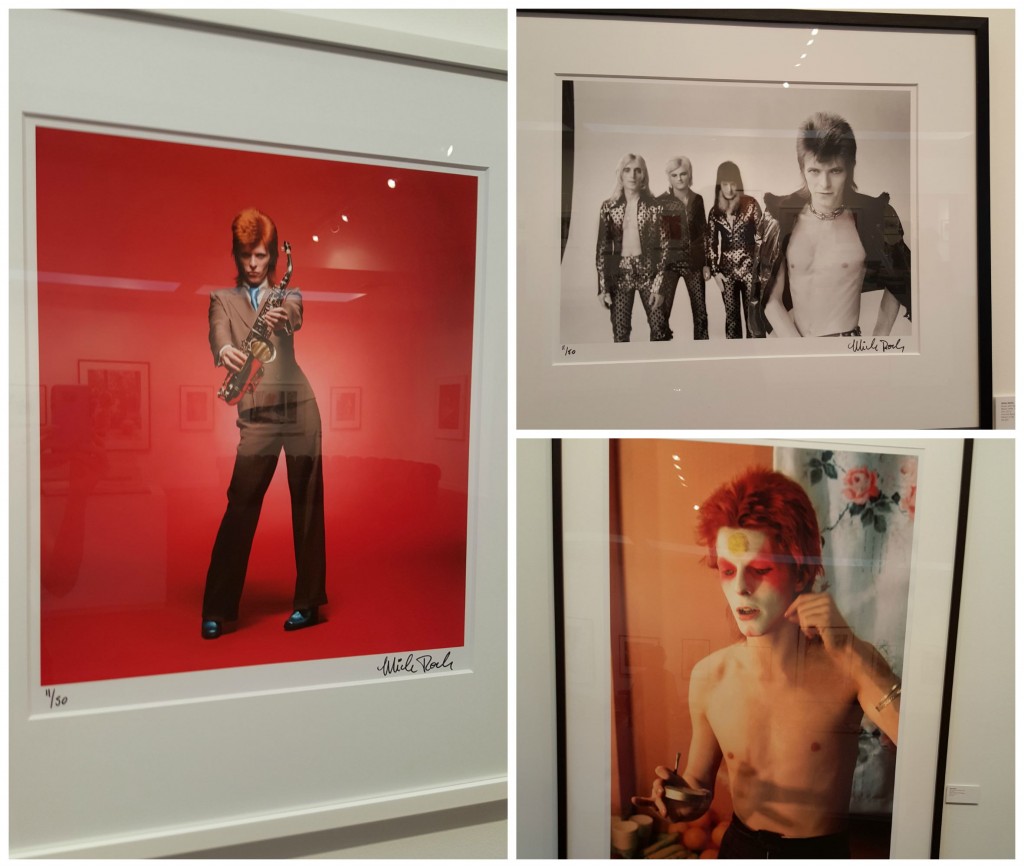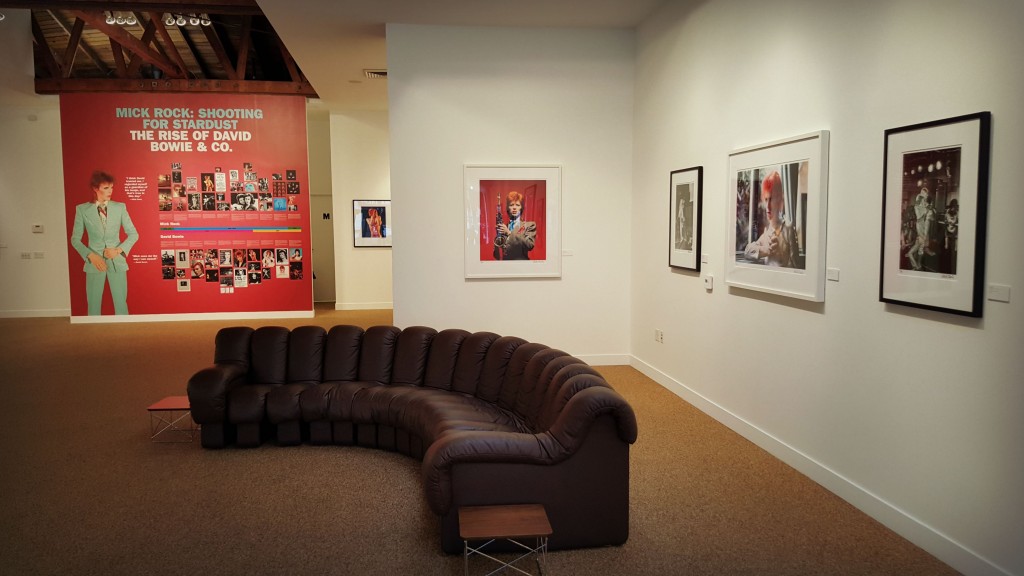 While you may know Bowie, if you're not familiar with glam rock, here's a quick crash course – it's a style of music that erupted in the 1970s, mostly out of England. Gender-bending performers wore wild, colorful outfits with lots of sparkles and glitter, chunky furs and platform shoes, for an over the top spin on glamour. It was theatrical, sexy and shocking at the same time. If you want to make a glam soundtrack, be sure to include Bowie, T-Rex, Queen, Slade, Sweet and Mott the Hoople. It's sure to be the best party music you've ever heard!
What I Wore
I had to slip into a little glam rock style to check out this exhibit so I reached for my hot pink pedal pushers and mule heels, topped with a cut-out top and spikey, sparkly, rhinestone hoop earrings. I accented with a cuff bracelet paired with a chain bracelet with rhinestone star.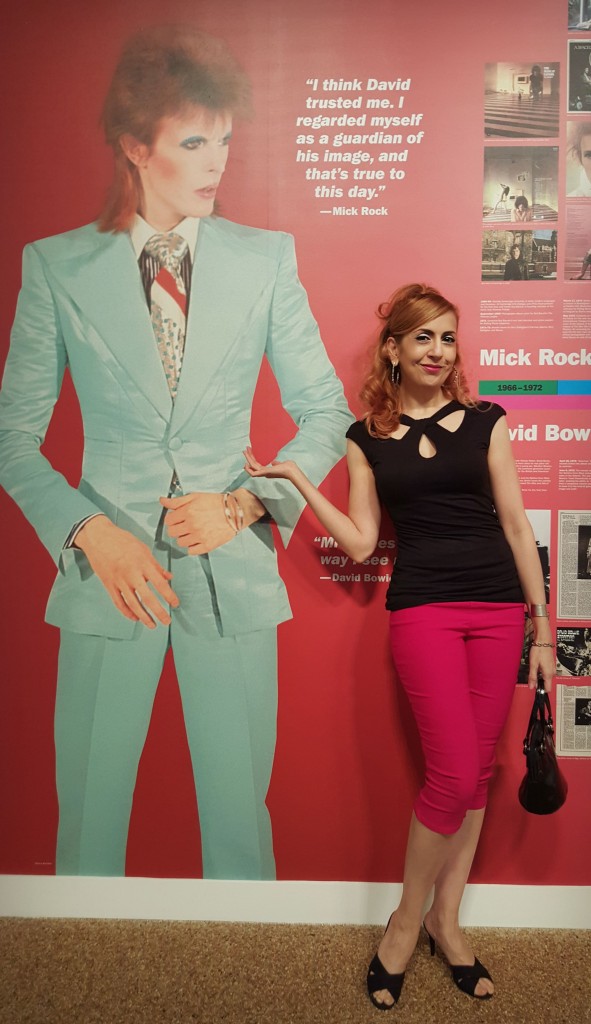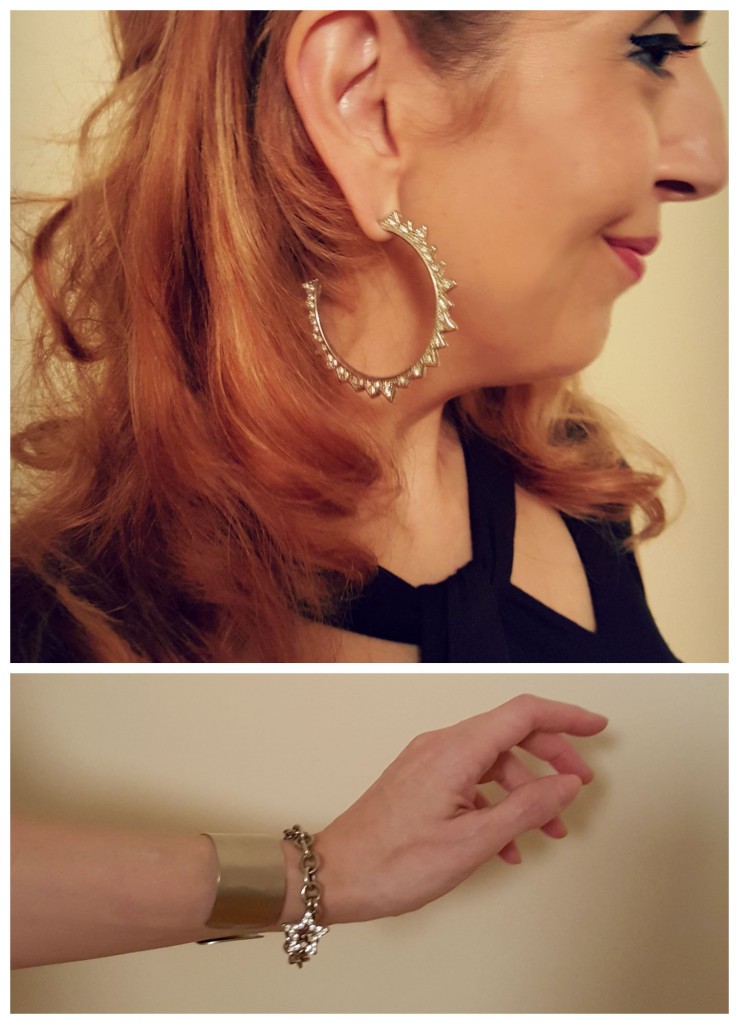 How to Dress Glam Rock Style
You have to think like a rock star to pull off a glam rock look. Think bigger than life, shiny, sparkly, sexy and fun loving. Star icons are big for the glam rock look and this starry bomber jacket is perfect for a night out. Pair it with a very glam, bright pink furry top. If midriff exposing isn't your thing, opt for a rocker chick T-shirt with your favorite glam rock band, like this one featuring T-Rex. A silver, sequin mini skirt will make those hips shake to the beat. Ground the look with a pair of chunky, platform shoes. (Click the links to shop* this look!) Don't be shy with your makeup either. This isn't time for the natural look. Add some glitter to your eyeshadow and a pop of bright lip color.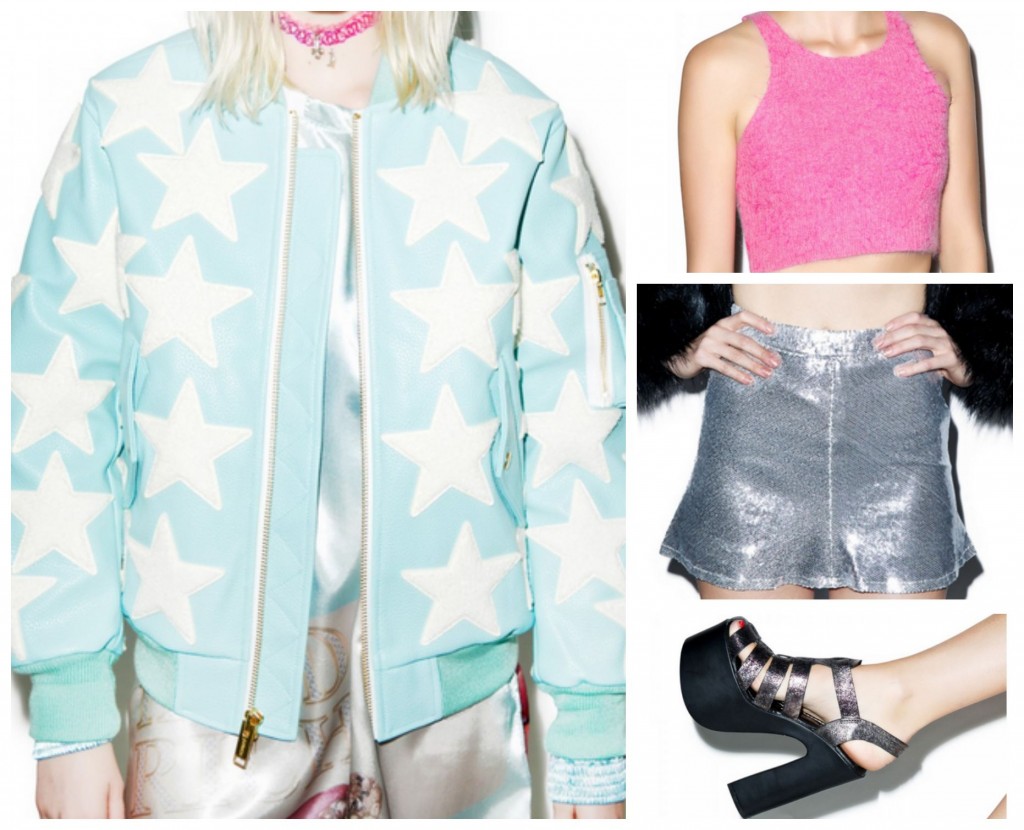 Hope you get a chance to catch the Bowie photo exhibit or go out dancing to some glam rock music!
The exhibit Mick Rock: Shooting for Stardust. The Rise of David Bowie and Company runs through Oct. 11, 2015.
Taschen Gallery is located at 8070 Beverly Blvd, Los Angeles, CA 90048
Rebel, rebel,
Kastle
Photos edited with PicMonkey*: fearless photo embetterment. Get it!
*disclosure
Tags:
'70s fashion
,
glam rock
,
Kastle Waserman
,
rocker style
,
things to do in Los Angeles