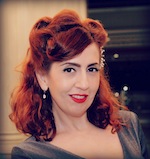 There is an art to good hairstyling. And when it comes to vintage-era looks, it's hard to top Tony Medina of His Vintage Touch, who creates sculptured looks with perfect waves that are authentic to periods from the '20s to the '60s. He did an amazing set on me recently, see the photo on Instagram.
And while everyone who loves retro-inspired looks wishes they could get their hair done by Tony every time they go out (he takes appointments at Pinup Girl Boutique in Burbank), most of the time we have to tackle this daunting task at home.  For that reason, Tony taught a class at the PUG Boutique on how to do a few different sets.
The sold-out, three 1/3 hour tutorial was packed with 50 eager learners, many who know of him through his work for the photo shoots for Pinup Girl Clothing. We were treated to Tony's great hair tips and delightful, and sometimes naughty, personality. He did three different looks: victory rolls, side-swept waves and pageboy.
Here are the transformations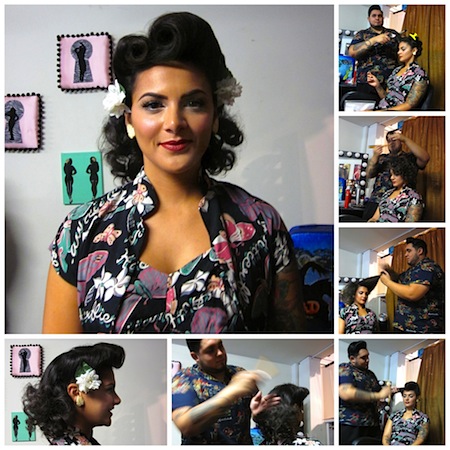 Victory Rolls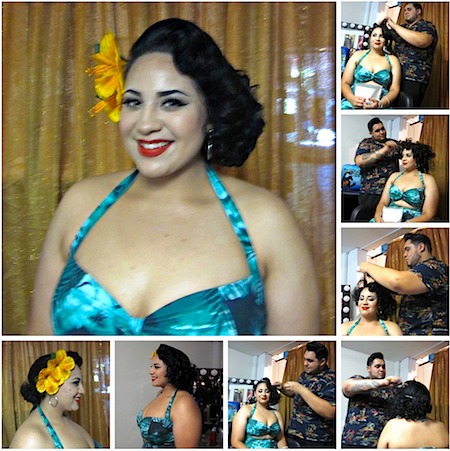 Side-swept curls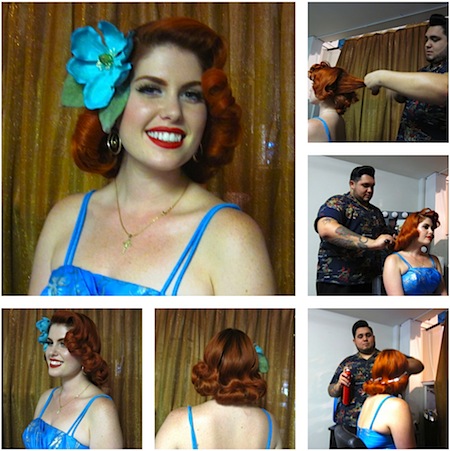 Pageboy
Here's what I learned:
What you need:
Curling iron – Tony used a ¾' Hot Tool Curling Iron
Teasing comb
Teasing brush
Wide-tooth comb
Lots of hairspray
Every set starts with a proper pin-curl set. For time's sake and the smoothest curls, use a curling iron – curl hair and pin with curls all doing downward. Let cool.
Curl with iron root to end, release then wrap around fingers and pin the curl standing for more volume.
Tony says he prefers curling iron sets over wet sets because they are faster and heat holds the set better. He says he's not a fan of complicated wet sets that tell you to face the curls in all different directions. He uses this one set on all of his looks.
Sets work best on dirty hair (1-2 days since shampooing), clean hair that's never been colored or bleached is harder to hold in a set – hair needs texture.
After you comb the curls out, if the roots are fizzy or you have naturally kinky hair, use a small flat iron to smooth the roots.
For bangs, use a small curling iron to curl them back into the shape of set.
After pulling out the curls, it's all about the comb out, then massive teasing.
Teasing should start at scalp should go all the way up, except the very end to keep the curl. Sections should be teased so you can't see through it. Mist with light hairspray.
Smooth the top of teasing with a teasing brush, then sculpt and smooth with your hands. Shape front curl with fingers and pointy end of teasing comb.
Sculpt curls and pin into them so you don't see the bobby pin.
Top wave should be eyebrow arch to arch to be symmetrical with the face.
Duck clips are your friend – use them to hold the front waves and back "drop-crown" in place for a few minutes.
A good set can last for three days with three different styles like these. First should be a tight curl look because it continues to hold the set, next can be looser, then a brushed out wavy look.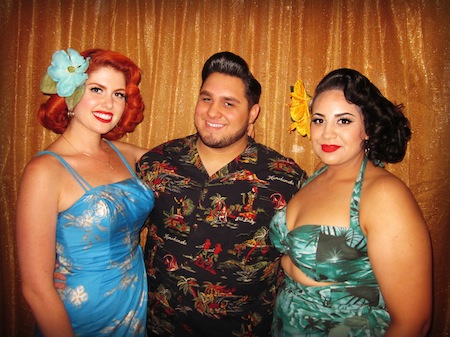 A little bit about Tony:
His looks are authentic to the era, not retro.
He went to beauty school but says it was the worst year of his life. He learned most of what he knows by looking at vintage magazines and practicing on his two sisters until he got the looks right.
He got started at Pinup Girl Clothing when Micheline Pitt saw the hairstyles he did for La Cholita on her tour with Dita Von Teese. He never wanted to work in a salon but he's been working at the PUG Boutique ever since!
He doesn't do haircuts so don't ask. Just styling.
He LOVES Selena – and Gwen Stefani.
Tell Twitter to stop asking him to follow Beyonce. He does not want to follow her!
And while I can watch Tony do hair all day, my home sets are never quite as awesome. Luckily I live close enough to know I can make an appointment when I need a perfect do. That's why he has His Vintage Touch!
Here's to great hair days!
Kastle
hairstyling
,
His Vintage Touch
,
Kastle Waserman
,
Kastle Wasserman
,
Micheline Pitt
,
pinup
,
Pinup Girl Boutique
,
Pinup Girl Clothing
,
pinup style
,
pinupHair
,
Stiletto City
,
Tony Medina