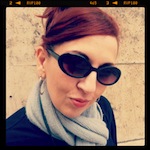 If you've ever ogled over some of the gorgeous gowns in classic films such as what Elizabeth Taylor wore in "A Place in the Sun" or Audrey Hepburn in "Roman Holiday," then you must be a fan of eight-time Academy Award winning costume designer, Edith Head.
Known throughout Hollywood as the funny little lady with black bangs and dark-rimmed glasses, she created some of the most glamorous silhouettes to ever hit the screen and dressed Tinsel Town's most beautiful leading ladies.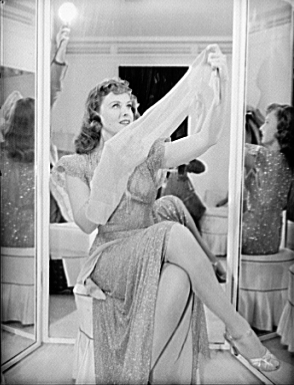 Actress Paulette Goddard in an Edith Head design
Though she passed away in 1981, a little theatre production and one amazing actress is giving fans a chance to get to know this amazing, creative and feisty woman.
"A Conversation with Edith Head" offers an evening with the talented designer inside her studio. Actress Susan Claassen not only looks like Ms. Head but has the facial expressions that you can only imagine Edith would make and completely cracks you up with some perfectly-timed quips and icy stares, especially when her inquisitive helper and host of the show Stuart Moulton asks her one too many questions or gently corrects her own recollections of Edith Head trivia.
Co-written by Claassen and Paddy Calistro (fashion journalist and author of "Edith Head's Hollywood"), the production weaves Edith's life story into what feels like a very personal sit down chat, as she gives some behind the scenes gossip of fitting stars such as Marlene Dietrich, Sophia Loren, Grace Kelly and Bette Davis. She also takes questions from the audience and doesn't hesitate to step out into the crowd and assess everyone's outfits – you better dress to impress if you're going to see Edith Head!
Kastle with Susan Claassen as Edith Head
Wearing some of my finest and favorite vintage, I got an "Edith Head Approved" badge after the show (an honor!) and was lucky enough to take a photo. Even though it wasn't the real Edith, I really felt like I spent an evening with the woman and I was as star struck as the real deal!
What an amazing night – thanks to this very special cast who gave so many of us who are fans of Edith Head and her fabulous designs a chance to get to know her in such an intimate and interactive way.
"A Conversation with Edith Head" is an absolute delight. You can check out some clips of the show on YouTube but it may be a bit of a spoiler – you really MUST see this in person. But hurry, it only runs at the Pasadena Playhouse Carrie Hamilton Theatre through December 1st!
For more Edith Head designs, check out the Stiletto City Edith Head Pinterest board.
Here's to you Edith!
Kastle
You might also like >>> VIDEO: October 2013 Favorites in fashion, beauty and music!
Photo of Paulette Goddard from Wikimedia Commons 
I am not affiliated with or sponsored by any advertisements shown below. They are placed by WordPress.
Tags:
A Conversation with Edith Head
,
Audrey Hepburn
,
costume design
,
Edith Head
,
Edith Heads' Hollywood
,
Elizabeth Taylor
,
Fashion
,
hollywood glamour
,
Kastle Waserman
,
Kastle Wasserman
,
LA Fashion blog
,
Marlene Dietrich
,
movie dresses
,
Paddy Calistro
,
Stiletto City
,
Stuart Moulton
,
Susan Claassen