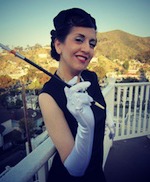 June is a upon us and that means wedding season. A recent wave of celebrity engagement announcements had me wondering which of the famous couples would give us some June brides and when they do – what, or rather WHOM, will they be wearing?
I picked five famous brides-to-be and did a little dress shopping on their behalf to pick styles I think would suit them. Some of these not-so-traditional dresses are so cool I want to wear them just for a fancy night out!
Read more in my story for Yahoo!
I do!,
Kastle
Angelina Jolie
,
Celebrity Wedding Dress Picks
,
Drew Barrymore
,
Halle Berry
,
Jessica Biel
,
June Weddings
,
Kastle Waserman
,
LA Fashion blog
,
Snooki
,
Stiletto City
,
Weddings