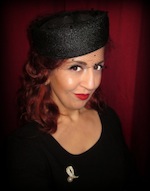 A night with the Derby Dolls is always a knock-down good time.  These girls on wheels are tough, strong and gorgeous. I personally know a few Dolls myself and I'm in awe of their spirit and stamina! It's not an easy sport – the girls skate at high speeds on an angled, "banked" rink (I can barely make it down a flat sidewalk on skates!) and work to block and knock each other to take out the other team's "jammer" working to score points by passing opposing players.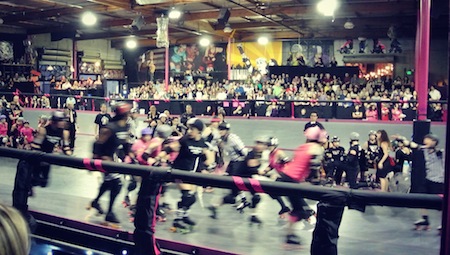 On a recent Saturday night I headed down to the "Doll Factory," a great big warehouse near downtown LA that features the rink, a vendor room and a stage for bands during intermission. On this particular night were two bands with some well-known musicians and icons of the LA's rock legacy. First up Forty Volume, an all-girl band featuring Iris Berry, best known as the hottie scenester and creative writer in LA's early '80s punk/ rock scene who sang in bands including The Ringling Sisters and the Lame Flames and lived at the infamous Disgraceland punk house. (She still looks amazing, by the way!) Backed by rock photographer/manager Dawn Laureen and Jill Guido, they busted out a few punk covers such as Iggy Pop's "The Passenger."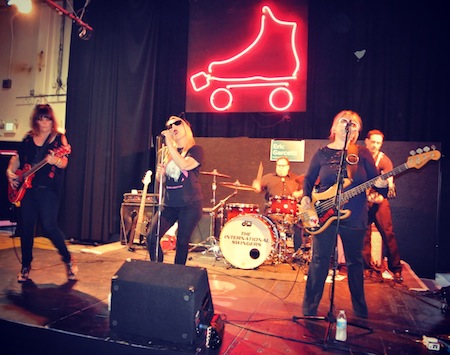 Then it was time for some Doll action! It was the LA Ri-ettes in competition in with each other – half the team dressed in pink, half in black and pitted in fierce fighting for the win. What was great about this bout was the friendly competition, you could see them laughing and chatting with each other before they lined up to do some pounding. And what I loved was that great Doll spirit when one went down injured, they all dropped to the floor in camaraderie.
During intermission it was back over to the "Doll Mall" where venders were set up selling drinks, snacks, jewelry, knick-knacks and of course, Derby Dolls Merchandise. And a special treat tonight, The International Swingers took the stage. This all-star band features, Glen Matlock (Sex Pistols), Gary Twinn (20 Flight Rockers) Clem Burke (Blondie) and James Stevenson (Gene Loves Jezebel, The Cult). Now you can't say they did covers songs since most of the songs were from bands they've been in, mixed with a bit of Bowie and some originals as well. Twinn's voice pulled off the range from Johnny Rotten to Debbie Harry, while they all kept the super-cool presence and awesome playing of seasoned rockers on stage.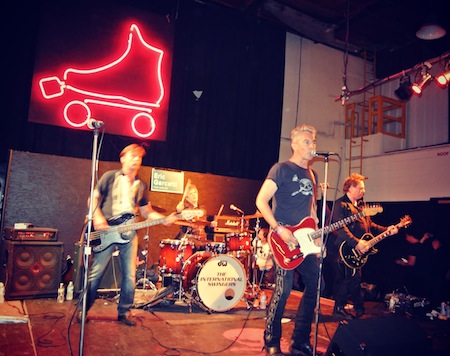 Be sure to check out the Derby Dolls' upcoming bouts held on Saturday evenings and Sunday afternoons. For the schedule and more info, visit their website: www.derbydolls.com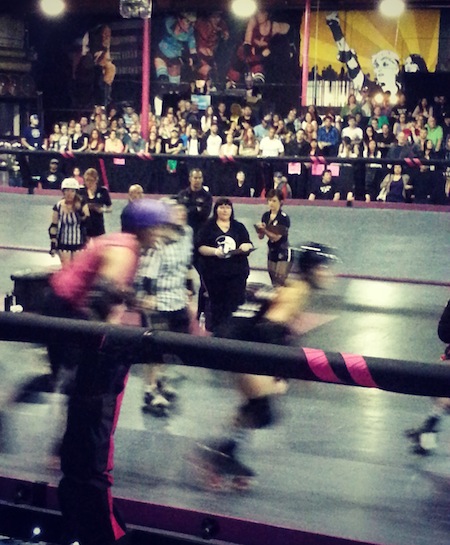 Go dolls!
Kastle
Clem Burke
,
Derby Dolls
,
Doll Factory
,
Glen Matlock
,
International Swingers
,
Iris Berry
,
James Stevenson