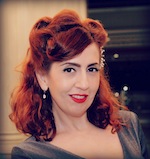 Memorial Day is right around the corner and that means the official start of summer. Is your wardrobe summer-ready? Spruce it up with a touch of cuteness and glamour with this retro-inspired pieces! I searched the web to find you the essential women's fashion items to add to your summer season.
Click the link* to shop each item.
Every summer I like to treat myself to a new sundress. This cute gingham dress features a built-in bullet bra for that Hollywood glamour silhouette. Retro swimwear is getting easier to find, like this Esther Williams-brand suit, which hides those trouble spots and accentuates your curves.
You can't get through all that sunshine without protecting yourself with sunglasses and a sun hat. I love these vintage-inspired cat glasses and super cute Cabana hat with oversized brim that features a drawstring interior band so it stays on snug.
Your tootsies with stay cool in stylish sandals like these adorable ones with seahorses. And you can tuck away all your essentials in a generously-sized straw tote.
Ready, set, bring on the summer!
Kastle
See *disclosure
I am not affiliated with or sponsored by any advertisements shown below. They are placed by WordPress.
Tags:
summer fashion
,
summer style
,
summer wear
,
women's clothing
,
Women's Fashion