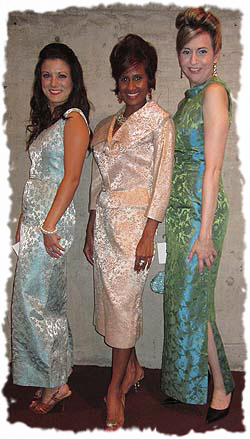 Knowing my love for the '60s, my pals at Clever Vintage Clothing invited me to model in their fashion show at the photo exhibit of iconic shutterbug Phil Stern who had his celebrity snaps on display at the Los Angeles Theatre Center.
A bevy of vintage-loving scenesters babe turned up to help show off Clever's finest '60s era threads in the style of old style fashion shows
Fittings took place a week prior and I was lucky enough to find a teal and olive floor length gown fit for a Bond girl. I dreamed about wearing that dress all the way up to the event!
Call time was 6 p.m. and backstage was a flurry of last minute wardrobe changes, hair teasing, white clouds of hair spray, and makeup touchups. Special thanks to my hair and makeup artist pal Rachelle of Bella Bella salon in Pasadena for coming out to help with my updo and pitching-in to help other girls get period-perfect hair.
Clever's Dave and Sabino laid out a buffet of vintage handbags and shoes to go with our outfits and it was like being in a candy store. When it was all done, the entire room looked like it a movie set of the 1960s with the girls in elegant eveningwear holding their numbered cards to let the guests know details and designers of their outfits.
Our gaggle of models were trickled out into the crowd, walking through with our numbers, stopping and doing a spin every so often as people asked about our gorgeous frocks as they also enjoyed a selection of Italian wines provided by LA Wine Tasting and gazed upon Mr. Stern's amazing collection of photos. As I gazed upon black 'n' candid moments with Frank Sinatra and Nat King Cole, I could only imagine what it was like to be back in a era of glamour and pop culture influence that extends to today.
What a great night! Click the image below to see the photos: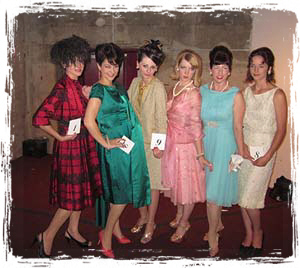 A Night of '60s Photography & Vintage Fashion
Heels on!
K.
1960s
,
Clever Vintage Clothing
,
Los Angeles Fashion Blog
,
Phil Stern
,
Vintage
,
Vintage clothing