Mad Men Style
March 13, 2011
by — Posted in Event Reviews, Fashion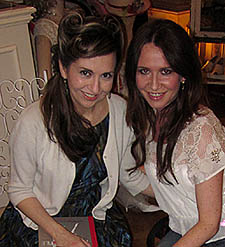 Take one look at today's fashion and it's easy to spot the influence the hit show Mad Men has had on it – more ladylike silhouettes in voluminous full skirts, curve-flashing wiggle dresses and pencil skirts. Women in the '60s really knew how to express the power of their femininity, even if they didn't quite have their equal rights yet. All I can say is thank goodness – I only wear vintage when I go out and the main reason is I don't find modern clothes to be attractive in the way they were in past eras. But some of that is changing, thanks to Mad Men Costume Designer Janie Bryant, whose eye for fashion is transforming the way contemporary designers are creating their new lines.
And what better place to meet this taste-maker than my favorite store in town, Playclothes Vintage? Bryant stopped by to sign copies of her recently released book, The Fashion File. I have to say, I got this book for Christmas and I read it in little bites like sweet Bon Bons. It's the ultimate fashion tell-all treat where Bryant reflects on how she built the style of the characters on Mad Men and how you can find your signature style with a just a few mindful tweaks to your wardrobe.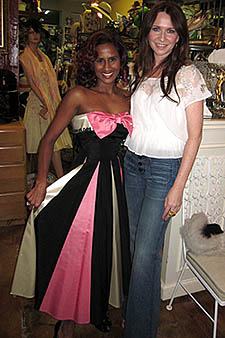 During the book signing Bryant was surrounded by admiring fashionistas who came dressed in their best vintage looks to show off for her. My pal Sandra D. turned up in a pink, candy-striped, strapless dress she found at a costume store clearout sale. It was the very dress that Bryant herself created for Betty Draper in Mad Men's Season 2. Bryant took one look at it and said, "That's Betty's dress, where did you find that!" Then proceeded to tell us how she had added the pink stripes and bow to give a pop of "Betty color" to the vintage gown.
We had a great time hanging out with this superstar stylist, who is so down to earth you just want to invite her out with the girls for cocktails. And I personally want to say THANK YOU Janie for bringing back the idea of fabulous personal style!

And in this edition of the Stiletto Style Spotlight, I couldn't help but notice Allyson Rowen Taylor, who stood out in the crowd in a hot pink sheath dress, artistic-looking brushed gold glasses and an ultra-chunky necklace of her own design made of found bits including washers, safety pins and various trinkets. Plus, she was great fun to hang out with! Now that's some great style!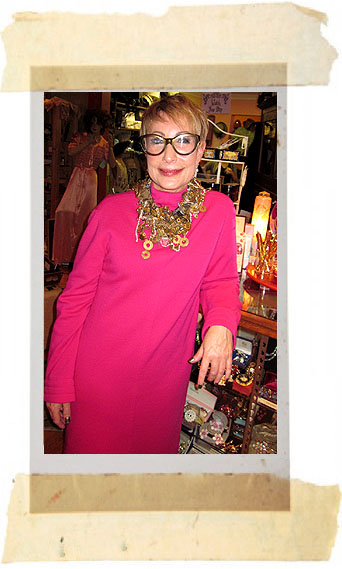 From the fashion files,
K.
Allyson Rowen Taylor
,
Betty Draper
,
Fashion File
,
Janie Bryant
,
Los Angeles Fashion Blog
,
Mad Men
,
Playclothes Vintage
,
Sandra D.
,
Vintage