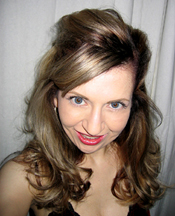 For Hollywood's biggest night, it was heels on as the Oscars rolled out the red carpet and the biggest movie stars of the moment strutted out in their borrowed finest. I wasn't about to stay home on the couch with a pizza, not when my pal Margot was hosting her own red carpet event at the Egyptian Theatre where a few lucky guests were invited to watch the Oscars on the big screen in a room where many stars past and present have themselves sat. I couldn't think of anyone better to rate the fashions with than my friends from Clever Vintage, Dave and Sabino. So we showed up with potluck offerings in hand to add to the community buffet that spread over SIX banquet tables!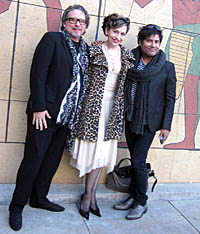 Then it was into the theatre where the room was aglow with laptops and mobile devices as everyone was Facebooking, Tweeting and following the news online. And how much fun was it to watch the entire event from pre-show to awards with a roomful of friends, and friends of friends, who erupted in cheers and jeers over who won and what they were wearing!
Some of my personal observations:
Is it just me or does Jesse Eisenberg look like Paul Westerberg? Really hoping he would be the new youngest winner for best actor but he just couldn't compete with the crown-worthy Colin Firth. Speaking of rock star look alikes, I loved Joey Ramone-clone Luke Matheny's acceptance speech for "God of Love," which incidentally caused the crowd to go wild as most of the film's crew was in the Egyptian Theatre with us.
[youtube=http://www.youtube.com/watch?v=WyY0KrdpSLk]
I was so pleased "King's Speech" won best film. I did love it. Not surprising, much of the tech-savvy crowd around me was hoping for "Social Network." But while I thought that film was good, I didn't think it was as moving overall. However, I did love that it won for Best Adapted Screenplay because the writing was whip smart, particularly in the portrayal of Facebook founder Mark Zuckerberg.
But enough about all that – WHO wore WHAT? (Click names to see the photos.)
Best Dressed
Natalie Portman – bless her for pulling off a pregnancy with such grace in a lovely eggplant-colored gown, matching tassel earrings and perfect makeup. You know she probably just wanted to be out of those Jimmy Choo heels and at home in her PJs!
Halle Berry – somebody get me the number of her trainer stat! This woman can't possibly look bad in anything because her body and posture are so good. Nonetheless she does always pick very elegant gown, and this strapless, frothy-trimmed nude-colored number was no exception.
Michelle Williams – channeling a little '60s-era Twiggy. How cute was she!? Loved the ultra simple white gown that flattered her hair.
Worst Dressed
Cate Blanchett – oh my how I love this woman, so elegant, but this dress was risky with its odd, circular front cut-out and splash of yellow around the collar. It just didn't work for me, not even on her.
Sharon Stone – another risk taker I usually love but this ultra high hair-do was just a bit too much, especially with the sharp black dress with feather accent, she started to lean a little into Cruella de Vil territory.
Scarlett Johansson – she coulda dressed it up a little, I wasn't crazy about the messy bed-head do or high collar lace dress that did little for her va-va-voom figure. Loved her makeup though!
From the world's biggest runway,
K.
Academy Award
,
Cate Blanchett
,
Clever Vintage Clothing
,
Egyptian Theatre
,
God of Love
,
Halle Berry
,
Jesse Eisenberg
,
Luke Matheny
,
Michelle Williams
,
Natalie Portman
,
Scarlett Johansson
,
Sharon Stone