It was Italian culture week in LA with the Cinema Italian Style film fest and art exhibits happening all over town. I got an eyeful of glamorous Italian fashion at the Istituto Italiano Di Cultura's "50s and La Dolce Vita Style" exhibit. It was a great night to dress up with my gal pals and walk the red carpet. We felt like we had stepped into a dream as the space was filled with bright artwork, vintage dresses, shoes, hats and handbags. We ooohed and aaahed over the flowing black siren dress worn by Anita Ekberg in Fellini's "La Dolce Vita." We drooled over gorgeous accessories with exquisite details, and  I was absolutely loving the artwork of Brivido Pop – big, colorful rip 'n' tear pop collages of film icons from Ekberg to Hepburn, Bardot and Loren. I just wanted to take it all home!
See the slideshow from the exhibit.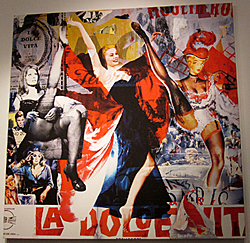 Because I just couldn't get enough, a few nights later I went to the Jeanie Madsen gallery for the opening reception of another room full of Brivido Pop's eye candy pieces. I was also quite taken with the beautiful mechanism pieces by Dale Mathis, whose bold, dark wood and steel coffee tables and desks are embedded with industrial gears that flow and turn like meditative rivers through his work.  Madsen's cute space she dubs, "a museum boutique," is right on the water of Ocean Avenue, adjacent to (lucky!) apartment dwellers and another gallery next door. She also reserves a section for local fashion designs (including her own) with unique offerings of clothes and accessories. She keeps it lively with lots of events so check it out!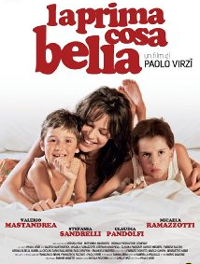 I closed the week with taste of the Cinema Italian Style Film Festival, sponsored by American Cinematheque, seeing Italy's official Oscar Submission for best foreign-language film, "La Prima Cosa Bella" (The First Beautiful Thing) at the Egyptian Theatre. This romp through a small Italian town follows the journey of a local beauty queen who must do what she can to maintain her upbeat spirit around her two children through some unfortunate choices in men, a stint in the movies, and later, dealing with old age and illness. Lead Anna (played by Micaela Ramazzotti and Stefania Sandrelli) is a delightful character whose charm is infectious. You find yourself cheering her on even through the hardest times.
Now if you'll excuse me, I have to go rent "La Dolce Vita,"
Kastle
Tags:
Anita Ekberg
,
Brivido Pop
,
Cinque Terre
,
Dale Mathis. American Cinema
,
Egyptian Theatretheque
,
Istituto Italiano di Cultura
,
Italian fashion
,
Italy
,
Jeanie Madsen gallery
,
La Dolce Vita
,
La Dolce Vita Style
,
La Prima Cosa Bella
,
Lake Como
,
Micaela Ramazzotti
,
Milano
,
Santa Margherita
,
Stefania Sandrelli