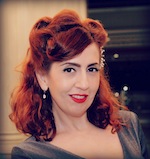 She's BAAAAACK! We met my disco doppelganger, Kassandra, aka Disco K. at a Halloween party (wink, wink) and she's become a regular guest in Stiletto City (and apparently on my couch!) While I've been out, she's clearly been spending much of her time shopping on Ebay for '70s fashion treasures that take her back to her Studio 54 heyday. Check her out as she spoofs the popular "HOLLLLL" videos:
You can shop* like Disco K. by searching Ebay for vintage '70s treasures:
See Disco K.'s "What's in My Purse?" video!
Keep on dancin'
Kastle
This video is not sponsored. All items were purchased by Disco K. with her haard urrrned dahll'rs!.
See *disclosure
'70s fashion
,
70s
,
Disco
,
ebay
,
Fashion
,
haul