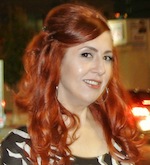 I had to do it. I had to go see "Fifty Shades of Grey" on Valentine's Day. The much anticipated film adapted from the books (yes, I read them), had been all the buzz leading up to the big release.
Thankfully my boyfriend (who didn't read the books) was a good sport about it – he scored us tickets to a late night screening at the sold-out Arclight Cinema and even wore the skinny, grey tie I gave him.
We stopped for dinner at the Arclight's inside restaurant and they were workin' the Fifty Shades angle with all the waiters wearing grey ties. The restaurant promoted a special Fifty Shades drink menu, so of course I had to try the "Lip Biter," a delectable mix of vodka, sparking wine and peach schnapps. Other drink selections included the "Mr. Grey" with Earl Grey infused gin, "The Red Room" with white rum and Chambord, and the "Curious" with whiskey and apple spice bitters.
So I was nice and relaxed as we headed into the theatre. The audience was mostly women, out in groups for Valentine's girls night out, and a few couples. The film itself is well done, nicely shot and Dakota Johnson is a perfect fit as the lead character of Anastasia Steele, the innocent college girl who meets one of the country's most eligible young bachelors who just happens to have a dominant dark side.
I wasn't that crazy about Jamie Dornan as Christian Grey – he looked great but his acting seemed forced, stiff and melodramatic. It was his lines, mostly the ones pulled right from the book, that drew roars of laughter from the crowd – at times not intended to be funny. Dornan drew more laughs at his acting than Anastasia did as the character who manages to crack a few sly jokes at Christian's expense.
As for the sex scenes, there isn't a lot sex exactly but more demonstrations of Christian's need for "whipping" his women into shape. And hats off to Dakota for being able to carry out what must have been very difficult scenes to shoot.
All in all the film was enjoyable (my boyfriend even liked it) especially for those who have followed the books. It's a classic romance story – rich, powerful guy who could have anyone he wants, falls for the girl who thinks of herself as a nobody. If only he didn't have that pesky 50 shades that keeps them from having a normal relationship. While the extreme sexual behavior may be a too much for some, the conflict between the characters is enough to keep audiences enthralled – for a couple more sequels at least.
Laters baby,
Kastle
I am not affiliated with or sponsored by any advertisements shown below. They are placed by WordPress.
Tags:
50 Shades of Grey
,
Arclight Theater
,
cocktials
,
Fifty Shades of Grey
,
film
,
movies